Small Acts Make a Big Difference in Ending Discrimination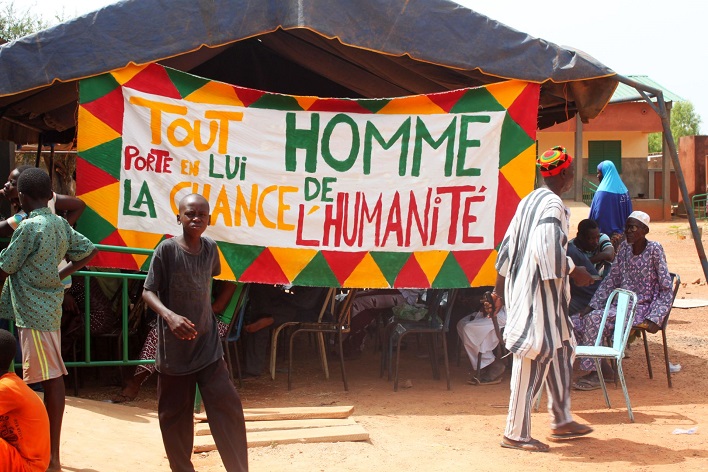 Ending the humiliation and exclusion experienced by people in poverty was the theme for this year's UN World Day for Overcoming Poverty. In the Burkina Faso village of Sakoula, five hundred people marked the day together, starting with a parade up to the new Delwendé Centre.
This organization was a good place for a celebration of inclusion and unity. The Centre welcomes women banished from their villages, often due to claims of witchcraft. Because the centre recently moved to Sakoula, many of the residents had lost ties to their old neighbourhood. The day's activities helped create new ties between the centre residents and the people in the village that is their new home. It also gave the mothers at the Delwendé Centre a chance to share what they do to stand up to exclusion and to play a useful role in the community.
The celebration focused on making sure people in poverty are treated as equals and not pushed aside. A play showed how even small gestures can make people feel like they don't belong. In the play, guests at a wedding are being honoured according to the size of the gift they bring. When someone arrives with nothing, another guest doesn't shake his hand. A third person intervenes to make the guest from a poor background feel welcome. "Overcoming poverty" doesn't have to mean giving food, clothes, or money, the play explained. It can also mean treating people as equals and making sure they feel welcome in various settings.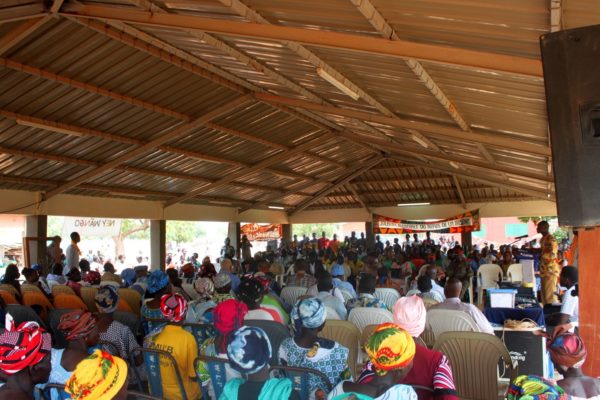 In one of the speeches, a man described how he supports street children even though it costs him business in his shop:
During the day, I am a garbage man, and at night I repair motorcycles and bikes in the city centre.

That's how I got to know many children who sleep on the street. People say they are "my" children because they know me, and they trust me. I help them when they are sick, and I encourage them to go back to their parents.

Sometimes this gets me in trouble! For example in the evening, people come to get their bikes and motorcycles fixed at my place. But when they see those children with me, people say they are little thieves. So I have fewer customers. But I don't send them away because I myself was lucky to find people who trusted me, and I want these children to have that too.

They have become like a family to me, and when I am sick the children also help me get better by sharing what they have earned.

I don't have a courtyard. I sleep outside. But despite everything, I take in children. If everyone did that, there wouldn't be any more children on the street.
M. Sayoba
In another part of the celebration, three young musicians performed a song, written especially for the occasion, which says,
"Do not look down on me, do not humiliate me, rich, poor, young, old, every man is a man, you and me we are the same".
For the approximately one hundred children who came to the celebration, there was storytelling about how a community gains strength when everyone comes together. The kids themselves came together to do a group art project with everyone's handprint.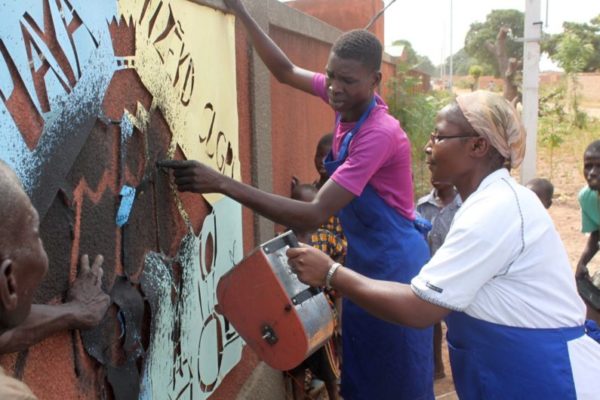 Thank you to the Delwendé Centre and its dance group, the chief of Sakoula, the musicians, puppeteers, speakers and everyone else who helped make a beautiful celebration. We are grateful to everyone who works towards inclusion and respect for people living in poverty.