Statement of the Conference of INGOs, 29 June 2017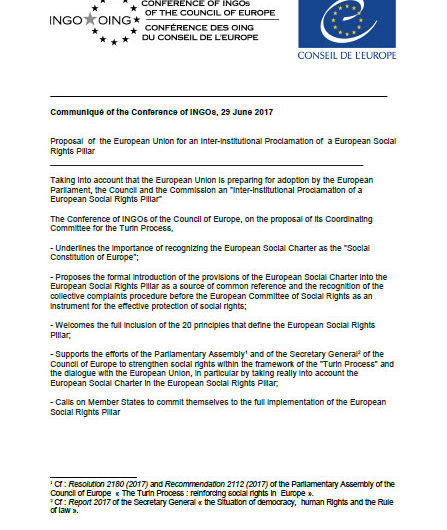 During many years ATD Fourth World has worked with the Council of Europe with a recognized status within the Conference of International Non-Governmental Organizations (COING). COING is one of the "pillars" of the Council of Europe and co-leads working groups "Poverty and Social Rights" and "Extreme Poverty and Human Rights". COING also participates in a group of non-governmental organizations which supports the "Turin Process", that brings the European Union and the Council of Europe closer together at the social rights level.
The Conference of INGOs of the Council of Europe, on the proposal of its Coordinating Committee for the Turin Process, published on 29 June 2017 a statement in the context of "Establishing a European Pillar of Social Rights" proposed by the European Union for adoption by the European Parliament, the Council and the Commission.
ATD Fourth World supports this statement that:
Underlines the importance of recognizing the European Social Charter as the "Social Constitution of Europe". The Revised Social Charter is very important in the fight against extreme poverty as Article 30 deals with the "Right to protection against poverty and social exclusion".
Proposes the formal introduction of the provisions of the European Social Charter into the European Social Rights Pillar as a source of common reference and the recognition of the collective complaints procedure before the European Committee of Social Rights as an instrument for the effective protection of social rights. Also, Collective Complaints, introduced in 1995 and linked to this Charter, have already allowed individuals and families in great difficulty to obtain their rights (see: "Winterstein case").
Download the statement of the Conference of INGOs of the Council of Europe in pdf format.