ATD Organizes Dialogue at United Nations on Children Without Parental Care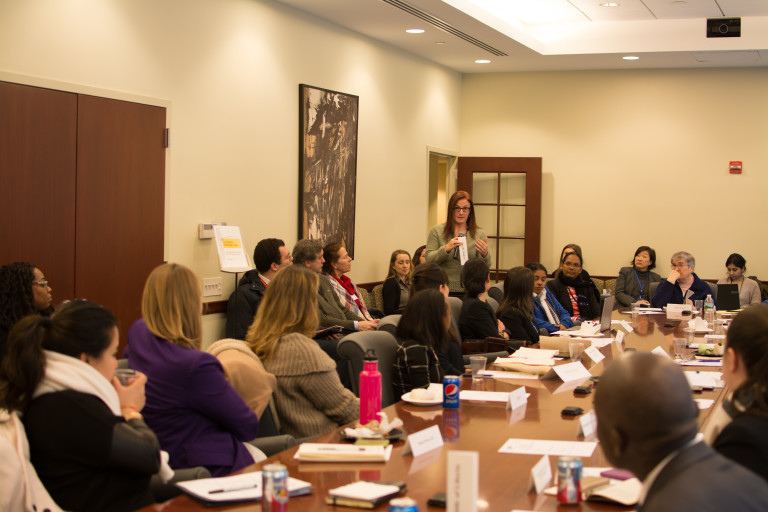 At the United Nations, ATD Fourth World collaborates with other NGO's to organize informal meetings on topics related to poverty, sustainable development and the UN 2030 Agenda. The "Leave No One Behind" Dialogue Series always includes speakers who have a lived experience of the issue addressed.
In February 2017 the topic was "Children Without Parental Care or at Risk of Losing It". Speakers included:
Mianna Dellar, a 17-year-old with direct experience of alternative care
Ms. Sofia Garcia Garcia, Representative to the United Nations for SOS Children's Villages International
H.E. Mr. Jan Kickert, Ambassador, Extraordinary and Plenipotentiary, Permanent Mission of Austria to the United Nations
Ms. Garcia Garcia opened the meeting with a reminder that children without parental care are often the most forgotten and neglected groups of children when it comes to policy and investment.
In terms of policy efforts and good practices, Austria has always been a children's rights advocate. The country was involved in promoting UN guidelines on alternative care for children. The meeting included reports on Austria's efforts to improve alternative care programs and facilities, as well as attempts to shift more children from these houses to foster care. There are a number of challenges in supporting children transitioning from family and community based care to independent living. Managing the growing numbers of unaccompanied minors and refugee children is also an increasingly important concern.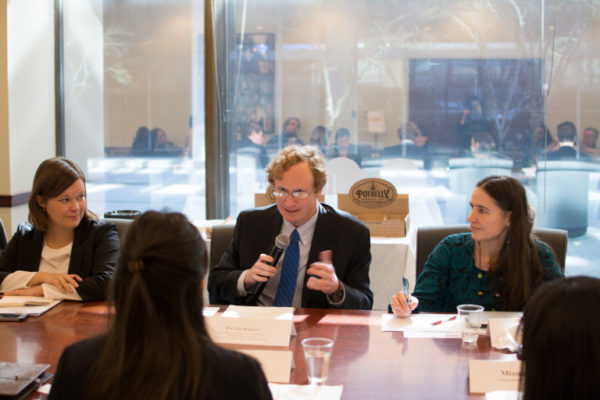 Attendees agreed that the UN should continue to invest in children, as they are the future ambassadors of the world. Children in care need more support than children living with their parents. This is especially true with regards to emotional development as these children are coming to terms with their past in order to move forward in life. The government has a special role to play here. Foster children do not learn the essential skills that parents typically teach, such as opening a bank account. Therefore, life skills programs are needed to ensure that young people not living with their parents are not left behind in these areas. Poverty is often a generational problem. Effective solutions require giving trust as well as emotional support to both children and caregivers.
Key points that emerged from the dialogue:
A child that loses its parents also loses its first line of protection.
It is important to prevent unnecessary separation of parents and children.
All child and young people without parental care must have the chance to shape their future and to become self-reliant members of society. They have the right to live in a supportive and caring environment.
Education, but also emotional support, is key for children living without parental care.
Social workers involved with children should receive proper salaries and professional support because their work affects the lives of children.
The dialogue ended on a positive note with appreciation for the fruitful discussion and especially the contribution from Mianna Dellar.
The importance of preventing unnecessary separation of parents and children is the foundation of much of ATD's work around the world. For decades in many countries around the world, including Ireland, Spain, France, and Switzerland as well as many countries in Eastern Europe and Central Asia, family structure has been systematically undermined as children were separated from their parents simply because the mother was not married or the family was poor. As described in more detail in the article "Children Separated from their Parents: A Conspiracy of Silence and Violence",
"Under the pretense of morality or of the struggle against poverty, society and public policies have treated the most vulnerable families with total inhumanity for decades, depriving thousands of children of the affection of their own parents."
A March 2016 ATD Fourth World People's University in Belgium revealed that people who live in poverty feel that child protective services and foster care frequently do more harm than good when families are struggling to stay together. Institutional life harms children's development, and abuse and neglect can go undetected in foster homes where social services do not monitor children as closely as when they live with their parents.
ATD Fourth World has emphasized for many years the importance of supporting families in their efforts to raise and educate their children (See How Poverty Separates Parents and Children and "An Ounce of Flesh Taken From My Heart."). By collecting stories from families in many countries, ATD Fourth World has demonstrated the harmful effects of separating children from their families.
Programs such as ATD's Frimhurst Family Home in the United Kingdom provide support in a setting where families can relax, spend quality time together, learn new skills, and meet other families in the same situation in a respectful, non-judgmental environment. ATD Fourth World's work in many countries demonstrates that, given proper support, parents at risk of having children taken away can become successful parents. A critical aspect of this support is providing an environment where parents are not monitored with intrusive suspicion and treated with condescending prejudice just because they live in a poor neighborhood. How Poverty Separates Parents and Children asks a key question:
"Programs such as these demonstrate the many hidden efforts parents and children in extreme poverty make in order to stay together. If this determination of parents and children in extreme poverty to live together is so strong, what would happen if we dared put this aspiration at the heart of our antipoverty policies? What if building on the aspiration of parents to live together enabled us once and for all to put an end to extreme poverty?"
(Quoted from ATD USA's web site.)
ATD Fourth World co-convened the UN lunch dialogue in the "Leave No One Behind" series with SOS Children's Villages and the Baháí International Community, with the support of the Permanent Mission of Austria to the United Nations.
Download the notes and the program for this event.
More information on ATD Fourth World's work supporting families and activities at the United Nations with the team in New York and the International Relations team.