Families in Extreme Poverty Depend on Extensive Informal Economy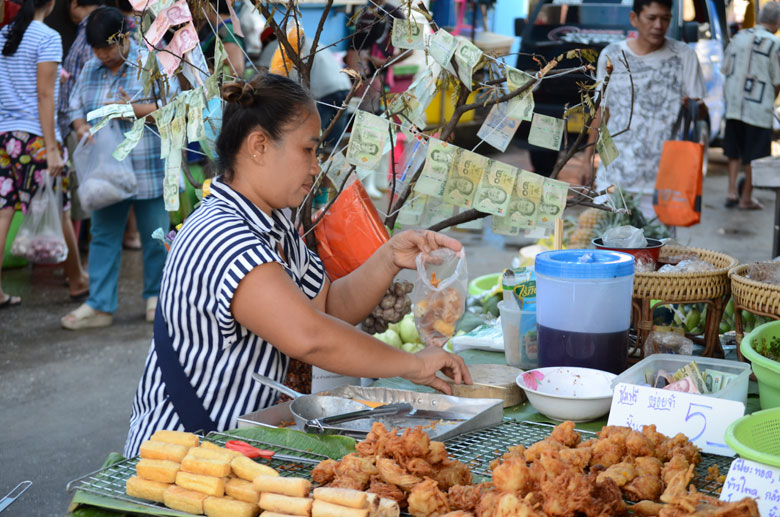 Above: Ms Nok in October 2018.
For 1 May, International Workers' Day, ATD Fourth World is highlighting the informal, often unrecognized, work of people living in poverty. Because they are not part of the traditional world of work, people in poverty are often unrepresented by labor groups. However, people who live in poverty frequently have job-related expertise that goes unnoticed. These capabilities allow them to earn money and develop support networks.
Street Vending in Bangkok
Bangkok street vendors are part of an informal economy that sustains many of the city's citizens who live on low-incomes. The street vendors sell many different items. But it is the food stalls that have brought international fame to Bangkok's street vendor scene, which attracts tourists from around the world.
One aspect of this renowned street food scene that receives less attention is the extensive informal economy surrounding street vending. The stalls that line the streets of Bangkok often hire people who have no other way to earn a living. "Street vending businesses are particularly important for families in extreme poverty", explains Claude Heyberger, a member of ATD's Volunteer Corps working in Thailand.
"The lowest paid end of the informal economy"
"Many families experiencing persistent poverty manage to survive by providing services for street vendors", Mr Heyberger continues. "They cut chili stalks, clean the street vendors' spaces, carry goods and supplies for the vendors, or do other odd jobs. They can do this kind of work because it is flexible and based on personal relationships. There are few other jobs for people with little formal education."
For families experiencing persistent poverty, owning a street-vending stall is a dream that often seems out of reach. Most are focused on day-to-day survival, making it hard to save money to start a small business and keep it going. Many successful street vendors work for a family business where the extended family has invested funds and involved relatives over many years. Street vendors must be in very good health in order to work long hours. However, families in survival mode face daily crises or unexpected emergencies that often include health problems.
But most of all, street vending requires an extended social network. The vendor must negotiate a selling space and then hold on to that space if rivals show up. Stand owners must know where to get the cheapest ingredients and have the connections needed to get good supplies. Many families living in extreme poverty are hardly part of such social networks, as most people in their community are as impoverished and disconnected from the formal economy as they are. Nevertheless, the informal street vending economy supports many families in persistent poverty. Unfortunately, many work at the lowest paid end and earn very little money through odd jobs.
A street vendor at age 13
Professor Narumol Nirathron, a long time ATD Fourth World ally, has been researching street businesses for 20 years. With ATD Fourth World Thailand, the SDG Translab of the Yunus Center in Bangkok, and cooperation from the Network of Thai Street Vendors for Sustainable Development, she organized an event on "Learning from the Street Business Experience". University students listened to Ms Nok, a woman who had started working for a street business at the age of 13.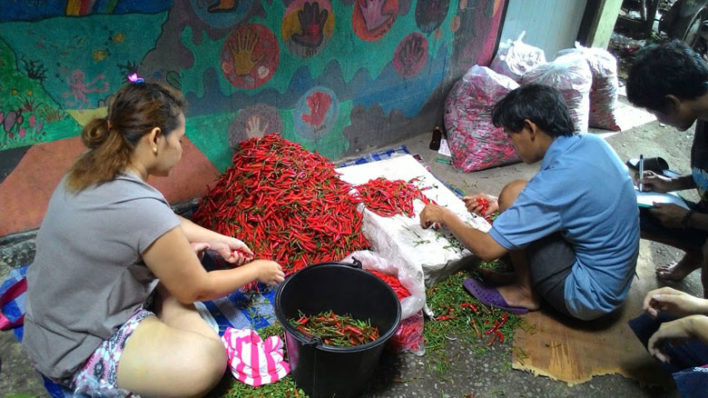 Ms Nok explained that she came to Bangkok after finishing primary school. Her parents in Udon Thani province were rice farmers who lived in poverty and were unable to afford more schooling for their daughter. Ms Nok said:
"I think I am capable and intelligent. It's just that I didn't have money so I couldn't go to school like other people. But I would not give up."
Determined to continue her education, Ms Nok attended classes at the Non-Formal and Informal Education program of the Thai Ministry of Education. She supported herself by working at night doing odd jobs like washing dishes or cooking.
This video shows Ms Nok at work in her street vending business. She talks about how she started, what street vending is like as a job, and her hopes for her children.
A self-taught small business success
"I started looking for ways to better myself", Ms Nok continued. "I started to train myself in sales. During festivals, I would sell things… or on Buddhist days I would sell flowers for people to take to the temple."
Slowly, Ms Nok managed to become a street vendor. "You must know your customers and what they want", she explains. "You must know, for example, if it's Chinese New Year, then you sell them the things that are used for Chinese New Year. If it is cold, you sell them warm clothing. If it rains, you sell umbrellas."
Being a successful street vendor has only provided a modest living, however. "I don't have much income", Ms Nok says. "But I want a better life for my children. I want them to have an education like other children."
An extensive economy for people on low incomes
Street vending is not only a source of income for thousands of people. Narumol Nirathron's research found that street vendors provide food to working low-income families in the city. Like Ms Nok, many of the street vendors are women and their earnings are the primary income for their family. Unable to afford to rent a space in a building and pushed onto side streets, many of these small businesses are at risk of disappearing, leaving families without an income.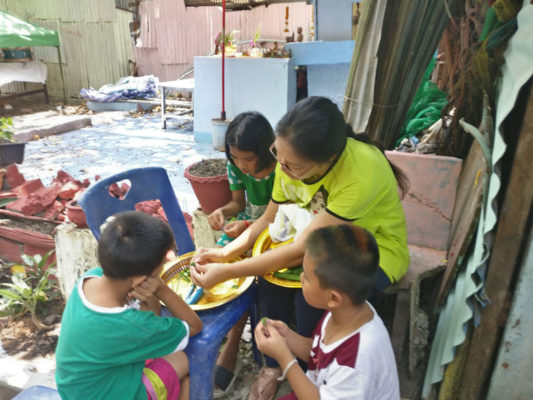 Recognizing the importance of the threatened informal economy
Many people do not necessarily dislike working in the informal sector. Ms Nok does not feel sorry for herself. She is grateful that street vending has allowed her to provide for her family. "I think poverty is not a problem [for me]", she explains. "Poverty provides an opportunity for us to use our abilities and to develop our capabilities.
"I think everybody enjoys the same dignity. Even educated people, if they don't do beneficial things then they will not have any worth, they will not be dignified."
Street vending is threatened in most Asian countries due to standardized urban development patterns that are becoming more common around the world. These development patterns put at risk an entire informal economy, from the people who work for street vendors to those who manage to make ends meet by purchasing the inexpensive goods they sell. Street vendors themselves rarely have a say in developing policies that affect them.
Working hard, dreaming of a better future
One Saturday morning, ATD members visited a community where they conduct educational activities with families in extreme poverty. They found many people already cutting the chili stalks and preparing flower garlands to be sold around the city. Several children that morning were eagerly learning new ways to make flower garlands, a small expression of their hope for a better future.