Tanzania Newsletter August 2016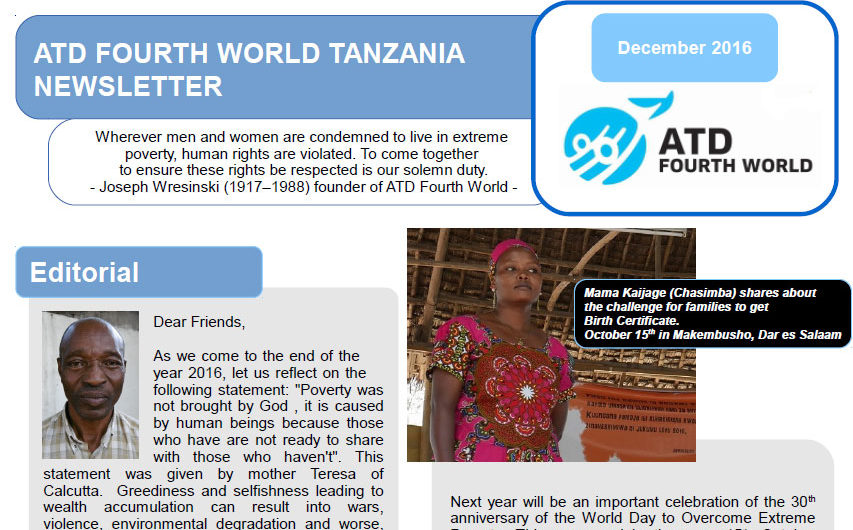 Dear Friends
Greetings to you, your family and neighbours from the ATD
team in Dar es Salaam.
On the 2 June 2015, 18 months of participatory research culminated in a dissemination seminar entitled Access to Primary School Education for Children Living in Extreme Poverty. As you know from previous ATD Newsletters, ATD members had been carrying out a this research to understand the efforts both parents, teachers and children make to ensure children go to school, and
the many challenges which mean some children fail to finish their primary school education.
This research is now complete, and in this newsletter we bring you some of the highlights of the research. A group of 12 ATD members were the researchers, interviewing nearly 50 adults, 20 teachers and local leaders, and over 50 children. To tell you everything the researchers learnt is not possible in this Newsletter. Today we will present to you the recommendations made by the group and some of the reasoning behind these recommendations.
In the second part of this Newsletter, we bring you some reaction from the dissemination seminar. This day brought together parents, teachers and other stakeholders from the education sector to
learn about the research and its unique methodology which brought together people living in poverty and others to think, decide and act
together.
On the final page we present to you the new ATD Fourth World International Leadership Team who will begin their responsibility in January 2017.
With regards
Robert Jordan
Co-team Leader