"At Tapori", a Swinging Song about Friendship!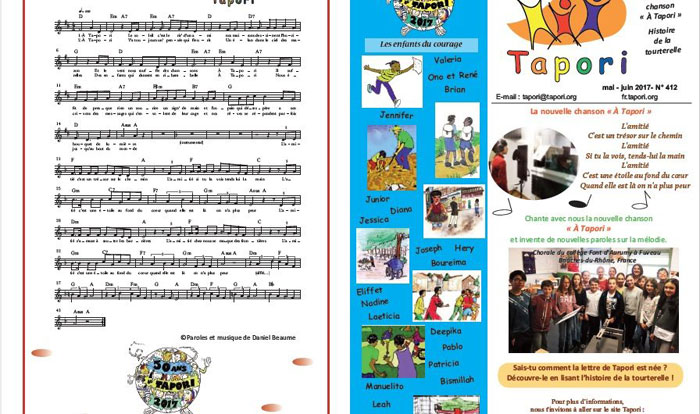 Check out this song "At Tapori" composed by Daniel Beaume for the 50th anniversary of Tapori and inspired by children's messages from all over the world.
Tapori is the children's section of ATD Fourth World that helps to create friendships between children from different backgrounds (click here to download the Tapori letter from March – April, 2017).
Daniel Beaume (author and composer) read thousands of Tapori children's messages for several months. He has featured the children's words to create a very joyful song. Daniel called on professional musicians to record the song in a studio: Claire-Annie Ginouves-Maizieres, a music teacher and the children's choir of the secondary school of Fuveau, near Marseille.
On October 17, the children's choir of Font d'Aurumy secondary school of Fuveau will perform at the United Nations Office in Geneva, under the direction of Daniel and Claire-Annie,  and in association with the show « Hidden colours »  by Jean Marie Curti (artistic director). Spanish and English versions will be provided.
Share this song in your community (schools, media libraries, recreation centres, children groups): children are welcome to sing-along with the karaoke version of the song and to add new verses if they wish.
At Tapori (in French)
Lyrics:
At Tapori
There is sun in th'
laughter of a friend
And our homes are near, so come along,
While the wind brings
echos of a song.
At Tapori
It's not hard to understand
Someone smiles or waves a hand
And the friend who's in despair
Finds some sunshine here to share.
Oh friendship
is a diamond in the sand
Oh friendship
when you find it, take its hand
Oh friendship
is a star deep in our hearts
When friends are here,
we have no fear.
Oh friendship
takes no notice of frontiers
Oh friendship
makes all barriers disappear
Oh friendship
is a star deep in our hearts
When friends are here,
we have no fear.
At Tapori
Every day they
're creating new ideas
Looking upwards, reaching for the sky,
While the children dance and play nearby.
At Tapori
We write messages of light
That escape and then take flight
And so all our dreams unfurl
Soaring all around the world.
Traduction. : Anne Ferrato et Jason French