Districts With No Long-Term Unemployment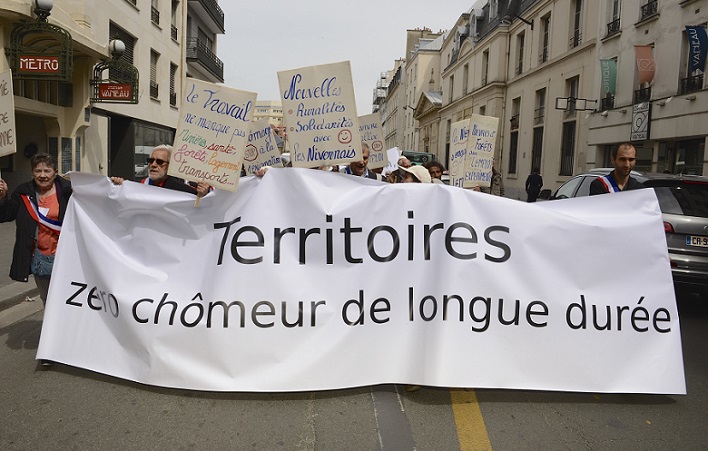 This project aims to end long-term unemployment by launching an innovative experiment. It will begin in four French rural districts located in the departments of Ille-et-Vilaine, Meurthe-et-Moselle, Deux-Sèvres and Nièvre.
This pilot project, initiated by ATD Fourth World–France, aims to create new jobs with financing from the transfer of costs associated with long-term unemployment.
For more than a year, elected officials, local authorities, the French national employment agency, non-profit partners, small businesses and the unemployed themselves have been meeting regularly to tackle the following challenge: what can be done so that we no longer have people struggling with long-term unemployment? This starts by asking people, "What can you do? What are your wishes?" "What are the needs around you? What can we create together?" The approach shifts away from simply saying, "There are a certain number of subsidized positions, so who will we select to fill these jobs?" This represents a complete change in how to look at the problem.
It was also necessary to make efforts to convince elected officials, local authorities and other people involved that this was possible, and to look into unmet social needs.
The importance of asking people's opinion
This project has been met with a lot of hope and enthusiasm. On April 27, during a demonstration in Paris, where the project participants met up again, comments were listened to attentively. A person receiving long-term unemployment benefits said how important it was that someone came to her house to talk about work. Others have said: "Children are never too young to understand that their parents are distressed," "Insecure work takes us further away from employment," and "We need an economy based on jobs that cannot be outsourced." They all underlined the importance of being seen as people whose opinion should be asked, rather than only as the long-term unemployed who should be helped to return to work. One woman shared her idea to transform fallow lands into vegetable gardens, in order to create a food supply for school cafeterias.
The professional community, including artisans and small business owners, is also completely onboard. They say, "We see people around us who are sinking and we have not been able to do anything about it. This new project is one we can participate in, where we can be sure that everyone will find a sense of dignity again; this is not just for the unemployed, it is for all of us."
A group of parliamentarians has introduced a bill to authorize the funding for this project. On September 15, the different project stakeholders met at the French National Assembly to advocate for the bill. One elected official said, "Our country has everything: youth training and employment services, social integration companies, all the available mechanisms — and yet we see that unemployment continues to rise… Essentially, we are useless, we are completely powerless to stop it. Even the social economy serves as a sorting agency, just choosing among different unemployed people to hire. But with this bill, there is a change of perspective; we are trying to do things differently. We want to ensure that there will no longer be long-term unemployed people here; this bill restores meaning to our policy commitment."
A citizens' agenda that mobilizes an entire region
This project is linking people throughout the four districts where it will take place. These links strengthen stakeholders' willingness to develop the project through the involvement of all concerned. National Deputy Dominique Potier said, "This project is not only being taken up by the unemployed, elected officials, and business owners. It is our entire region that is taking it up together; and this is the most valuable aspect of our effort."
However, those behind the project know that there is a continued need for vigilance, in order to remain true to the initial ambition. In Pripriac (a town in Ille and Vilaine), there are 150 unemployed people, and yet only 120 were contacted in the initial stage of the project. Many people have said, "No matter, we'll just go ahead with those who wish to participate!" But ATD Fourth World and others have not given up hope to reach the project objective, which is to connect with all those who are furthest from the job market. Unless this is done, the project initiated to help them would end up working against them instead, subjecting them to yet another form of discrimination.
This project is a real example of what sustainable development could be. Building an economy based on a sense of community and fellow citizenship means involving all partners of a district: the unemployed, employers, and policy makers.
Next important step: on October 15, an "unemployment strike" will be organized. In 6 places in France, people in long-term unemployment, with the support of fellow citizens, will undertake useful work of all kinds. This strike will show that there isn't a shortage of work, nor of workers.
Update: On December 9, the French National Assembly adopted this bill unanimously.
Picture: A march in Paris on April 27 to request a bill to implement the project.