The Gap between People Living in Poverty and Health Care Providers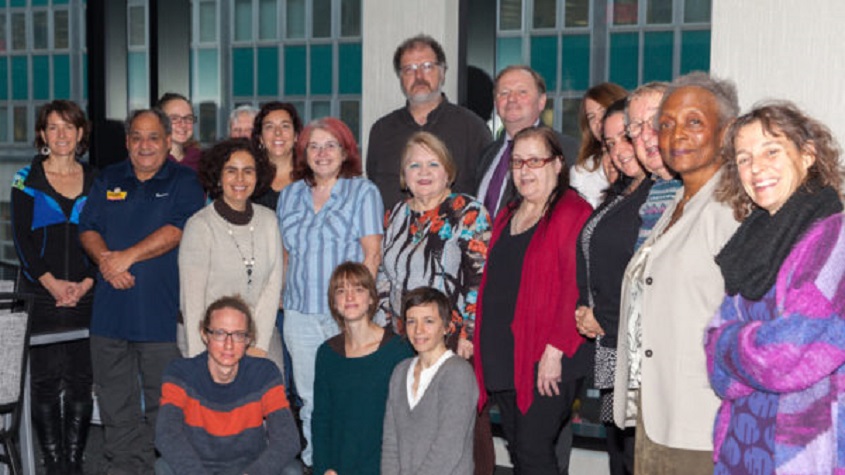 Above: ATD members who met with Dainius Püras.
UN Special Rapporteur Looks at Canada's Health Care System
In 2018 Mr. Dainius Püras, the United Nations Special Rapporteur on the right to physical and mental health, spent 12 days in Canada. He looked at improving access to physical and mental health care. In November he spoke with members of ATD Fourth World and the Jarnigoine Literacy Centre, as well as researchers from Laval and Sherbrook Universities.
During his stay in Canada, Mr. Püras had travelled to different cities to visit health care centers. He also met with federal and provincial representatives, organizations, and members of the community. For ATD, the meeting with Mr. Püras was a chance to discuss his visit, progress made and challenges that still need to be addressed.
ATD Meeting with Special Rapporteur
This meeting took place in the context of the ATD ÉQUIsanTÉ participatory action-research project which took place from 2011 to 2015. The project brought together ATD Fourth World activists, academic researchers, and healthcare providers and professionals. One goal was identifying and reducing barriers between people living in poverty and healthcare providers. Using the "Merging Knowledge" approach to inclusive processes, each group brought its own perspective to the topic of health care.
To prepare for the meeting with the Special Rapporteur, ATD members met five times to identify essential concerns they wanted to present. Participants discussed access to healthcare for people who have low literacy levels, live in poverty, or experience various forms of exclusion. They used information from three projects that members of the group had participated in: ÉQUIsanTÉ, "Bonjour Docteur", and LIENSSS (Literacy in health and social services).
Lack of Access, Communication Challenges and Judgmental Attitudes Harm Citizens' Health
The group identified a number of concerns to discuss with Mr. Püras. In Quebec, poverty is not uncommon. In fact, in certain Montréal neighborhoods, 40% of the residents live below the poverty line. On average, people in the city's poor neighborhoods live ten years less than those in more privileged areas. Overall, 60% of people in Canada do not know where to go or how to take care of themselves in order to improve their health.
The ÉQUIsanTÉ project demonstrated how people living in poverty perceive, and experience, a gap between health care providers and themselves.
Health care workers come from very different social backgrounds and do not have the same kind of day-to-day experiences as people in poverty. These differences result in misunderstandings and judgmental attitudes that can make patients in poverty feel ashamed.
Such gaps in understanding can have serious consequences for the health of patients who are already vulnerable.
In addition to such interpersonal challenges, it is difficult for people in poverty to get care. Frequently, this happens because the health system is overwhelmed. Long waiting lists create an administrative obstacle course that causes patients' health to deteriorate through delayed care. Unable to afford private insurance, people in poverty often go without care. Many simply give up.
People in Poverty Want to Be Part of the Solution
However, the 12 ATD members meeting with the Special Rapporteur also had positive things to say. "We hope people in poverty can be part of the solution to the healthcare system's problems. They have a unique perspective on how to tackle barriers and find solutions that respond to the needs of people living in extreme poverty. This knowledge can provide real and lasting improvement to their health and their lives."
During a press conference at the end of his time in Canada, the Special Rapporteur mentioned a point made during the meeting with ATD:
"The quality of the healthcare services in Canada is very good if you have access to it. This means that there are shortcomings that concern mainly the most vulnerable groups who keep meeting obstacles when accessing healthcare services".
In addition, Mr. Püras stated that, "The objective in the long run would be for the Government to use and strengthen the community's skills and expertise, and to ensure its models incorporate people's rights within the public healthcare system."
The ATD members were proud of their meeting with Mr. Püras. It had been challenging to present a project that had taken into account so many different people's experiences. Yet the variety of contributions enhanced one another to provide a broad perspective on the health of people who experience both poverty and exclusion.
Mr. Püras is presenting a comprehensive report to the UN Human Rights Council in the spring of 2019.