"Our Traditions and Customs": a Dance and Theatre Workshop in Bolivia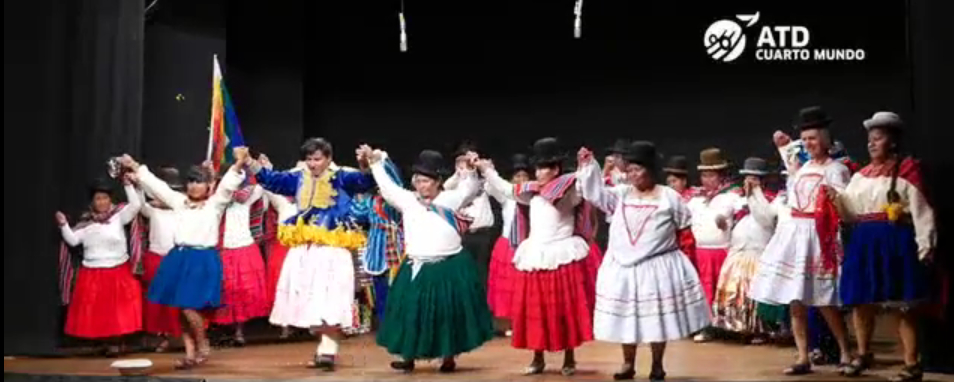 Forty people meet each week at the House of Friendship in El Alto, Bolivia, for a dance and theatre workshop. The workshop, launched in 2015, is one of several for adults developed by members of ATD Fourth World. Most participants live in El Alto and are for the first time able to enjoy an opportunity for cultural expression. Alongside ATD's allies and full-time Volunteer Corps members, after five months of practice, the participants staged a successful dance and theatre production on November 6th at the Modesta Sanginés Theatre in La Paz's Cultural Centre.
The goal of this project is to reaffirm the importance of access to culture, knowledge and education. Through sharing and celebrating their own customs and traditions, each person is given the opportunity to develop their own talents and capabilities, and consequently to contribute to the development of their community. ©ATD Fourth World. Video/DVD produced by Alice VITOUX and Stéphane KERSULEC
For people in poverty, cultural venues often remain out of reach. Most participants never before had the opportunity to set foot in a theatre as an audience member, let alone as a performer. In the House of Friendship workshop, despite conditions designed to be optimal for people living in poverty, some participants had trouble arriving on time or attending regularly because of their work, their children's schooling, health conditions, or other daily worries. One participant said:
"I was worried because we didn't learn quickly. It was hard. I was nervous because I was afraid of making mistakes."
Over months of preparation, and thanks to the support of theatre and dance teachers, Roberto Espinal, Karol Salluco and Wilson Aranda, the actors and dancers overcame their difficulties. They performed several indigenous dances: Paskananita, Moseñada, Saya, and Jacha Tata Danzanti. Their theatrical presentation was called "La Irpaqa." Participants contributed to creating portraits and texts based on their own life experience. The entire cast expressed great joy at having succeeded at this enormous challenge.
"I never thought I'd perform. I went to the rehearsals just to participate, but little by little it became serious work. You forget about all your worries. The day of the show I was nervous and sweating. Now I am happy and proud."
On November 6, more than a hundred people attended the performance. Afterwards, many audience members expressed joy at having seen people perform dressed in traditional clothing. One said, "I did not think this was possible. I'm touched. In them, I recognized my own mother, who also wears traditional dress." In addition to attending the performance, others were able to learn about the project thanks to several radio and television stations, which—struck by both the humble origins and the artistic talent of the performers—invited members of ATD Fourth World to perform on their programs. These opportunities also served as a means to communicate about the importance of access to culture, beauty and art for all.