Trainers for others: They are building peace in Central Africa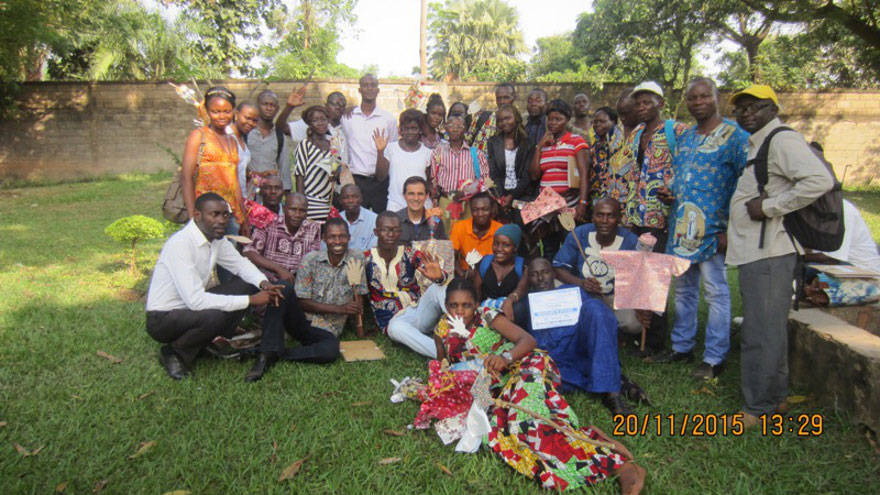 Since the beginning of the armed conflict in the Central African Republic, young adults committed to supporting their neighborhoods have been striving to find peace through discussions with people who play an active role in their neighborhoods, schools and religious communities.
The young adults have been trained in peace education, and they in turn become trainers for the others. This whole dynamic reinforces the civic commitment of the young people and adults, who have already long been involved with ATD Fourth World, and who are now helping to transform relationships in the community. This is participatory democracy in action.
The first training session, "A path of peace towards citizenship," run by the Rwandan Association "Umuseke" in June, 2014, led to a collective study of what led to the armed conflict (highlighting perceptions, generalizations, prejudice and rumors) and a search for solutions by organizing of citizens for peace. Since then, all 50 participants, young and old, have been taking initiatives wherever they can.
During that session, they created some 29 images dealing with "generalizations," "suspicion,","rumors," "commitment," and "rights and duties." Since then, these images have been used countrywide in training programs, in educational centers through "Forum theater" techniques, in schools and in places of worship, during discussions on the International Day of the African Child and on the World Day for Overcoming Poverty. They have also been used in talks with children, youth groups, and adults at the Central Mosque of Bangui's site for internally displaced people.
Trainers for future teachers
Sister Marie-Ange, the head of the John Paul II Educational Center in Bangui, was one of the participants at that training session, which took place at the ATD Fourth World Courtyard in Bangui. She asked ATD Fourth World to train future teachers to use the "pathway to peace" method so that later they can pass this on to their trainees.
Seven members of ATD Fourth World were ready for the challenge; they trained to become trainers. They are strongly motivated to join the path of those who challenge everyone to act as an engaged citizen helping their country. On November 16-18, 2015, they spread out to train others, bringing the 29 drawings of scenes of everyday life that they had created the year before. At the John Paul II Educational Center, these sketches were hung on the blackboard as a tool to facilitate dialogue with the participants. Shedding light on destructive prejudice is crucial to understanding the causes of conflict and to cultivating each person's resistance to conflict.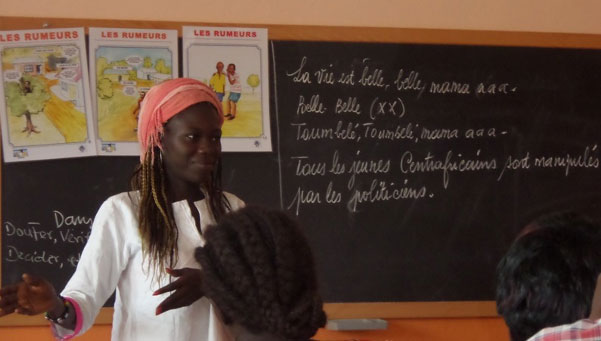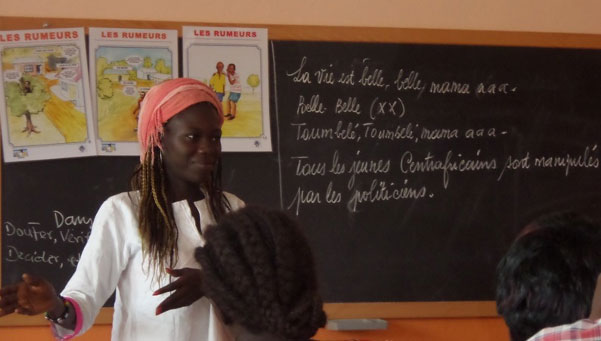 Very Positive Feedback
"The theme of the training is very relevant with what we are enduring in our country, the Central African Republic," said one student."
Another participant said, "This presentation allows me to better understand peace. It helps me avoid prejudice against others and shows us how our behavior often harms those who are weak in society. "
"The facilitators have explained the pictures very well and planted peace ideas in our heads."
"By following the pictures from the first to the last, I now know which route to take: the route to peace. And before we do anything, we must first question, check facts, find responses, and then decide how to react. "
"Before, I had utter hatred of both the Séléka and the Anti-balaka bandits; but after this, I would now like to return to peace. "
A trainer shares: "Right from the start, I saw this as a time for give and take. The goal is to get participants to take it further. In one of the images, we go forward by taking into account the experience of others. It is important to help everyone see how they will give testimony in their community, in their own culture, and at work, etc."
The same training given to interfaith youth
More recently, four other members of ATD Fourth World also offered training to young people of the Central African Interfaith Youth Platform (CAIYP).
The president of CAIYP told us, "For our country, it is now or never that we must get this message across. We need to reinforce this message, to prepare the minds of the youth to enable them to detect approaching danger and to show how they can stay the course in order to respect their personal commitment."
In all, 35 young people from several parts of the country, leaders in their communities and of different religions (Apostolic, Baptist, Muslim, Catholic), came together in Bangui to walk the route of peace by sharing their life experiences, and laying bare their prejudice and the rumors at the source of conflicts.
All the daily efforts of young adults and their communities to strive toward peace have been reinforced by Pope Francis' decision to visit the country in the midst of the armed conflict. The young people of CAIYP were able to go back to their villages and neighborhoods strengthened in their determination for peace, and prepared to share this with others.
The path to peace continues to be created in Central Africa, where its architects are many!