Video Message of the United Nations Secretary-General for 17 October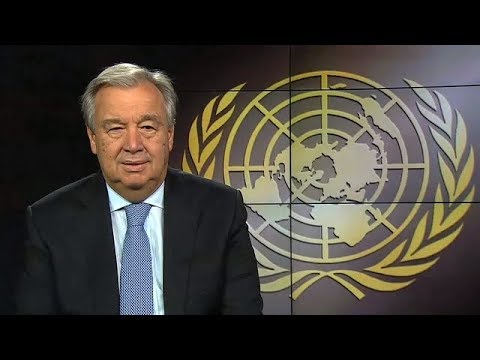 This article is imported from our 2017 Stop Poverty Campaign web site.
We are delighted to share with you a video message by the United Nations Secretary-General H.E. Mr. Antonio Guterres for the occasion of the 25th anniversary of 17 October International Day for the Eradication of Poverty.
"Hello everyone. Today we stand in solidarity with 800 million people around the world who live in extreme poverty. Many more are threatened by alarming high rates of unemployment, insecurity, inequality, conflict and the effect of climate change. But we have made remarkable progress in eradicating poverty since 1990 and all countries have recommitted to fighting poverty and exclusion everywhere.
The 2030 Agenda for Sustainable Development is our plan to take a different course and this globally agreed agenda pledges to secure a healthy planet and build peaceful, inclusive societies to ensure lives of dignity for all. Its pledge to leave no one behind will require innovative approaches, partnerships and solutions. And that means addressing the root causes of poverty in order to eradicate it entirely. It means listening to the views and guidance of people living in poverty and getting together with them.
Let us join hands to stop poverty all together in dignity. Thank you."