Violence against Women in Poverty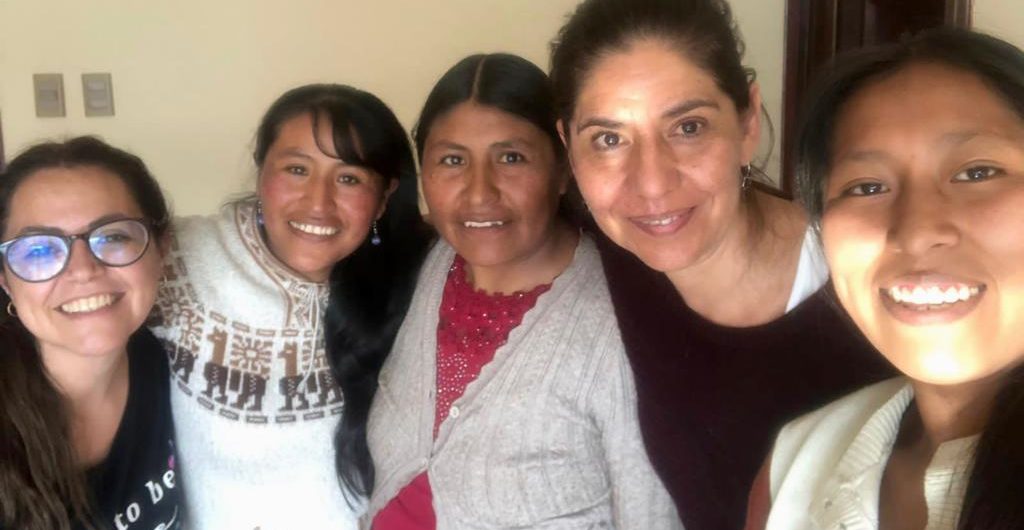 Photo above: Roxana Quispe, Soledad Ortiz, Emma Poma, Kassandra Vilca and Patricia Urquieta
In late 2022 Roxana Quispe, Soledad Ortiz, Emma Poma, Kassandra Vilca and Patricia Urquieta completed 'Merging Knowledge from Latin America', a two-year diploma jointly delivered by the Universidad Autónoma Metropolitana (UAM) in Mexico and ATD Fourth World.
Roxana, Emma, and Kassandra are ATD Fourth World activists, Soledad is a member of ATD's Volunteer Corps in El Alto, and Patricia is an academic and ATD ally. Together they are leading a new Merging Knowledge project exploring the violence experienced by women in poverty. For March 8, 2023 – International Women's Day they shared their motivation for the project in Bolivia.
Starting point
The starting point of every Merging Knowledge process is an issue relevant to social transformation and overcoming poverty. When defining our project topic, we realized that the issue of violence against women in Bolivia was one that we all felt strongly impacted by, to the extent that hearing about a new femicide had become a part of our daily lives.
Our aim is to deepen the understanding of the violence sometimes faced by women living in poverty. To do this, we invited approximately 40 people – including professionals, academics, and researchers – to collectively discuss the connection between violence, gender, and poverty, in a process guided by women with a lived experience of poverty.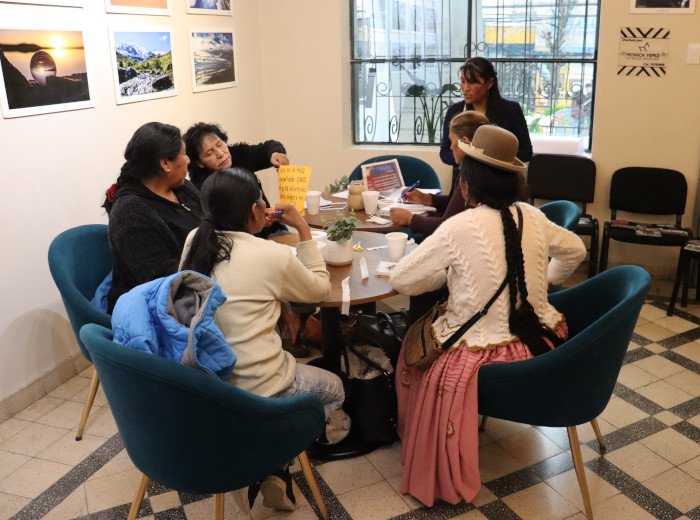 Preparatory workshops
Before starting the project, we held preparatory workshops with everybody involved. These helped us to build trust in one another and recognize that we are part of a shared experience, which was necessary before discussing such a painful topic. It is essential to create an environment where the activists involved feel confident to share their thoughts and experiences openly and have the emotional strength to enter into discussion with those with other forms of knowledge and expertise.
Our early exploration into the topic and the participants' enthusiasm so far, have confirmed our initial position: there is a pressing need to learn more about and bring more attention to the double injustice of poverty and gender violence. We have been asking ourselves, what is the most unbearable aspect of the violence experienced by women in poverty? We believe that asking this question and discussing shared struggles can help us find ways of working together to overcome this issue.
With the preparatory workshops now complete, we are confident that the topic we are exploring is a valuable one and that those invited to participate feel the same way; that the activists involved have a wealth of knowledge and experience to share on this topic, that the professionals working in this field have found Merging Knowledge to be a useful research tool, and that the academics involved have a great willingness to learn from those who have experienced poverty directly.
We hope our work on this project will help break the silence on this critical issue and demonstrate that women living in poverty who experience violence are not just victims but warriors too.
To be continued
The project will continue over the upcoming months and conclude with a series of seminars and events where findings will be shared. In addition to exploring ways to resist and tackle the violence faced by women in poverty in Bolivia, it is hoped that the project will be valuable and inspiring for women in other parts of the world – contributing towards a future where everyone can live in safety and dignity, and reach their full potential.