Visit to the Museo Pambata Children's Museum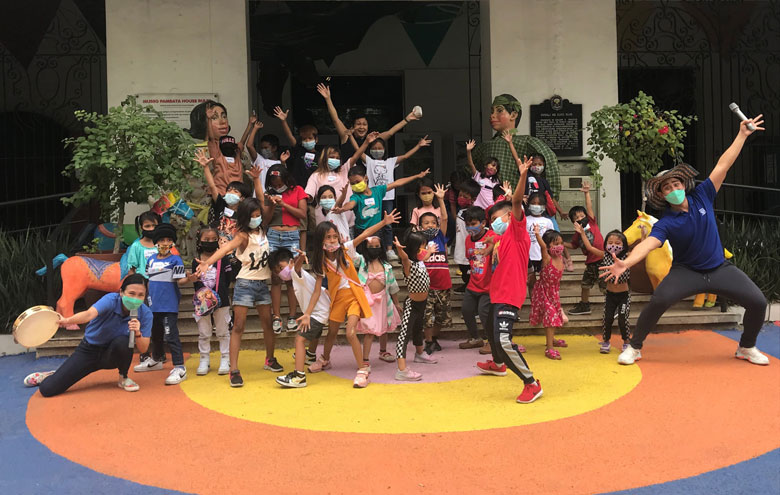 For many years, ATD Fourth World Philippines has worked with the Paco community in a disadvantaged area of Manila, the capital city. There, we conduct various programs including Street Libraries. During the COVID-19 pandemic, activities in Paco were very difficult to do. In fact, the pandemic severely limited most children's opportunities to learn and have fun.
As pandemic restrictions eased in early 2022, the Paco children began asking for activities like those ATD Philippines did before COVID-19. On February 11, 2022, the children finally had the opportunity for some fun and learning when they visited Manila's Museo Pambata Children's Museum.
A museum visit
Thirty-five members of ATD Philippines, including 31 children from the Paco Street Library, went along. Organized in partnership with the Museo Pambata Foundation Inc. and the Paco community, the visit provided a day of learning and play in the country's first interactive children's museum.
The outing started in the morning with the children all dressed up for their big day! ATD Volunteer Corps members met the children and took them to the museum in a Jeepney! Ate1 Rowena, a facilitator (person with lived experience of poverty) from the Paco community, also accompanied the children.
First group since the pandemic
On arriving at the museum, the children learned they were the first group to visit since the start of the pandemic. About 10 museum staff, including the new museum director, gave the group a warm welcome and accompanied the children through the exhibits.
Soon after the visit started, Ate Nina Lim-Yuson, president of ATD Philippines and Museo Pambata founder, arrived. She was delighted to greet the children. One child from Paco gave Ate Nina a letter to thank her for setting up the visit.
Fun, interactive, and filled with learning
The museum exhibits were fun, interactive, and filled with opportunities to learn about nature and Philippines history. This included models of historical churches, the Kataastaasan Kagalanggalangan Na Katipunan ng Mga Anak Ng Bayan flag, and the museum's aquarium. One highlight was the Bee House, a playground with slides shaped like a beehive, where the children could roam freely. In addition, the children particularly enjoyed the ability to express themselves by drawing and painting.
The children drawing and painting during their visit:
Safe environment for children
Throughout the trip, health and safety measures were observed. This ensured a safe environment for the children to learn and have fun. ATD hopes that more children in communities experiencing poverty will have opportunities like this to visit spaces for fun, learning, and joy.
After seeing the museum exhibits, the group enjoyed lunch made by Ate Nina. Some children even kept what food they could to take home and share with their families.
ATD Philippines wishes to thank Museo Pambata for a terrific visit!