"Our Voices" Join Conversation on the Future of Europe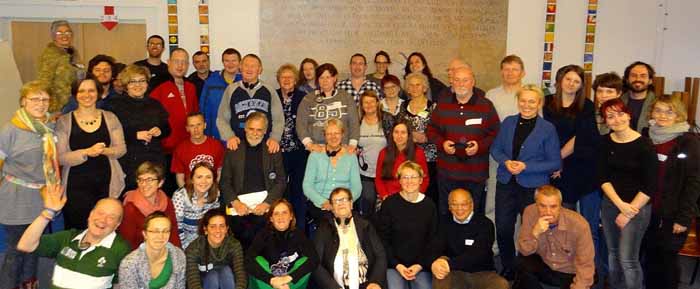 In early March, 50 European citizens from Poland, Ireland and Spain met to talk about the future of the Europe. Part of the 18-month Our Voices project, the group has been gathering on a regular basis to discuss the future of the European Union with a focus on social inclusion. The meeting took place at the ATD French International Centre and included many people who come from a background of poverty.
The Our Voices Project
In the video below, one Our Voices participant describes the project like this:
I think its about people, Europeans – fellow Europeans – coming together, [people who] know something of what its like to live on the margins or to be excluded in some way…from society… [They come] together and [discover] the similarities between those experiences, …and then hopefully [come] up with some clarity or thoughts or ideas about progressing…in the future at a European level…
Dialogue with European Institutions
Delegations from the three countries discussed a number of issues they had worked on at home, then presented their ideas and concerns to representatives from European Union institutions. The discussions focused on topics related to health, work and employment, and relationships between beneficiaries and professionals. With regards to health, participants said:
It's…difficult to be responsible when you fear meeting professionals of the health service. Some people are to scared to go to a doctor…

Our health is our responsibility, but it's our doctors' responsibility too. If you go to them, they tar us all with the same brush.

It is difficult to be responsible with your health when you don't have a sense of security in your life. When I felt more secure, I took time to manage my health.

A Positive Approach
During the five-day meeting, cooking and other creative workshops provided a relaxed setting in which group members could talk together about the kind of Europe they want to live in, and what needs to be done to realize their vision. Discussions focused not only on similar problems across countries, but also provided an opportunity for people from different backgrounds to develop a message about the solidarity and respect of human dignity so fundamental to the European Union. As one participant says in the video:
I think it's really fantastic that it's at the European level… [P]eople are surprised at discovering that outside their own country people are [having] similar experiences.
Our Voices concludes in June with a presentation to the European Parliament and the Council of Europe by project members from Spain, Poland, and Ireland. For more information see the Our Voices Facebook page.
"Our Voices" was funded with support from the European Commission. This article reflects the views only of the author, and the Commission cannot be held responsible for any use that may be made of the information contained therein.