We Can Help One Another, but We Don't Know for How Much Longer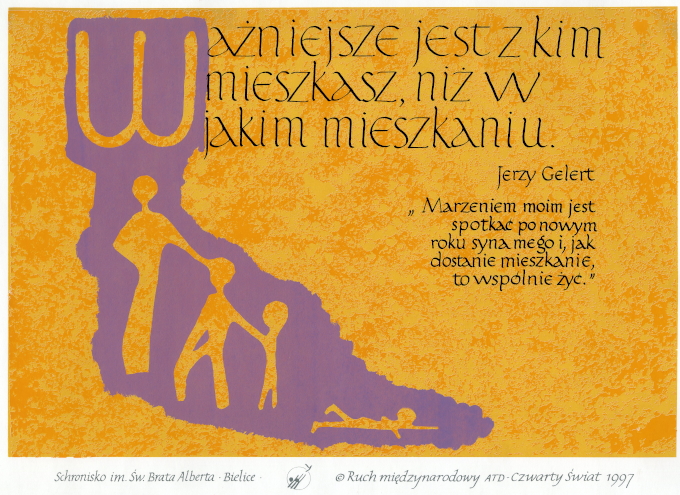 Image above:  Silkscreen: 1997, Kielce, AR0201401008 – ATD Fourth World © Christian Januth
In Poland, the ATD Fourth World team knows people who have no home and who spend their nights in shelters. Nevertheless, many do have employment. But now during the Covid-19 crisis, they live in especially dangerous conditions.
Every day, these people need to travel long distances on public transport in order to feed and wash themselves, get some sleep, and earn a little money. In order to receive food they must queue on a daily basis, mingling with hundreds of others in densely crowded areas.
One homeless man tells his story
"To fight against infection, the human body needs energy and healthy foods. At present, only tinned food is distributed instead of soup. That is too low in vitamins for people whose bodies are already weakened by tobacco and deprivation. It is not easy to fight infection in such conditions.
"People in poverty who cannot afford cigarettes smoke whatever they can get their hands on. They come into contact with filters that have been used by others. Now with the pandemic, this is especially dangerous.
"If someone has a fever, we have to call an ambulance. People are going to die because there is nobody to help them. The doctors who come to see us in the streets only use the medicine they have with them, not necessarily what people actually need. More often than not, these medicines have expired. If someone becomes ill at the shelter, everyone will be placed in quarantine. A hundred people sleep there, 50 per room. How is that possible? Many people will probably die. But those with the strongest immunity will survive.
"In one of the Warsaw night shelters last month, the bedding hadn't been changed for 10 days. More than 100 people slept in sheets that had already been used.
"Now, they give fresh bedclothes to new people for 14 days. That's the maximum amount of time you can sleep in a facility and then you have to find a new place. After that, you can come back, but only after a certain amount of time has passed.
"I used to spend a lot of time in libraries, but now they're all closed. There I could put down my bags while I read, but now I always have to carry everything with me."
Anxiety and depression: "We don't know how long this will last"
People who work without a long term contract or any contract at all find themselves in an extremely difficult situation. Many say that the outbreak of the coronavirus has eliminated their job and any way to earn a living at all. The prospect of being without income, even for several weeks, creates terrible anxiety.
"I hand out leaflets", says one man. "The company I work for may close and then I won't have any money at all. Also, being confined between four walls, without being able to go work, without interacting with people – it all makes me depressed.
"In the social care home where I'm staying, they announced yesterday that no one is allowed to go outside or have any guests until further notice. It might take a month, I don't know; they didn't give us a date. I can't even go shopping. I'm not complaining; I understand that this is for our safety and others' safety too.
"I know this is a really serious situation, but emotionally I feel very low, and the others in the care home do too. It's a real hardship not to be able to move about. We don't know how long this will last.
"This is still the beginning, and we can still help one another, but we don't know for how much longer. For myself, and others who are in a similar situation, we will constantly need help."