"We Would Like Others to Stop Making Decisions for Us."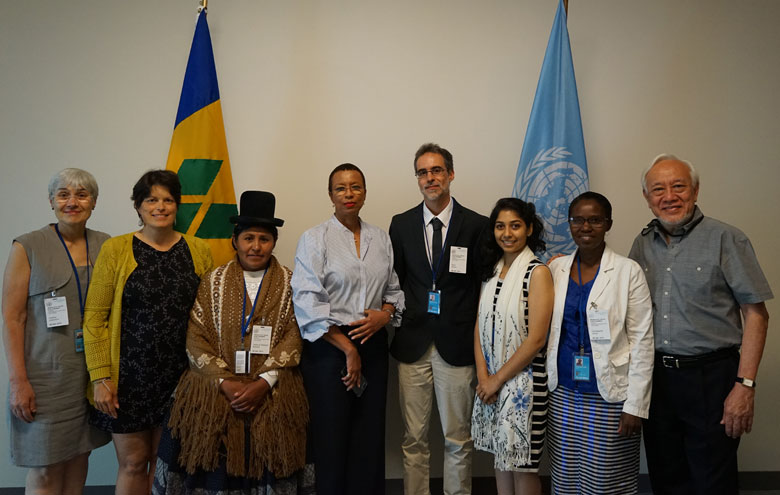 Above: President of ECOSOC  Ambassador Inga Rhonda King (fourth from left) meeting with a delegation from ATD Fourth World at the UN in New York.
Remarks by Inga Rhonda King (Ambassador to the United Nations of Saint Vincent and the Grenadines and 2019 President of the United Nations Economic and Social Council [ECOSOC]) at the Opening Panel of 2019 High-level Political Forum on Sustainable Development, July 9, 2019.
Excellencies, Distinguished delegates, Ladies, and Gentlemen,
This morning we are discussing who is behind, who has been pushed behind, and who is the furthest behind. Our real time surveys in the room earlier underscored that growing inequality is foremost on our minds, and ensuring no one is left behind by focusing efforts on the most vulnerable was further emphasized in our "in the room survey."
Yesterday, I met with a delegation, ATD Fourth World, who came to attend our meeting this week. This NGO works with the poorest and the most destitute communities the world over. It helps them to improve their lives but also to articulate their messages to their leaders. I would like to share a message from poor communities they conveyed to me, which struck me profoundly. They said,
"We would like others to stop making decisions for us, to stop thinking for us, to stop doing things for us, but we would like them to do things with us."
I encouraged ATD Fourth World to make their voice heard during our meeting. However, I would like all of us to bear their message in mind as we continue our work this morning and throughout the week. We are here for the furthest behind. The success of this HLPF and the 2030 Agenda as a whole will be judged in no small part on whether we manage to empower the furthest behind to improve their lives and live in dignity.
See Inga Rhonda King's remarks in this video (Between 2:33:00 and 2:35:00).