Knowledge, Work, and Epistemic Injustice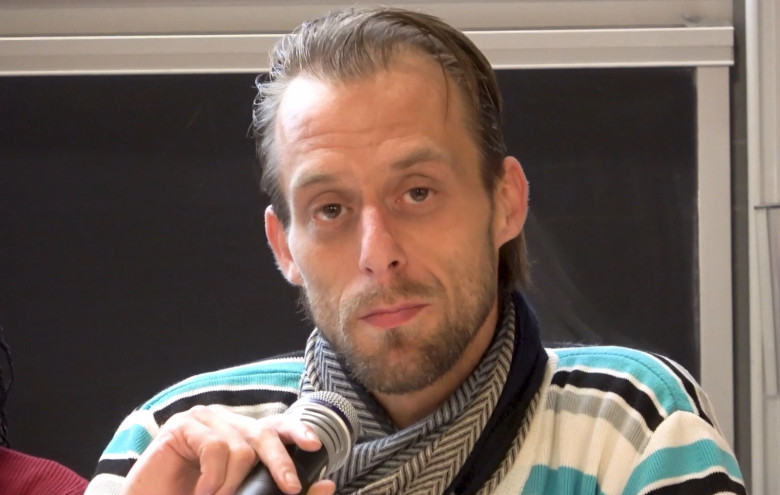 For International Workers' Day May 1st, 2023, ATD Fourth World is highlighting pieces focused on work, jobs, and the ways in which they affect the lives of those in poverty.
This video is from the social philosophy conference "Poverty, Social Criticism and Merging Knowledge", held in December 2022 at University of Paris Cité in Paris, France. In it, Rudy Befahy – an ATD Fourth World activist – talks about knowledge, work, and epistemic injustice.
"Poverty, Social Criticism and Merging Knowledge" was the culmination of more than 3 years or research of a social philosophy project that involved 33 participants. These participants included people with a lived experience of poverty (such as Mr Befahy), researchers in social philosophy, and others involved in ATD Fourth World. The conference focused on three key aspects to overcoming poverty: rights, resistance, and epistemic injustice.
In the video, Mr Befahy talks about work and epistemic injustice from his own personal experience. He developed this speech from his writings during the symposium, as each participant wrote a text based on their own lived experiences. A collection of these writings will be published in the fall of 2023.
"If I say this, it is because I know that it is the same thing for many other people, but they may not have the possibility, nor the audience to tell it to."
Rudy Befahy
Script of Mr Befahy talk:
"To be dispossessed of you work"
This saying, for me, is really important. I am a mason, I know how to build houses. I know how to tile in the 'English' style. I know what a fascia board and a wall plate are for. You may not know what this means. Me, I know. It's more than just know-how, it goes beyond usefulness. It is a frame of mind, a way of approaching life. To go beyond usefulness means building a house, gaining experience, and building your own knowledge. After that, you can work with someone and you can teach them to build their own knowledge. I was not taught this, this was not shown to me. It was given to me. When you learn on the job, you take things in. You absorb. I don't have a diploma. What I know is not officially recognized. I changed professions when I realized how employers were abusing me. I never worked as a mason again. I no longer built with my heart, or with emotion, only for profitability. I had no time to learn more. Through exploitation, my knowledge was sterilized. When building is a joy, you don't get tired. But you suffer when you are treated like a machine: where you have to lay at least 700 bricks per day, and you're told "it's just for public housing anyway." You become a machine and you are exploited. What matters is not that you learn but how fast you work so the boss can make more money. Your job? "We don't care." Teaching younger masons, developing people? No one cares. We no longer train people – it's all about the money. You are completely dispossessed from your job, your profession. Today my knowledge is doubted when I speak. Those who hear me don't know what I have achieved. When one is self-taught, we always have to prove what we know. We have the burden of proof without the means to prove. Materials would have to be purchased – bricks, cement – to prove what I am saying. But that is far too expensive. I can't prove what I have done. I can no longer prove that I am in the world of work. In masonry, there is a rule. All mistakes will come out one day or another. If a mistake is made in the beginning, it will always end up being seen. For people, it's the same thing. If we make a mistake and don't see it, it becomes like a betrayal that becomes much more serious over time. Everything afterwards becomes distorted in that person's life.