Young Artists in Guatemala – Creating Peace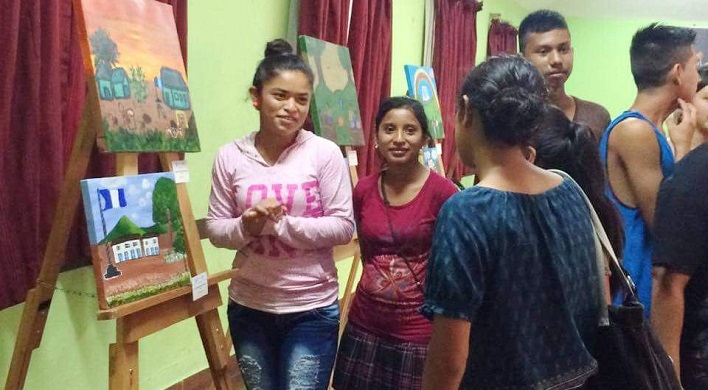 Beginning in 2015 in Guatemala, the "Young Artists and Artisans of Peace" project began, rooted in trust built up over years of presence among children, youth, and adults in some of the lowest-income communities in the country.
This trust, strengthened over time, allows many families to share their concerns about the risks and violence to which young people are exposed: unwanted pregnancies, drugs, recruitment into gangs ("maras"), leaving school without qualifications, lack of employment, etc. This trust encourages adults to speak about what they already do to protect their children, and to recognize what young people themselves undertake to build a safer future.
Despite the difficulties, young people are a blessing and a great support to their families, often taking care of their younger siblings when their parents are working, applying themselves to their studies even in adversity, and doing odd jobs to support the family finances. Taking all these responsibilities into consideration, how can we provide a space where young people can be themselves, where they discover the beauty of the city they live in, and where they commit themselves to working toward social justice?
Young people want to spend time together, participate in fun activities, discuss topics of interest, see new places, and also engage with the society they live in. In this context, "Young Artists and Artisans of Peace" was born as an opportunity for participation through which everyone can find new tools to transcend the situation of vulnerability in which they live.
"Culture is creation, a meeting of people, a product of exchanges among people. It is immersed in the history of humanity, it is the very story of how all people have been forged in the same way. Culture is the very negation of exclusion."
– Joseph Wresinski, founder of ATD Fourth World
The "Young Artists and Artisans of Peace" project — supported by the French Embassy to Guatemala and the Jules Verne High School — revolves around several activities:
Art workshops where each participant is encouraged to feel creative, capable, and proud of their work.
Organising exhibitions of their own work, carried out with the support of institutions and cultural centers.
Guided tours of art galleries, museums, architecturally significant places, and archaeological sites.
Time and opportunity to debate topics including human rights, participatory citizenship, peace building, gender, and sexuality.
"The most vulnerable young people are builders of the society they live in, with a desire to live in peace. But we must change the prejudices that they are facing."
– Collective message written by members of ATD Fourth World–Guatemala
Many of the young people involved used to take part in ATD Fourth World–Guatemala's Street Libraries or Reading Clubs when they were children. Several of them now help run these activities for other children.
It takes time to create a dialogue of trust. However, one of the main challenges of working with young people is time-related. Their accumulation of work, study and family responsibilities means they are not very available.
The young people themselves are driven to involve others like them. Together with the facilitators, they create opportunities where they can discover and develop their talents and interact with one another or with adults, thus strengthening their commitment to the community, within ATD Fourth World or elsewhere.
Going out to meet new young people and taking time to involve them creates a ripple effect, where they in turn become the ones committed to reaching out to others.
Photo by ATD Fourth World: A painting exhibit at the Italian Cultural Center for the World Day for Overcoming Poverty.