2030 Agenda: ATD at the UN High-Level Political Forum on Sustainable Development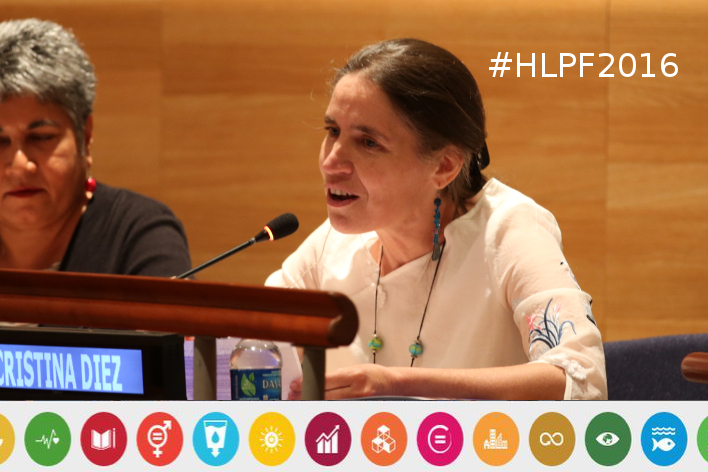 The High-Level Political Forum on Sustainable Development (HLPF) is where the United Nations conducts follow-up and review of the 2030 Agenda for Sustainable Development and the Sustainable Development Goals (which were adopted at the United Nations Sustainable Development Summit on 25 September 2015).
ATD Fourth World will participate actively in the HLPF scheduled on 11–20 July 2016 in New York. The Forum, which will conclude by adopting a Ministerial Declaration on 18–20 July, is expected to start effectively delivering on its mandates to provide political leadership, guidance and recommendations on the 2030 Agenda's implementation and follow-up.
ATD Fourth World's written contribution to the HLPF, a statement called "Leave No One Behind," states, in part:
"Fighting against stigmatization and discrimination is crucial in the commitment to further social progress and eradicate extreme poverty. Though there are many barriers to it, the participation of people living in poverty provides learning and regenerating processes for people and institutions that commit to them. […] ATD Fourth World proposes the following areas that are crosscutting and particularly important to address together with people living in poverty, especially those who are the furthest behind: tackling climate change; ensuring social protection, quality education, and access to decent work for all; defining and measuring poverty with those furthest behind. ATD also proposes that people affected by humanitarian crises, including the most vulnerable and those furthest behind, not only be informed and consulted, but put at the centre of decision-making processes to meaningfully influence humanitarian action."
ATD Fourth World also contributed to the preparation of the official programme events and some side-events:
ATD Fourth World will also take the floor at events on:
Monday 18 July:  "Walking the Talk: Transformative Pathways for Achieving the SDGs" co-organised by UNRISD, the Permanent Mission of Sweden and the Permanent Mission of Uruguay.
Tuesday 19 July: "Ensuring no one is left behind: the importance of policy coherence for sustainable development" organised by the Governments of Sweden and Mexico, and a coalition of think tanks which includes the World Resources Institute, the Organisation for Economic Co-operation and Development, the European Centre for Development Policy Management, the European Environment Agency (to be confirmed), and the German Development Institute.