Young People as Peace Builders in Bangui: Training as Social and Cultural Mediators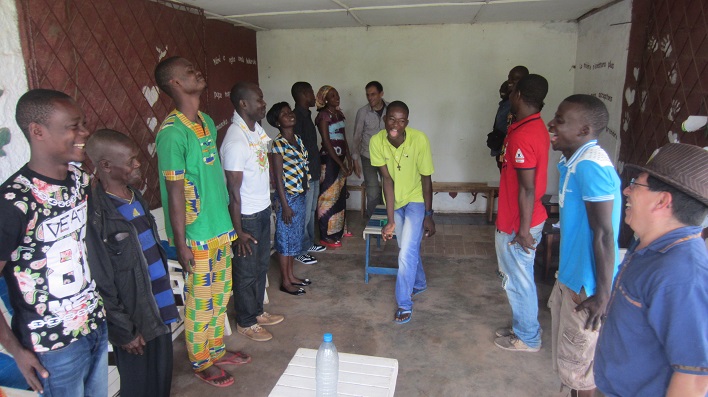 ATD Fourth World full-time volunteer Dimas Perez from Guatemala spent the month of May 2016 in the Central African Republic to help train future Social and Cultural Mediators. In this interview, he looks back on his trip there, where he shared with the young people his experience gained through years of running Street Libraries with children in Central America.
What is the context for this training programme in Bangui?
The Central African Republic is currently in a process of national reconciliation, encouraged and supported by the international community. In this post-conflict situation, everything needs to be rebuilt: the justice system, the education system, employment, agriculture…. This is a long process.
The training course set up by ATD Fourth World reinforces the efforts of civil society to build social cohesion: the twelve young people following this course will be able to play key roles in their communities and neighbourhoods, developing inclusive initiatives and projects. As members of ATD Fourth World or of other organisations, the young people already have some experience in facilitating groups. So what we actually did was to talk over all our experiences to encourage each other and keep our spirits up.
The training programme started in January 2016. How has it been going?
The students receive training in a variety of fields. For instance, a priest from Burkina Faso organised a workshop on human rights based on Dr. Martin Luther King experience, while university professors have taught classes in computer technology, psychology, and other subjects. The young people are also doing fieldwork and are involved in a participatory action-research project with ATD Fourth World. It is a very comprehensive training programme.
I joined the trainees in running Street Libraries and also organised training around that. We reflected on the goals of any project like this one intended to share knowledge. For instance, how do we pay special attention to those families most deeply affected by poverty? When I worked in Guatemala, we did a Street Library in Guatelinda, a neighbourhood of 92 families. The fact that we lived in the area enabled us to see that five of those families in fact had the most difficulties and were excluded from the community. So our goal was to put these five families at the heart of our activities.
Another question: how do we help families and children gain the respect of others? I told the trainees in Bangui about Lilas, a girl in Guatemala who lived next to the railway tracks and was constantly rejected by the other children. Thanks to our workshop project "Art for All", a musician came, and Lilas revealed her incredible dancing skills! The other children were impressed; they applauded her. After that, every time the musician came, the children would call Lilas and ask her to perform. This allowed her to be recognised by others as a person in her own right. In Bangui, when I told them about this example, Flore, one of the trainees, told us she had noticed during the Street Library at the refugee camp that two of the children particularly made the effort to bring all the children together for the activities. "These are the mediators of tomorrow", she said proudly.
These young people are learning to be more attentive to those who are suffering the most, to recognise children who are rejected as Lilas used to be among fifty other children participating in the activities. We also spoke about how different activities allow us to make personal visits to families. A Street Library is not only a cultural activity, but a first step toward getting to know which families in a neighbourhood are having the hardest time.
What struck you most about the involvement of these young people?
There are so many problems related to safety and security there. Getting around involves physical risks. Like many other people, these twelve trainees are constantly on the road, whether by using buses, shared taxis, motorcycle taxis, etc. in order to go visit children and their families and also to take part in the country's reconstruction efforts. The families living in Kokoro Boeing, a neighbourhood near the airport refugee camp told the young people, "Thanks to you, we are not left on our own."
In the village of Danzi on the outskirts of the capital, no cultural projects had been possible for several months in 2015. The Street Library there has now resumed. Mr Parfait, a resident of Danzi, said:
"ATD Fourth World doesn't use violence to fight, but rather takes the time to rebuild ties."
To him, the young people and ATD Fourth World's team remained true to people, and, without forcing anything, were able to let things follow their course toward reconciliation.
On one day, one of young people did not attend the training. In fact, Flore was absent because Mrs. Gisele had fallen ill the day before and had to go to a clinic. So it was Flore who stayed with her all night and all the next day, as well. That's what social mediation is about: being with people when it matters most. Mediating means making a freely-given commitment to create ties with people in the community.
What is achieved through Street Libraries?
Street Libraries create a space for peace. Street Libraries currently take place in three locations: at Kokoro Boeing, in the M'Poko refugee camp, and in Danzi. In Kokoro Boeing, the activity gathers about 45 children. One day, however, we were able to bring only 15 books. The children quietly sat in small groups, each group around a book; they shared what they had.
Mr Parfait and Mr Philippe de Gaulle, who live in Kokoro Boeing, told the young people: "Your presence gives us courage." The Street Library shows the community that it is possible to live together peacefully. The Street Library supports people in their efforts to build peace.