A Fragile Smile Shines Again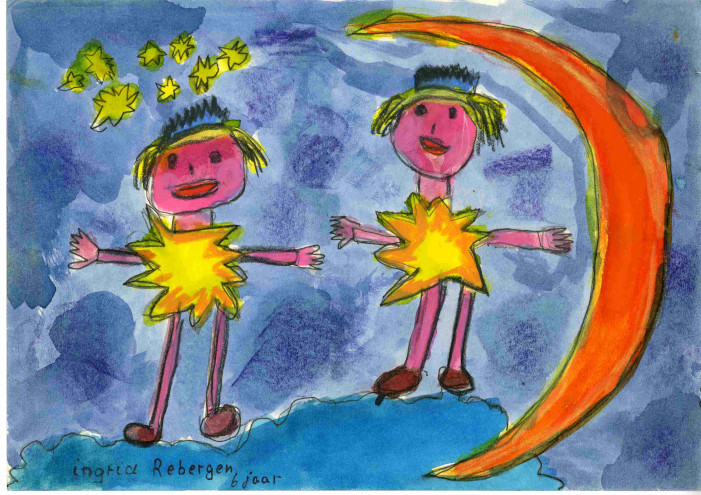 Drawing by Ingrid Rebergen, © ATD Fourth World
"Meeting a child, whoever they are, is always a celebration we are invited to, a new dance step that the child will teach us to enter the circle of joy and hope."
By Bruno Dabout, Director General, ATD Fourth World International
Living in isolation
José's family took refuge in an old abandoned farmhouse near Madrid, so as to escape the violence where they lived. It was an isolated place. You had to walk a long way to reach it. The walls were crumbling and the hills around were wasteland.
This is where Alvaro and Marina, facilitators from of the ATD Fourth World Street Library came to be with José and his sisters every week. Like other families, José's parents offered hospitality to other children  to allow them to experience the Street Library and moments of reading, creation and openness. José's mother said to Alvaro:
"Before knowing you, my son had never spoken to anyone outside of the family."
Admittedly, the team could have continued the Street Library without worrying about this turbulent, difficult child, who was capable in a fit of anger, grabbing a book and throwing it in the mud, then …
Let's go!
One day Espe, José's little sister is sad. She had an accident. After an operation, Espe is sitting in a wheelchair. Her recovery will be long. She is usually active and lively, but now has a bored face. Alvaro, Marina and the children don't know what to do to distract her. They are distraught. That's when José says,
"We're not going to sit idly by! Her wheelchair is really ugly! We need to get her lots of gifts! Let's go!"
Suddenly the children go off into the hills. They return with flowers, plastics of all colours, flowers… Quickly they help José hang all they have found on Espe's wheelchair. The wheelchair then disappears covered by the decorations. The flowers smell good. With the wave of a magic wand, José, his sisters and their friends have transformed Espe's wheelchair into a fabulous princess carriage!
A fragile smile shines again
As this metamorphosis progresses, joy rekindles Espe's face and her smile shines like the sun breaking through the clouds. She only has eyes for her magician brother. The singing and laughter resume. On the doorstep, the parents are smiling.
All of this only lasted a moment but Alvaro wrote song about it:
A fragile smile shines again,
Among the flowers that one day we will see as eternal.
Beauty conceals a long march,
In the midst of hardship that cannot bury a fragile smile.
(…)
Now fifteen years later José is a father. When he sees Alvaro, he reminds him of what they experienced together.
He never stops repeating how much the Street Library allowed him to escape the ugliness of the surroundings and to imagine other possibilities. Even if his life has not been easy.
This event is the beginning of a long friendship. An event, born in a Street Library in a place you really have to dare to go to, then reach an isolated family, with a child walled in her grief. The kind of event crosses time and remains a landmark in our lives as we grow.
Today José regularly helps Alvaro meet young people trapped in suffering.
---
With the holidays in full swing, we know that you too believe that any child can bring joy. We are counting on your help and donations to support ATD Fourth World's work, which seeks to reach the most abandoned families and introduce art, poetry and cheerfulness in places of impoverishment. Thus allowing beauty to heal sadness.
Thank you very much