Socio-Economic Discrimination in Europe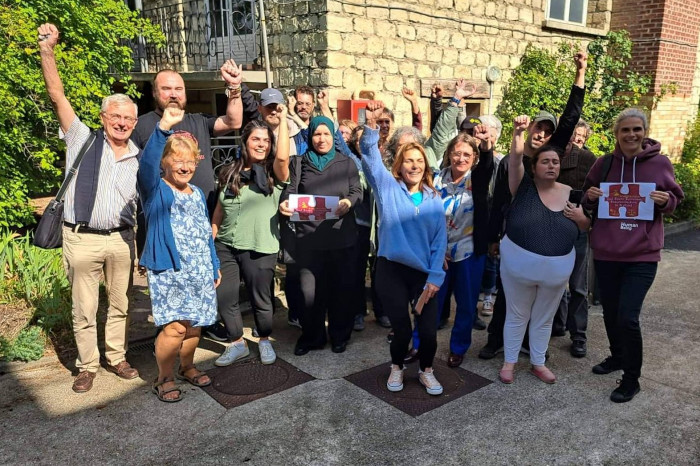 Above: ATD members at the September European Citizens' Dialogue
Adapted from article on ATD Ireland's website
Institutional mistreatment and discrimination
"The inner city is looked down upon but we are no different than the rich. We just never had the opportunities in life they did…"
Lorraine, ATD activist from Ireland
Lorraine didn't always know this. She grew up in Dublin thinking there was something wrong with her. She could feel it – people just treated her differently. Also from Dublin, Annmarie and Paul felt the same from an early age. When you live in poverty school means bullying, insults, and humiliation. Often grown ups never put a stop to it. "What's wrong with me?" they all wondered.
However, when Annmarie, Lorraine, and Paul met through ATD Ireland, their lives changed. It's not just me, they realized. In fact, people in poverty simply aren't treated the same as others. And there are words for this: "socio-economic discrimination," "institutional mistreatment."
A European level problem
ATD members throughout Europe know about socio-economic discrimination all too well. It takes many forms but always leads to exclusion, shame, and marginalization. For example, if parents haven't paid school fees, their children can't be in the class photo or go on field trips. If you get public benefits, landlords won't rent to you. When you apply for a job, firms won't hire you when they find out where you live. However, across Europe, ATD activists have been standing up to this unjustified and unfair treatment.
2022 European Citizens' Dialogue
Last September, sixty of these activists gathered at ATD's international centre in France to discuss the problem. Annmarie, Lorraine, and Paul represented Ireland at the three-day "European Citizens' Dialogue" on institutional mistreatment and socio-economic discrimination. They joined delegates from Belgium, Bulgaria, Germany, France, and Switzerland. In each group were ATD members like them: people who have been treated differently—mistreated—just because they live in poverty.
During the three day meeting, delegates expressed their feelings of rejection, injustice, and helplessness. Some thought discrimination is intentional, even premeditated.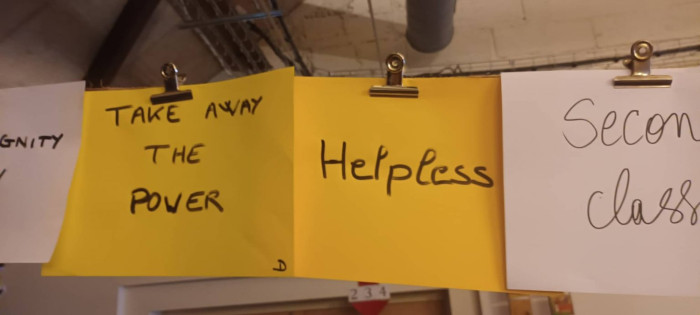 In one session, the Irish delegates worked closely with groups from Bulgaria and France. Gradually, stories emerged of personal experiences being mistreated or things they'd seen in the workplace. For many, it took a lot of courage to talk about these painful situations. Yet as they told their stories, participants realized this is a problem that exists beyond their own country.
Physical and psychological violence
At the European gathering, groups discussed how, in their various countries, they had faced discrimination in healthcare, education, housing, and other areas. This mistreatment makes navigating the often confusing social welfare systems more time consuming and more stressful. In fact, participants felt that what they were experiencing amounted at times to both "physical and psychological violence".
This is something ATD sees a lot. We've heard stories from people who were followed the minute the entered a shop. Taxis pass you by and pick up a well-dressed person down the block. Sometimes restaurants ask you to leave for no reason. The fearful or disapproving looks are a constant. And always, people are trapped in a system of services that regards them with suspicion and accusation.
Why is this happening?
What causes individuals and institutions to mistreat others based on their socio-economic status? Sometimes, social policies are simply unfair, participants said. The lack of social, healthcare, and psychological services denies people access to what they need to survive. This can be a form of institutional mistreatment.
However, certain professionals, consciously or unconsciously, also use language that reflects discrimination. And the tremendous mistrust that exists between social institutions and people living in poverty plays a major role as well.
Solutions on two fronts
When shopkeepers, taxi drivers, teachers, and an entire system of public services constantly treat you with mistrust and scorn, it takes a huge mental toll. Over years, confidence, motivation, and self- esteem suffer.
Participants talked about two kinds of solutions. First, how to stop discrimination and all the obstacles it puts in people's path? Second, how to improve self- confidence and move forward despite a lifetime of psychological damage?
Make socio-economic discrimination illegal
The Irish delegation talked about their advocacy work to make socio-economic discrimination illegal. Currently, ATD Ireland is campaigning to have national equality legislation recognize socio-economic status as a new ground of discrimination.
Today in Ireland there are nine "grounds" of discrimination including race, gender, and disability. Socio-economic status would be the tenth.
It was both inspiring and motivating for those from other countries when Paul, Lorraine and Annmarie presented their recent work with the #Addthe10th campaign.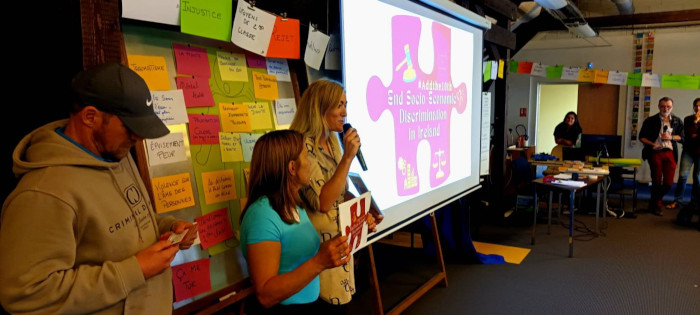 In addition, many of ATD Ireland's projects today try to raise awareness of what socio-economic discrimination in that country feels like.
Finding ways for social workers to interact more collaboratively with people in poverty would also help, and ATD Ireland has done a lot of work in this area. Community activists presented the new film showcasing their "poverty aware practice module" carried out with Trinity College social work students.
Recovering from socio-economic discrimination
But people in poverty who attended the European gathering emphasized that they need more than legal and institutional reform. For them, it's critical to have a place to be with others who have been through what they have.
After having your confidence torn down by institutions, people need healing. It really helps, Irish delegates said, to be in a place where you are treated with respect. Hearing others' experiences with discrimination helps you see there is nothing wrong with you as a person. With increased self-esteem, it's easier to take on whatever you need to do to move forward in your life and overcome poverty.
"If we all stand tall and leave no one behind we can build people up….", said one meeting participant. "We can help by telling them they are not alone and build up their self- worth."
In this sense, the European gathering went a long way towards helping people who live in poverty deal with the damaging impact of years of mistreatment. As each country presented their work with ATD groups across Europe, participants were moved to hear about others' struggles.
Annmarie from Ireland was shocked by a Bulgarian film on the impacts of urban planning, yet felt it helped her see her own situation in a new light. Hearing how others stood up to injustice helped participants feel that they were all working towards a common goal of greater fairness. Inspiration and motivation are critical when you've been knocked down all your life.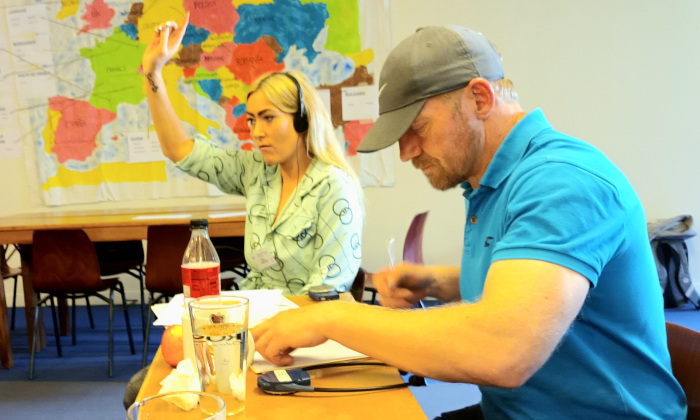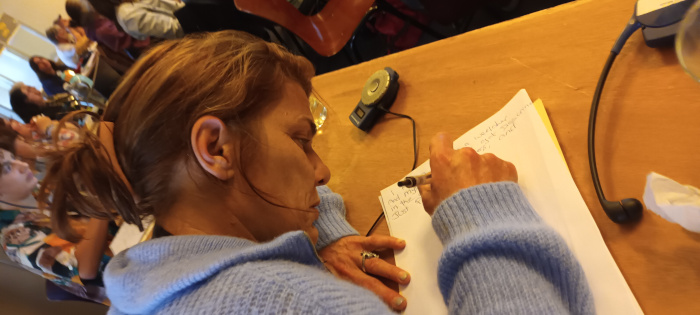 Heading home, motivated and determined
"Our struggle as activists and volunteers has its ups and downs", said Paul, one of the Irish delegates. "But when we put our minds and energy together, we achieve well above our weight. We need to be proud of our work."
The ATD Irish activists all agreed that the European gathering was a very positive experience. They appreciated the opportunity to share their thoughts and gain confidence in their knowledge about this important issue. And ATD Ireland felt enormously proud of them for graciously sharing personal stories and presenting their activism against socio-economic discrimination.
Lorraine put into words something many felt: their struggle is for justice in the world, but it's also very personal.
"[The meeting in France] was important for me because I have a deep passion for change in this country and others. I don't want my children to grow up in a world with no opportunities because of where we are from. The inner city is looked down upon but we are no different than the rich. We just never had the opportunities in life they did… I'm fighting for my kids' future and I won't stop."
For more information, see ATD Ireland's report, Does it only happen to me? that documents countless examples of socio-economic discrimination in that country.
More on ATD in Ireland
ATD Ireland's work on socio-economic discrimination
More on ATD's work against socio-economic discrimination and other dimensions of poverty
"Don't Say Where You Are From" is a powerful Belgian film about discrimination, inequity and institutional violence.