Adopt a Street Library! United States Annual Campaign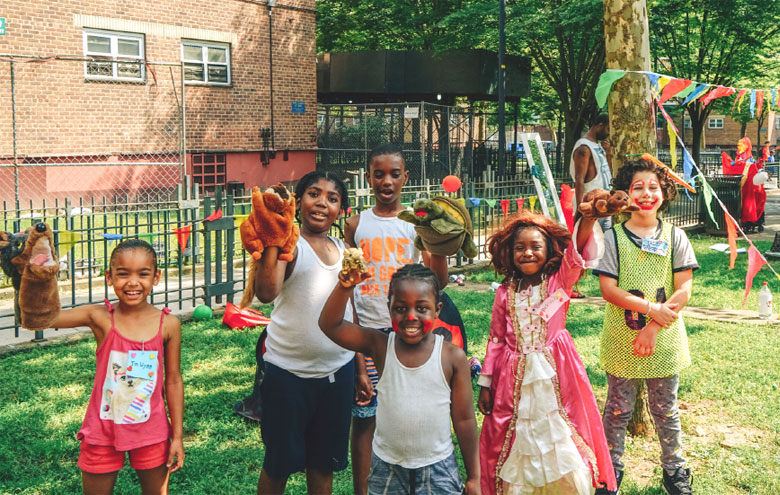 Looking to make an impact in under-resourced neighborhoods? For children, Street Libraries* mean reading, creative activities, and games on a weekly basis. Programs take place where people naturally gather: on the sidewalk, in a local park, or at a market place.
Street Libraries focus on the most marginalized children. Facilitators are trained in effective outreach techniques to kids who hesitate to get involved. Activities also build relationships with isolated parents who often become part of ATD Fourth World programs for grown ups.
Adopt a Street Library Campaign
ATD Fourth World in the United States is running their annual Adopt a Street Library Campaign starting in November and running through the end of 2021.
Support Street Libraries in New York City and New Mexico!
A friendly place where trouble is all too common
One woman who took part in New York City Street Libraries as a child says,
"I grew up in a violent neighborhood where there were no community centers or after-school programs — pretty much no place to go but home or the streets. Thanks to the Street Library, the streets became a happier place. The Street Library gave us values to help reduce some of the violence."
Read the full article about New York.
In rural New Mexico, the Street Library takes place in a local market where the atmosphere was not very friendly. Things are different since the Street Library (called Story Garden) started:
"The relationship between staff and vendors was tense," says one person working there. "Parents and staff worried constantly about the children's safety. Since you all have been there, we know they're gonna be safe and have fun. Vendors and parents can relax a little more. The atmosphere is friendlier. [It's] changed a lot since Story Garden began."
Read more about the New Mexico Story Garden.
Childhood is a special time when children should be able to learn, play, and develop and flourish with dignity. Street Library gives children and their families this opportunity.
Street Library Moments
Isabelle sits next to her mom, who opens a beautifully illustrated book and begins reading a story aloud in Navajo. Isabelle's mom asks if she can borrow the book. She wants her daughter to learn the language and be proud of her identity. But she doesn't have children's stories written in Navajo at home.
Maya runs straight to the puzzles when she arrives at Street Library, carefully studying each piece before placing it right where it goes. "I don't go to school," the five year old explains. Not yet, anyway, since her mom is still working hard to get Maya's birth certificate. Meanwhile, Maya is already an eager and engaged participant, finding ways to learn until she too can attend school. "Maya knows everything!" the other neighborhood children say proudly.
Ava has a wide smile as she arrives at Street Library with her sisters. Her dad beams with happiness. His daughters don't live with him right now. But he gets visitation with them some
Saturdays he brings them to Street Library so the family can have fun times together.
"My daughters keep me going," their dad says.
A Huge Impact
Times like these make up weekly Street Libraries in New York City and rural New Mexico. In other neighborhoods, kids have sports teams, music lessons, library programs, clubs and plenty of other activities after school and on weekends. In neighborhoods where these things are not available or affordable, Street Library has a huge impact on children.
By adopting a Street Library, you're helping ATD Fourth World continue to provide the spaces that make this possible! Please donate to Street Library today!
*Street Libraries, sometimes called Story Gardens, bring books, art activities, and creative workshops to under-resourced communities. Creating a respectful and stimulating environment, the program allows children and families to gain valuable skills and develop relationships that are essential to overcoming the daily challenges of poverty.
Street Libraries are run by members of the full-time ATD Fourth World Volunteer Corps. For more information about this opportunity to work alongside people who live in deep poverty around the world contact in the United States or here for other countries.
More about ATD Fourth World in the United States
More about Street Libraries around the world