Rural Burkina Faso: Continuing commitment in Ganzourgou province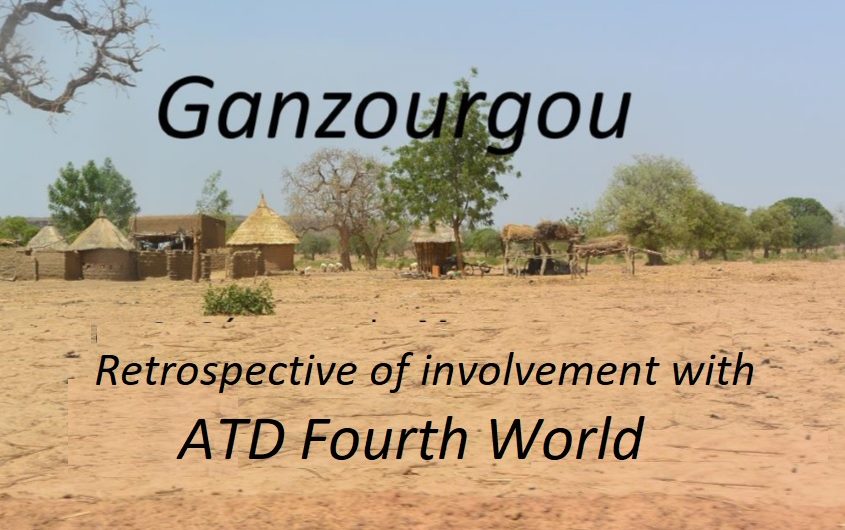 In Burkina Faso, everyone has their roots in a village: whatever type of life they're leading – in a city's modern pace or something simpler – each person keeps an attachment to traditional culture. Today, we can not talk about ATD Fourth World in Burkina Faso's capital city Ouagadougou without mentioning Ganzourgou, a rural province about 100 kilometers (62 miles) away. ATD Fourth World has been present there since the end of the 1990s.
Settling in the village of Méguet
After years of accompanying children and young people living on the city streets of Ouagadougou, members of ATD Fourth World wanted to understand better why children leave their villages and what would allow them to stay. This necessitated gaining a better knowledge of the rural environment. In 2000, they began to spend two weeks of each month facilitating educational activities for children in a village in the Ganzourgou province. Over the years, these activities spread to other districts and villages, providing important insight into economic, social and cultural initiatives that promote the participation of all in the development of the community.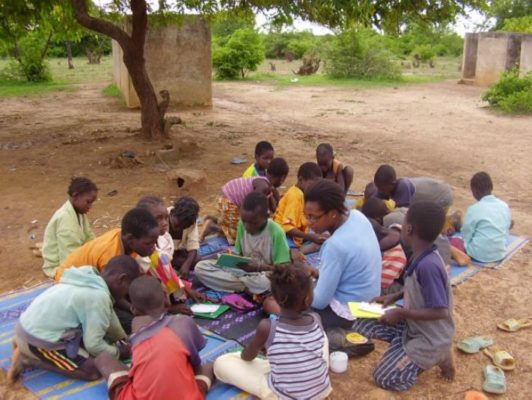 In 2003, a team of ATD Volunteer Corps members settled in the Ganzourgou province village of Méguet. Eugen Brand, then Director of ATD Fourth World, explained the thinking behind this move, at a seminar with Burkinabé friends that year:
"I believe firmly that by your culture, your history and your wisdom, your country is a guide to what it takes to allow the world of the city and that of the village to meet, so that the village can help the city fully realize itself, and vice-versa. We know very well that poverty occurs when there is no longer any relationship. To overcome this injustice of deep poverty, we need the involvement of people in rural areas."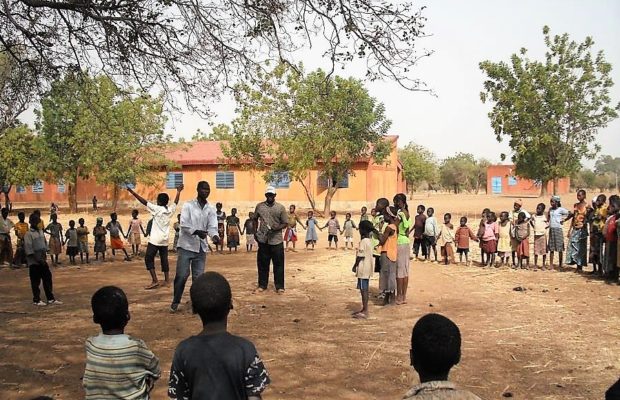 And, indeed, this long-term, continual presence reinforced the links that were being built between the urban and rural environments. Full-time volunteers developed relationships not simply through ATD projects, but through taking part in the daily life of the village: shopping at the market, attending celebrations, planting ground nuts, etc. Little by little, residents from rural and urban environments came together to, among other aims, mark national and international children's days; express the importance of family ties; and contribute to the international dialogue on education, especially noting the difference between formal education and the knowledge of experience.  The involvement of the people of Ganzourgou province helped reveal the vital knowledge that exists in rural areas and that is too often ignored in the "developed" world.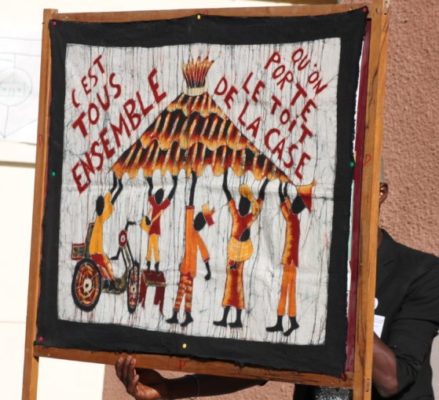 After some 15 years of activities and events, members undertook a process of reflection and evaluation throughout 2016. It was now time for the full-time volunteers to depart, and for local ATD members to determine what links they were ready to continue between those in the Ganzourgou province and those in the city of Ouagadougou.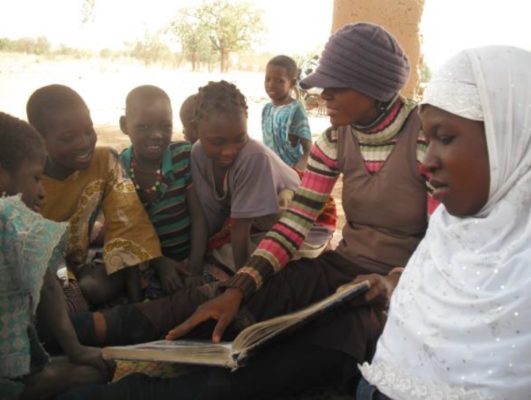 Jean-Pierre Daud, an ATD Volunteer Corps member, was part of the team that accompanied the evaluation process. In his encounters with the inhabitants of Ganzourgou, he rediscovered how taking part in communal activities over time creates a social bond:
"On our first day in Ganzourgou, a friend of ATD took us to his village. At a neighbor's courtyard, about ten people were preparing to put a roof on a hut. Our friend invited us to take a place in the circle around the roof to lift it. Two years later, as we were taking one last walk out in the bush, we hesitated to go into a small community. But a man recognized us and beckoned us to come. Upon entering, we saw a group of people putting their strength together to raise a roof onto a hut. With no conversation, we took a place naturally in the circle. One day, another Burkinabe friend had informed us, "You know, the Mooré word for 'roof,' which is surgi, also means 'forgiveness'." What a lesson in learning to live together in harmony!"
Celebrating what we've learned from one another
Jean-Pierre continued, explaining the spirit behind the goodbye parties and the retrospective album left for Ganzourgou residents:
"So, it is no coincidence that with our teammate Alban, we decided that this 'roof/forgiveness' theme would infuse the festivities that brought together the children, parents and authorities in each of the nine places where ATD Fourth World has facilitated book-based, knowledge-sharing activities for many years. These events were family celebrations where young and old shared stories and proverbs to say thank you in reciprocal gratitude for all those years when they learned from each other. In the people's words, noted patiently over the years, the depth of the encounters and sharing is evident. The wisdom that comes through about family, education, peace, solidarity, and fraternity, confirms that people in rural areas have a lot to contribute to the modern world — in Burkina Faso and everywhere else.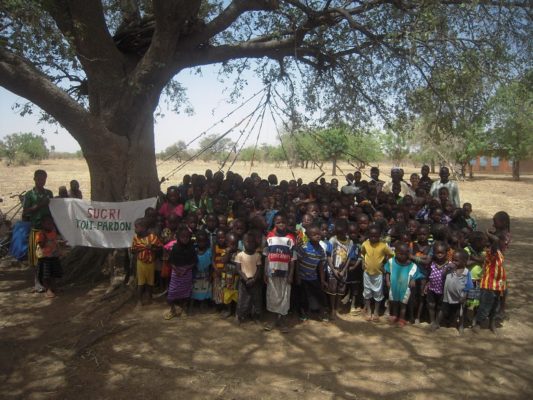 "One of those quotes collected from members still resonates for me: 'We first seek peace. If we seek strength first, then it will take up all the space and we will never gain peace.' The wisdom and involvement of people of the region have been gathered into a collection of quotes, testimonies, and photos, rendered in the Mossi language of Mooré and in French. We hope it will serve as a touchstone to the younger generations of the Ganzourgou province, as well as an inspiration to people elsewhere in the world to continue believing in their fellow human beings."
Although the ATD volunteer corps members have departed from Ganzourgou, other members and friends in the region will continue building peace, sharing their wisdom, and reaching out to meet and include others.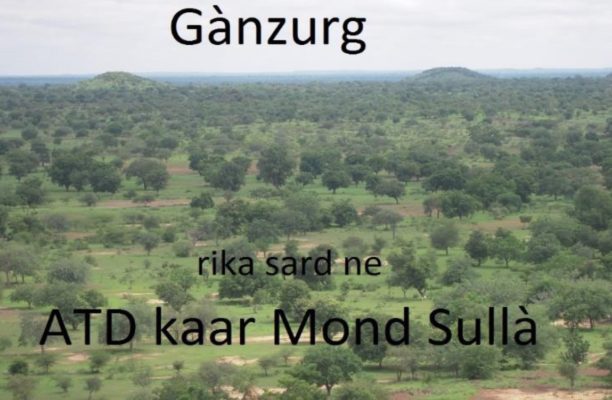 See this retrospective album of photos and quotes in French and Mooré.