Building Forward: Valuing People and the Planet Over Profits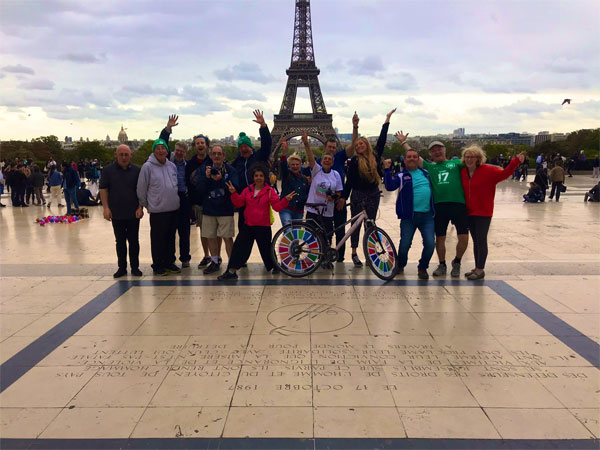 Above: ATD Ireland members at the poverty stone in Paris.
By Donald Lee, President, International Movement ATD Fourth World
Message for the World Day for Overcoming Poverty

Dear friends,
During this past year, we have seen the continuing spread of Covid-19 in most of our communities as more deadly and infectious variants have emerged.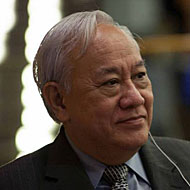 While the development of vaccines against Covid-19 has been an important step towards slowing the global pandemic, the distribution of the vaccine has been slow and obscenely inequitable.
More than three-quarters of all Covid-19 vaccine doses around the world have been administered in higher-income countries. This global imbalance in access to the new vaccines has resulted in only about 0.5 percent of people in low-income countries being vaccinated against Covid-19.
At the start of the pandemic, we had called upon the United Nations and all governments to act early and decisively to ensure fairness and equity in the distribution of the Covid-19 vaccines around the world. Alas, even in the face of the worst global health crisis in a century, the poorest and most vulnerable have once more been left behind to fend for themselves.
This global vaccine inequity has only added to the great hardship and suffering people in poverty have endured since the onset of the global pandemic. In most countries, people in extreme poverty have received little direct assistance and resources to protect themselves physically from the deadly disease or to overcome the additional economic and social challenges because of the pandemic.
As a result, for the first time in a generation, the world has recorded a sharp increase in the number of people living in poverty or suffering from hunger. Indeed, the global pandemic has highlighted even more sharply the deep inequalities and social injustices endured by people in poverty everywhere.
We are only too aware that children's education, even in wealthier countries, has been seriously disrupted as schools have closed or resorted to virtual classrooms to contain the spread of Covid-19. However, this loss or reduction of access to schooling has been particularly significant for children in poverty who often lack even the most basic tools and digital access to participate effectively in remote learning. If this situation is not remedied urgently, it will diminish the potential and capabilities of the next generation of children, and further trap them in persistent poverty.
In the aftermath of the pandemic, there is so much talk these days by governments around the world that say they want to "build back better". However, the rhetoric of "build back better" does not necessarily mean positive changes for society, better environmental protection or effective action against climate change.
In many countries, existing economic and social systems are broken. Instead of the economy working to improve the well-being of all people, it has enriched the already wealthy and powerful at the expense of the less fortunate. Instead of societies that place importance on peace, solidarity, human rights and dignity, we mostly live in societies defined by divisions in wealth, race, class and gender. Instead of living in harmony with nature, we have exploited, polluted and destroyed the natural environment to the point of extinction, and triggered calamitous climate change.
We cannot continue business as usual, to repeat the mistakes of the past. We need to "build forward" to create improved economic and social systems that value people and our planet over profits. A world built upon solidarity rather than division offers humanity the best hope to end persistent poverty and to avert the looming climate crisis.
This year, as we come together in solidarity for October 17 – World Day for Overcoming Poverty, it is crucial that we remain strong and united to work together to ensure that no one is left behind. People living in extreme poverty can lead the way to ensure we "build forward" because, through sheer necessity and ingenuity, they are often the first to act decisively within their communities to fight poverty, social injustice and climate change.
Their invaluable efforts, knowledge and experience must be recognized because they are true drivers of change and their voices must be heard, especially in international bodies.
When we come together in partnership and solidarity we can end persistent poverty and live in harmony with our planet.