Persistent Poverty: How Real Equality Can Break the Cycle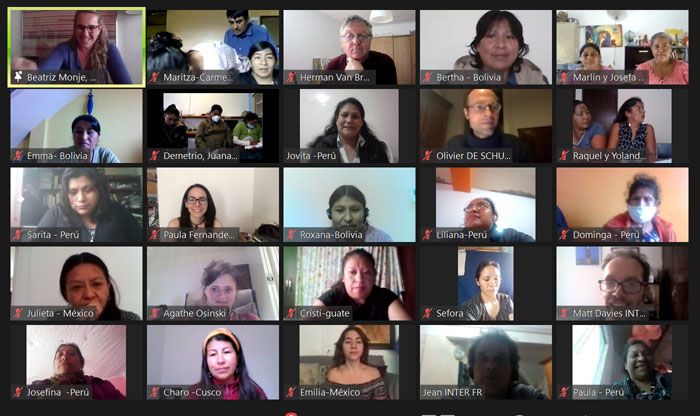 Above: Zoom meeting between Olivier De Schutter and ATD Fourth World Activists and Volunteer Corps members.
"Equality of opportunities is at the heart of our understanding of a just society. This ideal is based on a simple conviction: no child should be penalized for being born in poverty. However, it is far from being realized today."
Report of the Special Rapporteur on extreme poverty and human rights,
Olivier De Schutter
In a new report presented to the United Nations on 20 October, UN poverty expert Olivier De Schutter insists that, "Poverty and privilege continue to reproduce themselves in vicious cycles, driven by unacceptable levels of inequality. But with political will, we can break these cycles, and move from fate to opportunity."
Watch the report's presentation.
Download and read the Summary Report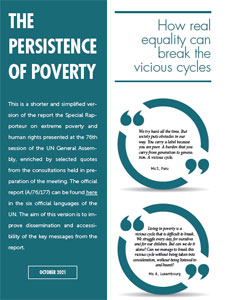 This significant new report states that "…the Special Rapporteur on extreme poverty and human rights, Olivier De Schutter, observes that children born in disadvantaged families are denied equal opportunities: their chances of achieving a decent standard of living as adults are significantly diminished by the mere fact that their parents are poor.
"The Special Rapporteur examines the channels through which poverty is perpetuated, in the areas of health, housing, education and employment. The growth of inequalities itself is an important contributing factor: the more unequal societies are, the less they allow for social mobility, and wealth inequalities are particularly corrosive in that regard.
"Ending the vicious cycles of poverty is within reach. Investments in early childhood education and care, inclusive education, the provision of a universal basic income for young people combined with an increased taxation of inheritance, and the prohibition of discrimination on grounds of socioeconomic disadvantage are important to breaking the cycles that perpetuate poverty. People in poverty face systemic discrimination in societies that remain deeply segregated by wealth: this calls for systemic remedies to overcome inherited divisions."
Download and read the full report
"Inclusive Education to Break the Cycles of Poverty" by Olivier De Schutter and Donald Lee
In "Don't Say Where You Are From", Olivier De Schutter talks with people in poverty about the discrimination they face every day. Read more about this film.