Burkina Faso: Drawing Strength from One Another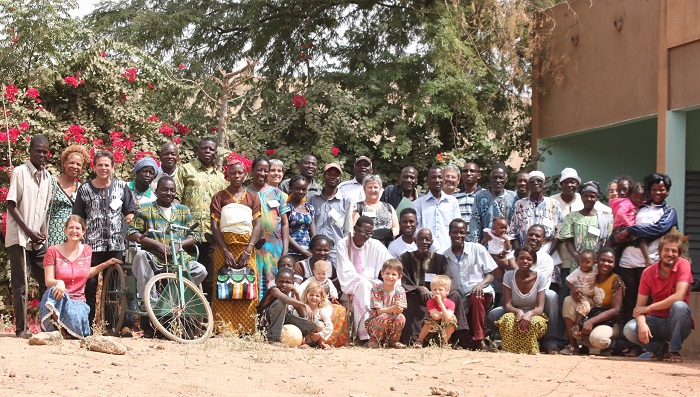 ATD Fourth World believes that "Poverty was created by people; only people can put an end to it." This is why its members make time regularly to sustain their motivation. From February 5-7, 2016, forty members from Burkina Faso, the Ivory Coast and France met in Ouagadougou. They spoke to one another about what inspires them, offered support and encouragement to one another, and had the kind of "heart to heart" discussions that enable people to carry important responsibilities together.
"A person could build his whole life out of what we have received over these past three days."
This session allowed participants to reflect on how their own actions have influenced their lives, whether they have experienced poverty themselves, spent time living in solidarity with impoverished families, or are committed to changing the way society views and responds to poverty.
When people talked about the work they do, it was clear that poverty crushes dignity and destroys humanity, no matter what your day-to-day situation may be, and that all of the work ATD does is influenced by this phenomenon. Participants talked about how brave people are to challenge the everyday norms of their lives. It takes courage to stand up when life is hard, and to do something about the injustice that often prevails. Many people seemed to echo this sentiment as they spoke of their varied real-world experiences:
"When you are born to parents living in poverty and witness how much they struggle, day and night, to feed their family, of course you draw strength from that. You will resist poverty just as they have. You were born into this struggle and will keep it going. From the time I was born, I've seen my mother in this resistance. I draw strength from her every day."
"My life is a struggle. I take a risk every time I leave home each day, because I am blind. I never know if there may be a stoplight or a vehicle in front of me. But despite everything, I still find the courage to leave home every day and meet up with others. In my neighbourhood, there are wealthy people who could help me get what I need, and if I stayed at home, people would come to provide for me. But that's not what I want. I want to go out, meet other people, discover, exchange, and have hope in my life. People in my neighbourhood know me and speak to me. It makes me feel that I belong–I care about that and it gives me hope. If people see me in this situation and realize that, in spite of everything, I am still able to get out on my own, perhaps they can find that to be inspiring. People will tell themselves that, if I can do it, so can they. It's my way of letting other people know what is possible.
Those in poverty are not at fault. As a school inspector, I see children without a birth certificate who have not been allowed to attend school. Is that their fault? If children cannot attend school because their families are unable to make ends meet, is that their fault? No. All of this disgusted me, so this is why I made a commitment to keep families out of this predicament."
"If we unite, hand-in-hand, to help each other, we can overcome poverty."
Meeting people from different generations has taught young people that it is possible to make a long-term commitment to helping others. It makes them aware of the possibility and of the responsibility they have to make a commitment to other people. One participant said: "All of a sudden, during this meeting, I saw several older men around me. I hadn't expected to see my parents' generation here. I realised that I needed to take things more seriously. You'd think that our parents might have seen enough in their lives and not want to leave their homes to help others. If they can recognize the importance of ATD Fourth World, then we young people have been taking things too lightly. Now, we'll just have to work twice as hard. We must rise to the occasion. I owe a lot to ATD Fourth World. The little volunteering I do is not enough. This experience really gives you a lot of ideas; together, we can act on them."
The work ATD does transforms people who are involved. It creates connections between others involved and changes their outlook on the world. It reveals the hidden courage and strength of those who are generally seen as incapable. It forces people to pay attention to their thoughts and ideas.
"I was taught to be aware of people who have had difficulties in their life and to share whatever support I can with those in need. However, it was in joining ATD Fourth World that I discovered what poverty is really like and saw the social exclusion that is destroying humanity. What inspires me is the way people living in poverty fight every day to survive, and their unwillingness to accept the injustice they experience. For example, I think of Mr M who goes to great lengths to register his children in school so they can get a good education. For me, as a member of ATD's full-time Volunteer Corps, that is what inspires me. It gives us the strength to join people in their struggle to escape poverty. For over six months, we knocked on a family's door every day, but the mother did not want to let us in. Finally, she opened the door. I wanted to introduce them to ATD, but before I said anything, I told myself that I had to listen to what they had to say to me. They told me their story. Afterwards, I looked at the mother and asked her, "We are a group who are trying to overcome challenges together. What is the most important thing that you would like to be able to do now in order to join us in resisting injustice?"
She told me, "Here, everybody hates me. I never go out and I am ashamed of what I am. I would like to be able to go to the hair salon and walk through the middle of town with my head held high." I told her, "Let's go." We went downtown together. Afterwards, this mother made friends with people in her neighbourhood and decided to take part in ATD's Peoples University. This reminded me of how Joseph Wresinski once set up a hair salon in the emergency housing camp of Noisy le Grand in order to help women feel proud of their appearance.""
A movement that can liberate a community
Meeting with people opens the door to mutual trust. It is a way to end the social exclusion that causes silence and shame. Moïse, described an encounter with Fr. Joseph Wresinski that changed the lives of prisoners at the prison in Bouaké (Ivory Coast). They were living in an environment of violence, deprivation and distrust. Food was scarce and each day was a desperate struggle to survive. Yet Wresinski made the astonishing suggestion that the prisoners come together to learn to read.
"Father Joseph came to visit us. He asked the prisoners, whom he had drawn around himself, to join hands. He asked them to support one another and to unite against the misery that we all lived in. We asked ourselves: what do we have to learn here in prison? We look for ways to eat, and to live. Because in prison, it was really a question of just surviving day to day. We were very surprised. Teaching illiterate people how to read and write? And then we told ourselves, "Why not, let's give it a try?" And little by little, the prisoners started to come together and exchange ideas, looking for a way to do something positive together."
Making a commitment to people in extreme poverty can be liberating for a whole community. One of the participants expressed it this way: "This meeting showed me that when one person opens his heart, then others have the courage to share their experiences and feelings as well. When people are honest and open, you are able to talk about things that are buried deep within you. ATD Fourth World is said to be a movement that can liberate a community and, at this session, I was able to see how true that is."