Senegal affirms link between poverty and human rights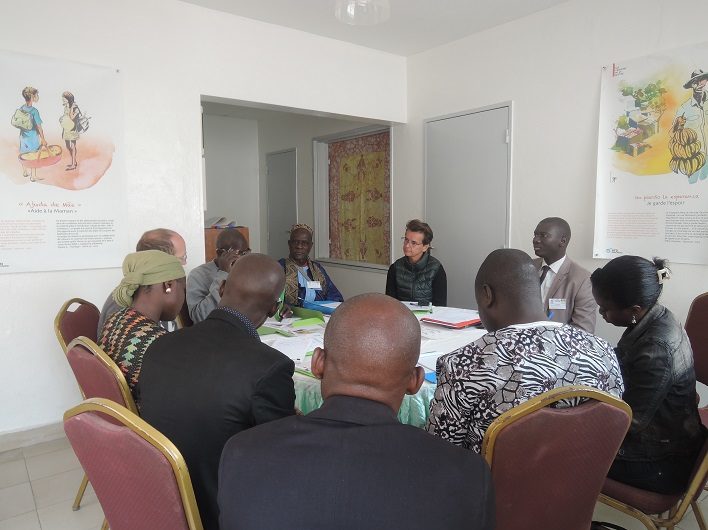 Seminar on extreme poverty and human rights in Dakar, Senegal
From 1-4 March 2016, ATD Fourth World and the Directorate of Human Rights within Senegal's Ministry of Justice organized a seminar on extreme poverty and human rights.
Held in ATD's regional Dakar office, the seminar introduced the Guiding Principles on Extreme Poverty and Human Rights, which had been drafted at the request of the UN Human Rights Council in Geneva. It also presented the handbook for implementing the Guiding Principles that was developed by ATD Fourth World and Franciscans International for people working at the community level. Attending the seminar were government representatives, NGOs, and others involved in issues related to poverty. The aim of the Guiding Principles is to clarify the implications of human rights for people living in extreme poverty and set out concrete recommendations for action. The implementation handbook, Making Human Rights Work for People Living in Extreme Poverty, can therefore contribute to achieving the Sustainable Development Goals.
The seminar brought together 46 participants from many government agencies (including the Ministries of Education, Family, Women and Children, Labour, Local Governance, and Urban Renewal, Housing and Social Environment) and other organizations working in the areas of poverty, young people, research or human rights.
Participants volunteered their time to attend the seminar and showed a great deal of interest in working together on this subject.
Government representatives declare their support
The seminar opened with a statement from Mouhamadou Seye Moustapha, Director of Human Rights, as the representative of the Minister of Justice and Attorney General. After recalling the role of Senegal as well as that of ATD Fourth World in drafting the Guiding Principles on Extreme Poverty and Human Rights, Mr. Seye said: "The question of participation by people living in extreme poverty is a common theme in development literature; but not in terms of human rights. We believe that with these guidelines, extreme poverty will now be discussed more from the perspective of human rights." He pointed out that extreme poverty is "not only the result of lack of income," but also of "the inability of the individual to participate in or influence decisions that affect his or her life. This raises the issue of the right to participation," which has yet to be sufficiently implemented despite the fact that all international covenants on human rights include provisions on the right of people to participate in public affairs.
"Senegal," Mr. Seye emphasized, "with its 'Senegal Development Plan' has a strong desire to reduce the level of poverty. (…). We are pleased that organizations such as ATD Fourth World understand this political will and are trying to do everything possible to build on our strengths so that together people living in extreme poverty can assert their rights and participate in all areas of public affairs."
He concluded by saying: "You can count on Senegal to support your initiatives."
During the four days of the seminar, concrete proposals were put forward issued in four priority areas and commitments were made by the participants in their respective fields.
The exchanges brought out the interdependence between rights, and the fact that the violation of one right has an impact on the enjoyment of the others. As Janet Nelson, Vice President of ATD Fourth World, stated, "substandard housing and an inadequate diet lead to health problems and cause difficulties in acquiring access to education and work. In most cases, for people who live in extreme poverty, there is an accumulation of rights violations. This highlights the need for collaboration between different sectors and a multidimensional approach so those living in extreme poverty can have their rights respected and have better lives."
The seminar also highlighted the need for participation of people living in extreme poverty in decisions that directly affect their lives at all stages of the planning, implementation, and evaluation as well as in the preparation, implementation, and evaluation of poverty fighting programs.
Mr. Samba Fall, the administrative head of the municipal district in which the ATD office is located, concluded the seminar, stating that he felt honoured that it had been organized in his district. He reaffirmed his support for all initiatives aimed at improving the lives of people living in extreme poverty.
Franciscans International produced this video about the implementation handbook, Making Human Rights Work for People Living in Extreme Poverty, and the connections between extreme poverty and human rights: