Cambridge Chamber Singers Come Together For ATD Fourth World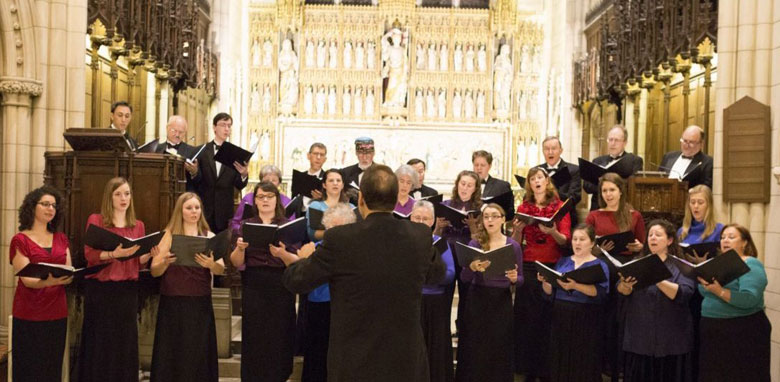 This article is imported from our 2017 Stop Poverty Campaign web site.
"Wherever men and women are condemned to live in extreme poverty, human rights are violated. To come together to ensure those rights be respected is our solemn duty."  ~ Joseph Wresinski
When ATD Fourth World's founder spoke those words in 1987 in front of 100,000 people in Paris, he probably didn't imagine a chamber choir in the United States coming together 30 years later to support ATD Fourth World's work through many surprising acts of generosity. But that's exactly what happened in Boston this autumn.
As choir director Ray Fahrner explained, "It was extraordinary! Everyone along the way gave us help."
In September, the Cambridge Chamber Singers became part of a worldwide effort to bring attention to people living in extreme poverty through vocal concerts. Putting on a chamber concert is an expensive and complicated undertaking. But Fahrner, who knows his singers well after 30 years as director, guessed that the choir would be willing to go the extra mile to make it happen.
He was right. After hearing about ATD Fourth World's 2017 STOP Poverty Campaign, they were on board.  Without being asked, choir members offered to cover the cost of the concert venue and printing sheet music. They donated their time to take part in an extra performance on top of their regular schedule. They even learned new music featured by the Campaign.
Because they all chipped in to make it happen, the choir was able to add its voice to the "Joining Our Voices" campaign. Artists from Ireland, Mauritius, France, Spain, Togo, and many other countries are performing in "Joining Our Voices" concerts featuring a wide variety of music styles that include classical, modern, gospel and others.
Organized by ATD Fourth World, the campaign celebrates particular songs of struggle and resistance that speak to the inalienable dignity of all people. Selected by people living in poverty and included in many of the concerts, the songs underline the fact that those living in difficult conditions struggle daily to resist and overcome poverty.
In a world that often sees poverty as a problem to be solved by generous outsiders, the "Joining Our Voices" campaign honors the efforts made by people in poverty every day and the solidarity they demonstrate in their communities.
The Cambridge Chamber Singers are known for their community outreach efforts and creative collaborations. They have sung in hospitals and a school for the blind. Ray Fahrner, conductor of the Cambridge Chamber Singers and a composer himself, had heard of ATD Fourth World through some friends and was impressed by their work. He collaborated closely with ATD Fourth World to put together a concert that interspersed songs with brief talks about the organization's work.
Chris Winship, Professor of Sociology at Harvard, discussed his work with ATD's current project developing a measurable definition of poverty that is grounded in the perspective of people who experience it themselves. The research project is designed and conducted with people in poverty working as co-researchers alongside academics and practitioners. It will explore the non-monetary dimensions of poverty and seeks to deepen our understanding of what keeps people dependent.
"It got me thinking about stopping poverty, but also redefining the problem," said Fahrner. "We need to think about our laws that say if someone starts to earn a little money they lose their benefits. Now when I flip through the paper and there is something about poverty, I pay attention and read more critically."
Susie Devins, a member of ATD Fourth World's Volunteer Corps, described how ATD Fourth World was started by people living in poverty. Today, the organization continues to emphasize the need to involve people struggling in difficult conditions as partners in efforts to overcome poverty, whether in developing or industrialized countries.
Ms. Devins recalled how ATD Fourth World's founder's personal experience of his family being deprived of art, music, and culture in all its forms led him to make beauty and creativity central to projects with children and families. Overcoming poverty is a matter of bread and roses, she pointed out, as the 1912 Lawrence, Massachusetts mill workers' banner read.
In addition to the benefit concert for ATD Fourth World, the Cambridge Chamber Singers have also entered into collaborations with organizations such as the Nature Conservancy and Amnesty International. Every year, they hold a competition for original choral compositions. The 2017 winning piece, Konus Kale, by Iranian composer Hamid Mardkhanjari, was performed at the Joining Our Voices concert. The Cambridge Chamber Singers have performed in Europe and Canada, as well as on the Kennedy Center's Millennium Stage in Washington, DC.  Additional performances can be viewed here, and CDs are available here.
The September concert, held at the Emmanuel Church in Boston, also marked the 60th anniversary of ATD Fourth World and the 100th anniversary of the birth of its founder, Joseph Wresinski. Joining Our Voices concerts are part of a wider campaign to mobilize the general public to act together #StopPoverty, and raise funds for music and cultural projects in under-served communities. For more information, visit www.poverty-stop.org
Information on ATD Fourth World's work in countries around the world can be found here.