International Trade Union Confederation Welcomes the Stop Poverty Campaign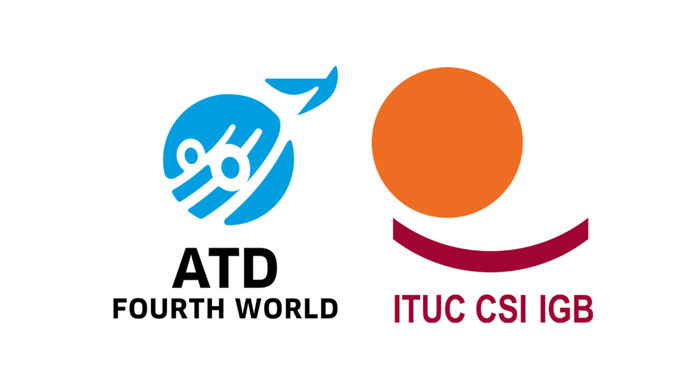 This article is imported from our 2017 Stop Poverty Campaign web site.
The International Trade Union Confederation (ITUC) represents over 180 million workers in 165 countries and is an actor for global social justice. Poverty is closely linked to the deficit of decent work. As such, the ITUC shares a number of common objectives with ATD Fourth World. Having worked together in the past, the two organisations recently met to coordinate on these common objectives.
ATD Fourth World's Stop Poverty Campaign was met with enthusiasm by the ITUC. No matter the level of development or wealth of a country, people living and working in poverty often have to take on work that does not support them to get out of poverty. As such, this campaign is a useful opportunity to share common efforts related to issues of fair and decent wages, overcoming precarious work and ensuring safe and healthy working conditions, whether in the formal or informal economy.
ITUC has also been mobilizing on this subject through its work on the World Day for Decent Work, with the theme "End corporate greed: the world needs a pay rise", which took place on 7 October. The ITUC and its affiliates organised events around the world during the week leading up to this important day. The focus on ending the undermining of basic human rights by some companies fits in well with the struggle against extreme poverty.
Past collaboration notably included the ITUC-Social Watch-ATD Fourth World Common Declaration of June 2013 entitled "Leave No One Behind". Learning from the experience of the Millennium Development Goals, it argued for a refocusing of the Sustainable Development Goals on the most vulnerable. This was overwhelmingly accepted as illustrated by the fact that "Leave No One Behind" is now the rallying call of the 2030 Agenda.
This was achieved through the determination of people in extreme poverty themselves and those who had the vision to ally with them. In an effort to tell this story the ITUC, Social Watch and ATD Fourth World co-signed the story, Leaving No One Behind.
The issue of universal social protection floors is a common goal and underpins the rights of all workers, including those in extreme poverty. ITUC expressed interest in ATD Fourth World's experimental work on social protection floors, as well as issues concerning education, health insurance, and employment for all in countries as diverse as Haiti and France. The sharing of knowledge from people in poverty, from local struggles, and from international studies and advocacy action is vital to maintaining universal protection and both organisations can play a role important role in this.
The Stop Poverty campaign was thus an opportunity to affirm that our past cooperation could help forge a lasting alliance between the International Trade Union Confederation and ATD Fourth World for the future.