Central to Overcoming Poverty: Finding Purpose and Strength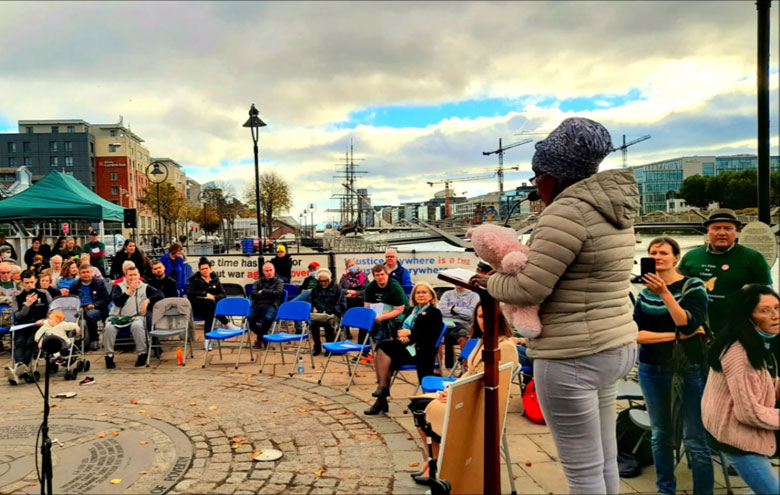 Image above: Precious Mballa* speaks to a gathering on World Day for Overcoming Poverty in Dublin, Ireland last year.
On International Women's Day 2022, ATD Fourth World celebrates women around the world who struggle to escape the trap of persistent poverty.
"We all need a friend, not just someone who gives us money or clothes, someone who inspires us, who gives us courage, who will tell us you can do it… This gives me life. If you can find someone to speak to or someone you can help, it makes you feel at home."
Precious Mballa
In seeking long-term solutions to poverty, ATD does not give charity. Instead, we empower people to become agents of change in their own lives. But "empowerment" doesn't always mean education, training, or even a job. Sometimes it means listening to people who feel that they are less than human and have no voice. This recognition itself can be a powerfully transformative experience, helping people move forward on their own.
Everyone can help empower people in poverty by listening to what they have to say, especially each 17 October on World Day for Overcoming Poverty. At Ireland's gathering for the World Day last year, Precious Mballa described the suffering and dehumanisation of living in an immigration center. Feeling desperate, she found a way to sustain herself. For Precious, empowerment was being able to take care of others – and then speak out about her experiences. This is what she said:
Like being surrounded by a fence
Good morning, ladies and gentlemen, my name is Precious Mballa. I am an asylum seeker. I really wanted to be here to talk to you all. We are so many that are suffering in silence in this time that you have given me to speak. It will not help only me but help 100 or 1000 others who will gain from it. Thank you so much for giving me this opportunity.
I live in "direct provision", which is a place where they put others like me who are seeking asylum. I live in this centre until the government decides if we can stay. It's like being surrounded by a fence and you cannot leave until the government makes this decision, which can take many, many years.
No voice, no future, no freedom
You live in these centres with no voice, no future. You have no independence and no freedom. It is not an easy journey, coming to a country when you don't have anybody. Two months after I came here, the epidemic of Covid- 19 took place. It was so difficult for me. When I say difficult, I want to explain. It's so hard to be alone in a place where you don't have a sister, a brother, a father, a mother, auntie or any relations at all. You don't even have a friend.
Most of us suffer from stress and trauma because of everything we have gone through in a country that we are coming from.
Caring for others during the pandemic
In direct provision you feel so inferior. You don't know your left and right. You don't know where to go, who to ask… how to go about [things]. You have nothing too. And when you go to bed you don't know what the next day will bring. It is not an easy journey. We are so many who are stranded.
As the epidemic was going on many of us decided not to stay sitting. Staying in your room can make you go mad, because you look at the four walls of your room all day. It was not that easy going out there looking for something to do.
But I had this idea to care for people. During the epidemic there were people in nursing homes and in hospitals who could not see their relatives. Some were dying without even seeing their loved ones. So I started doing volunteer work as a carer.
"I'm not alone with my problems"
It was really a pleasure to work at this time to take care of people. Some people who are in nursing homes, they don't even have relatives. Some have relatives who couldn't visit them. They only see the doctors and nurses and nurse like me.
In the direct provision centre I'm alone with my problems, I just think about my loss. But now this work makes me joyful. It makes me happy.
Any time I am working I feel a big relief and the hours I spend with people I am busy. I focus on them. I show them my concern and make them feel comfortable. I chat with the patients and he or she would tell me a story. And what they say will help me for a moment because even if they are different from me, the stories are the same as what I am passing through.
Finding healing through helping
I think I am not the only one who is suffering. There are so many people out there who are suffering. I can still remember up to now a lady I was taking care of. She has dementia, and she was always crying, "I want to go home, I want to go home". And I tell her that I know, I understand what she is feeling. Looking at her, she doesn't have any family. The only family she has now are the hospital workers. It makes me feel that the world is full of ups and downs of sweet and bitter.
Through this work I get healed. I'm supporting them but they're also supporting me. Sometimes I listen to my late father's voice. He used to tell me 'No matter how little food you have, always learn to share'. This is in me. When someone I have helped is happy, I am also happy.
What I want to say to the government is thank you for giving us an opening to come here. I also want to ask the government to help us to be liberated. This way of living in these centres, only eating and sleeping, does not make us feel human.
We need someone who gives us courage
Let us have our own freedom so we can go out into society and help people. To my brothers and sisters who are in the same situation, to anyone here who is struggling, if you are feeling lonely and like life is difficult, don't feel like you are alone. You are never alone, there is someone out there you can talk to.
We all need a friend, not just someone who gives us money or clothes, someone who inspires us, who gives us courage, who will tell us you can do it. We can do it, we can do it. This gives me life. If you can find someone to speak to or someone you can help, it makes you feel at home. You don't feel so lonely. You should never lose hope. Where there is life, there is hope. Thank you so much.
More on ATD Fourth World's work in Ireland
* Not her real name.