A Collaborative Sculpture in Switzerland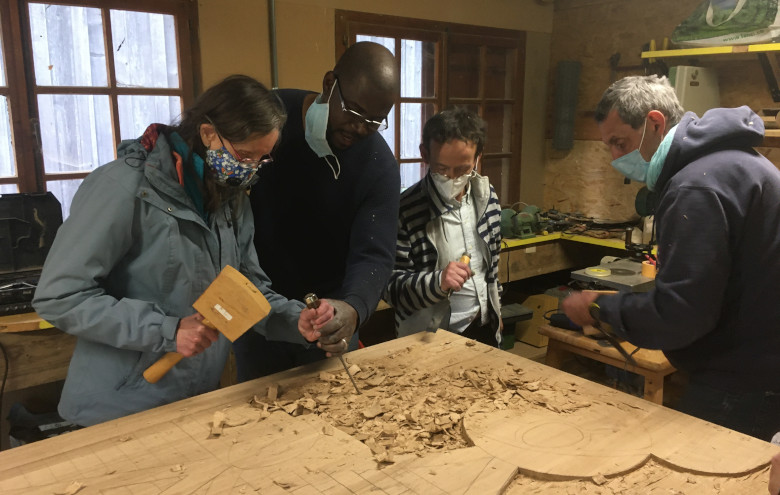 Photo above: Florent and others work together on the wooden sculpture
By Anne-Claire Brand, ATD Volunteer Corps member
In a small village named Treyvaux…
It begins with a large panel of solid oak, 1m50 x 1m20. The wood is heavy, but just the right thickness for carving.
Florent is a sculptor and ATD Volunteer Corps member from Burkina Faso, currently living with his family in Switzerland. He jumps right in alongside others who have come to help create this piece of art. Their workplace is the ATD national centre, located in a small village named Treyvaux.
First, they stabilize the oak panel with two iron bars, carefully measuring and cutting, then screwing the wood in place. This takes a lot of skill, but Florent shows everyone what to do. Finally, the wood securely positioned, a sort of melody begins. The bang-bang-bang of the hammer and sounds of scissors, the work of hands and arms, body and heart, all begin to resonate through the room.
Before getting started on this project, Florent went to talk with those who weren't able to come help, showing them preliminary sketches. He visited a narrow caravan and a hospital unit, tall grey buildings and people living off a path in the forest. With everyone he met, Florent discussed how to recognize and express in a work of art the experiences of people who live in extreme poverty.
The concept develops
A child appears in the centre, showing that no child on earth is one too many. All children want to grow up free, to become like an oak tree, solid yet with arms branching out towards the sky. Adults surround the children, their eyes expressing the enormity of their struggles and their lives. "And on top", says Jean-Marc, "an enormous sun provides strength and security to all families."
"I want people to see me"
Cedric, soon to be a father, managed to come to the national centre with his partner. In a month, their baby will be born, and they are very worried. Already, another home has been suggested for the baby. "Our child is still in his mother's belly", Cedric explains, "but he belongs to the state."
Tracing one of the lines on the oak panel that represents family, Cedric describes how "nothing we do is ever right. They always say something or make some remark, just to have the last word."
A mother, holding a three-month-old baby in her arms, listens to Cedric. It's important, she advises, to show them that you have a network of friends, someone to support you and make sure they listen to you. "I had to respond to one report", she says. "It had in big capital letters 'DANGER' just because I was going to be the mother of a child who was still in my belly. But the judge listened to me and gave me a chance. They let me keep my baby with me in the maternity ward and then at home."
However, the mother recounts all the hours she spent with a young Volunteer Corps member who knows the law. They wrote letters, she explains to Cedric, that would go in her file, describing her experience in her own words.
One the last day, Aurelia packed her bag to return to the studio where she lives. As a child, she also experienced placements in [foster] care. Now as a young adult, she's trying to avoid other restrictions on her freedom. "In the end", she says, "we're only numbers, cases. I want to explain who I am so they can actually see me and take that into consideration."
On the oak panel, Aurelia engraved the outlines of bricks, placed one on top of another. She hopes that she too is building a path towards becoming the architect of her own life.
A place of understanding and identity
In this way many families, unfairly denied the respect they need to move forward confidently in life, have made the Treyvaux national centre a special place. For them, it is a place of understanding and identity. It is a place with family resources, but also a space for creativity. At the national centre, these families find the Fourth World People's University and a Merging Knowledge approach that values each person's experience and perspective.
Florent came here with his family after years of working with children in the streets of Ouagadougou in Burkina Faso. There also he saw children and young people separated from their families by poverty. Today, the same suffering and dreams appear in this wooden sculpture. Placed by the entrance to the house in Treyvaux, it expresses everything that the national centre represents.
Young people have already put themselves into this sculpture and all it represents. How, they wonder, can they connect their lives to the future of people whose dignity has always been called into question?
More about ATD's work in Switzerland
ATD Switzerland website in French and German