Comm'ON and Communicate!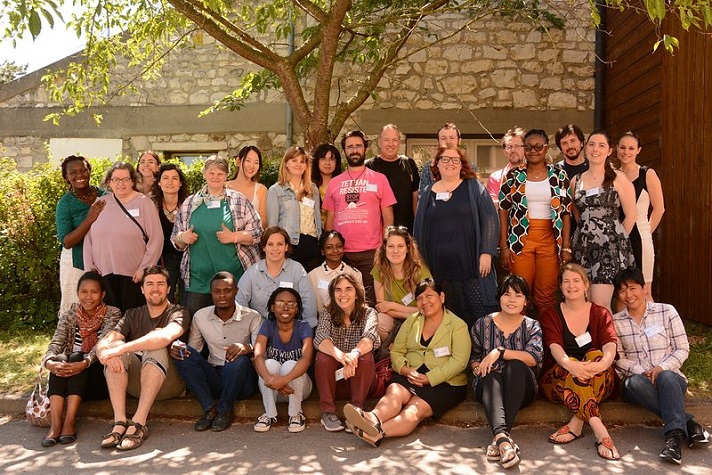 Above: Comm'ON participants.
Pierrelaye, France – ATD Fourth World hosted an international session on communication practices and training, "Comm'ON," on July 2-5, 2019. Participants came from Belgium, the Democratic Republic of the Congo, France, Guatemala, the Philippines, Poland, Tanzania, the United Kingdom, and the United States. It was an opportunity for people with different levels of proficiency in communications to discuss specific communications practices and to do some communications training.
The question of how we communicate publicly goes straight to the heart of many of ATD Fourth World's priorities: How can we choose words and images that recognise the positive contributions made by people in poverty? How can we make widely heard the voices of people whose intelligence has been discounted? How can we show that ATD Fourth World has a horizontal structure, with new projects being developed locally everywhere, and yet also with an overall coherence based on continual cross-pollination of ideas? How can our communications help us to connect with potential future partners who have a similar ethos to ours?
Below: Participants during a photo workshop.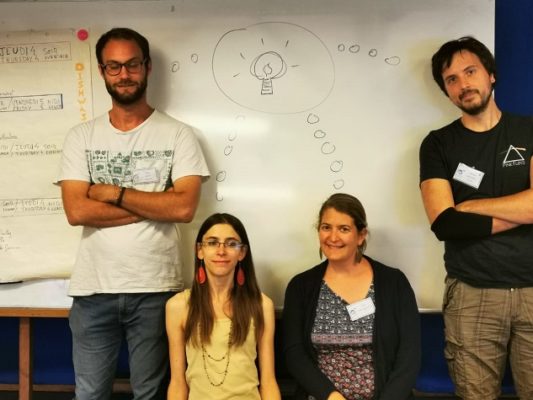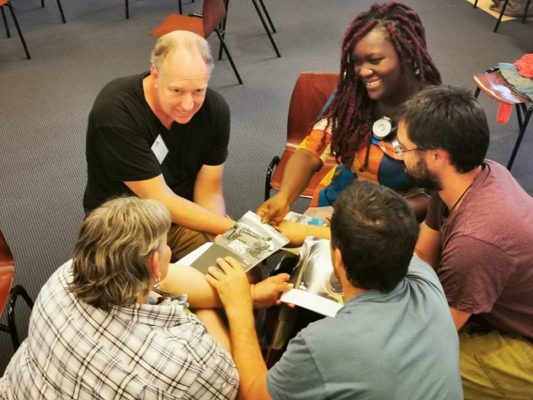 During the session, participants presented the different initiatives developed in their countries so that everyone could learn and feel inspired. For instance, those from the United Kingdom facilitated a Forum Theatre exercise based on a scene where people in poverty felt manipulated by journalists. As the exercise continued, participants jumped into the scene to experiment with ways to create an atmosphere of respect. This workshop was based on two projects. In "The Roles We Play," from 2009 to 2018, activists from ATD Fourth World worked on taking ownership of their image in order to change perceptions about poverty. The second project is run by On Road Media, a non-profit group founded to improve media coverage of misrepresented groups and issues. The work begins in a peer group where people with lived experience of poverty from across the country can develop solidarity as a tool for each participant to strengthen their control over their own narrative. By participating in this project, members of ATD Fourth World had been trained in media relations and had opportunities to meet senior journalists from the BBC, the Guardian, Cosmopolitan, Channel 4, and the Daily Mirror.
Michelle Baena Ciriacruz travelled from the Philippines to run a photography workshop during the Comm'On session. She says that getting to know face-to-face other members of ATD Fourth World's international community and being able to learn from their experiences encourages her to continue on with her advocacy. In this excerpt from her blog post, she wrote:
"I have a confession. Lately, I have been feeling what they call 'advocacy fatigue.' In my country that is now experiencing a number of challenges, including an increase in human rights violations and environmental problems, it seems to me that what volunteers and allies are doing is not enough to make a lasting impact on society. I have been asking myself, 'How can my own contributions in communications and fundraising make a difference?' The current political climate has been very harsh on our partner communities. In the middle of this soul-searching came the invitation from ATD Fourth World to participate in the Comm'ON session. At Comm'ON, my world view became clearer. Being able to share knowledge and take part in experiences in person with the other teams allowed me to understand more clearly the big picture of ATD's decades-long work across the globe. I came to appreciate better how our own community-based efforts impact the international initiatives (and vice versa). Now, I am about to go home with useful tools and knowledge for the Philippines. I feel refreshed and empowered because, after all, we've got friends from all over — and all together we are working in dignity."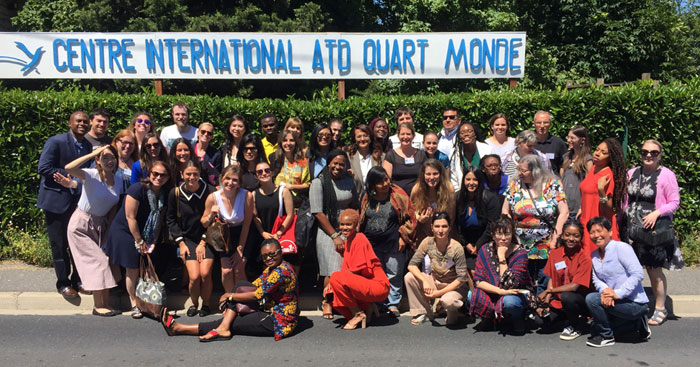 Other highlights during the session included:
Hearing from ATD Fourth World USA how they capitalised on the findings of their research Multidimensional Aspects of Poverty to improve their search engine optimisation;
Preparing for the next World Day for Overcoming Poverty, which will focus on the theme "Acting together to empower children, their families, and communities to end poverty";
Designing ways to communicate about ATD Fourth World's new strategic ambitions;
Hearing presentations from twenty students from Georgetown University. For their masters degree in integrated marketing communications, these students from Prof. Wendy Zajack's class created bespoke plans for enhancing ATD Fourth World's communications and social media. They ended by proclaiming that all of them plan to become friends and allies of ATD Fourth World.
Finally, through a "world cafe" facilitation technique, participants in the session debated techniques, tone, our target audience, our key messages, and the ethics and cultural sensitivity of communications. While the discussions were always lively, everyone agreed that the main reasons for ATD Fourth World to communicate are to ensure that the voices of people in poverty become more widely heard, to build connections with everyone who wants to help overcome poverty—and simply to exist!