COP21, #SDGs, Recommendation No.3: Ensure Funds Reach Most Vulnerable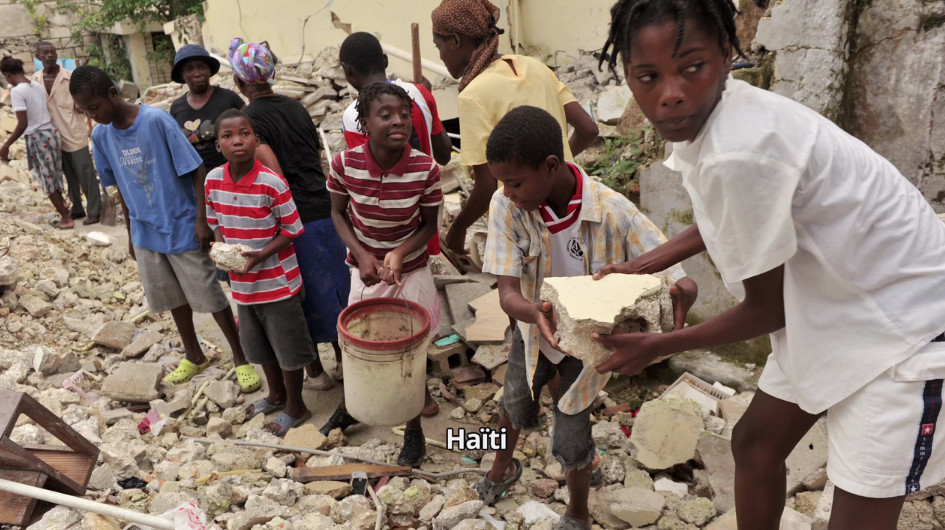 Here we present the third of ATD Fourth World's five videos for the COP21 ­ Paris Climate Conference. Xavier Godinot, ATD's Director of International Advocacy, explains in the introduction to each video:
What ATD Fourth World seeks is that sustainable development fully integrate the components of economic development, efforts to end poverty, and protection of the environment. These three aspects must absolutely be interlinked and coordinated. Now, we hear that a lot in international discourse. We see that it's a lot harder to put into practice on the ground.
Each video illustrates with grassroots examples one of ATD Fourth World's five recommendations that are key for tailoring development and climate action to the needs of the most vulnerable. In this video, Recommendation 3: Ensure that funds reach the most vulnerable. You can read more about our five climate change solutions linked to the Sustainable Development Goals (SDGs) and poverty eradication in Taking seriously the commitment to "leave no one behind" in the SDGs and the fight against climate disruption.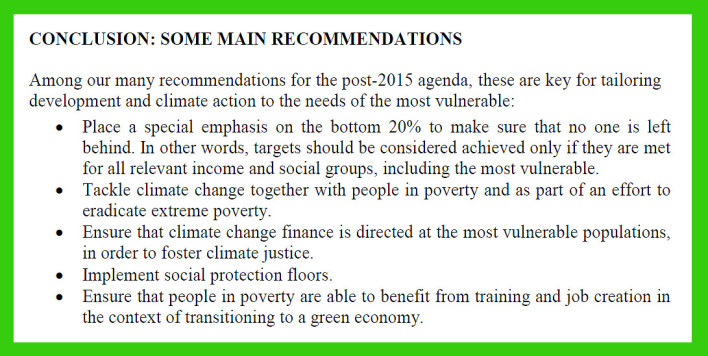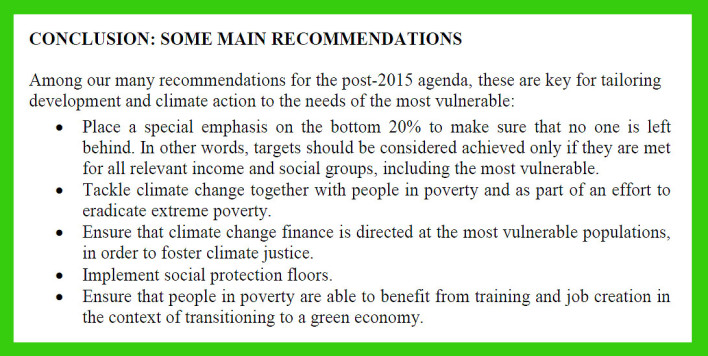 Video Summary:
Our third recommendation centers on funding efforts to control global warming. We see with development project funds seldom reach the populations deepest in poverty and most in need. It often benefits only the more privileged. ATD Fourth World has the same fear with financing efforts to control climate change.
In New Orleans after Hurricane Katrina, people in persistent poverty were affected more as they couldn't evacuate due to a lack of means or places to go. During reconstruction, these populations were largely squeezed out and not able to return to their neighborhoods. The same happened after the earthquake in Haiti, where international finance has hardly benefited the country, and certainly not the most disadvantaged.
A problem with development institutions is that they target averages. In doing this, they marginalize even more the people struggling to overcome poverty. In the renovation of a fish market in Africa, those with more means who had government papers and were 'official' received support, but those in informal jobs, who did not have IDs were left out.
With the efforts to control climate change, ATD Fourth World fears these same processes are at work. Those with little means will be seen yet again as "collateral damage." To avoid this, all development programs and efforts to stop global warming must be interlinked. Programs must involve those living in poverty themselves or people very familiar with families in poverty. All communities have leaders who can relay to financiers what their needs and expectations are, so that there be a real response that leaves no one behind.