What Does "Dignity for All" Really Mean?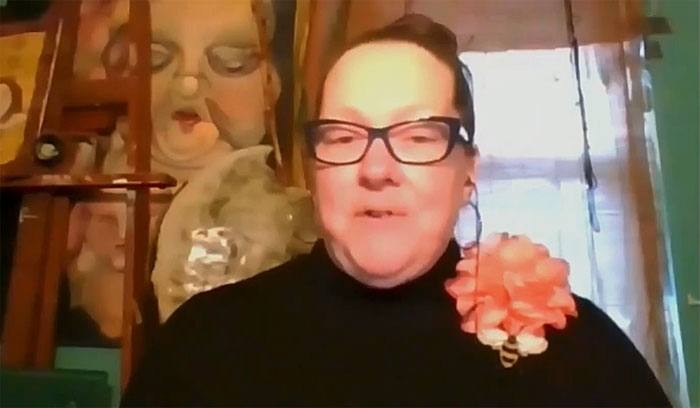 Image above: Maryann Broxton during her presentation.
This article is based on a statement by ATD Fourth World activist Maryann Broxton to the 2022 UN Commission for Social Development.
What does "dignity for all" really mean?
Thank you, Ms. María del Carmen Squeff, and thank you to my fellow panelists for your contribution to our discussion today.
I want to center my comments on the theme of this year's commission, "Inclusive and resilient recovery from COVID-19 for sustainable livelihoods, well-being, and dignity for all: eradicating poverty and hunger in all its forms and dimensions to achieve the 2030 Agenda," specifically, the phrases "in all its forms" and "dignity for all."
How do we hold up people's dignity, and what does "dignity for all" really mean?
People deserve to be treated with dignity for no other reason than simply because they are human, and it's a right. But too often we lose sight of that.
In order to ensure that we practice dignity in our work, we have to first be able to name what it is. And there is a standard that we should all agree upon.
Rights for all
Dignity means rights for all, with no discrimination, regardless of your socioeconomic status, or legal recognition as a person. This is stated in paragraph 34 of the UN Secretary General report to prepare this commission. We welcome this inclusion and we hope this will stay in the outcome document of this commission.
Dignity also means acknowledged voice, personal agency, determination over your own destiny, equitable inclusion and participation, being identified as you want to be seen, and to be included in community. This list is just a start, and should continue to evolve as people directly impacted by poverty name what dignity means to them.
Dignity needs to be the lens of measurement in every action we take. For example, SDG goal 2 calls for zero hunger. If we look at hunger through the lens of dignity, it's more than just ensuring sustenance. A dignity lens sees food as cultural, social and community, having religious ties, for enjoyment, and as remembrance and tradition. Dignity recognizes personal choice, meaning the foods you want to eat, not just what you have access to, can afford, or that others deem you worthy of.
Currently, people who identify as transgender are three times more likely to go hungry because they are less likely to seek assistance due to fear of discrimination.
Inequities are never inevitabilities. They are the direct result of policy, institutional practices, and power imbalances–resulting in dire consequences for underrepresented and continuously marginalized populations.
Who defines what poverty is?
Too often social policies take a high level, macro overview to an issue. But in doing so, you miss the personal, or micro aspects. If you switch to a micro or personal view, you see all aspects of an issue directly effecting people, while respecting their dignity, and eliminating discrimination.
For example, SDG goal 1 states, "End poverty in all its forms everywhere." But who is saying who is in poverty, and who is defining what poverty is?
When it comes to the topic of poverty, people who live in poverty–the ones whose expertise is based on experience, because they know how policy and practices work in actuality, as opposed to how they are supposed to work on paper–are excluded from the conversation. And the reality is that policy, practices, and goals based on partial knowledge cannot be fully effective.
When we use the lens of dignity, we move beyond the macro to the personal. We move beyond a monetary measure to a multidimensional one. Dignity eliminates the "deserving/undeserving poor" mentality, the belief that certain people or groups are the problem, not the systems themselves, and that humanity is only granted to specific people. A dignity lens provides us the direction on how to end poverty and discrimination. We then not only ensure, but demand, equitable participation and full inclusion of people directly impacted by poverty. They are no longer seen only as recipients of charity, but as equals in the decision making process that participation affords–rejecting the shame, stigma, and discrimination of poverty.
Yes, the Covid 19 pandemic has increased poverty worldwide. The mantra that was used incessantly at the beginning of the pandemic was "we are all in this together," but the 1.3 billion people who lived in multidimensional poverty prior to Covid quickly discovered that sentiment was short lived, as they were once again overlooked and left behind.
Today is Feb 7th 2022, which means we have less than eight years to achieve the 2030 SDG's. Covid has forced all of us to change the way we work, but we also need to change our way of working. Dignity cannot be just the latest "buzzword." It's imperative that we work from a more developed concept, including in UN documents and resolutions. And that starts by following the lead of people on the ground, in the communities, and most directly impacted by the experience of poverty.
Watch Maryann Broxton's presentation.
For more on ATD Fourth World's advocacy at the 60th session of the Commission on Social Development, including presentations by other community activists see Dignity for All in Practice: Overcoming Poverty-Based Discrimination.