No Child Left behind in Tanzania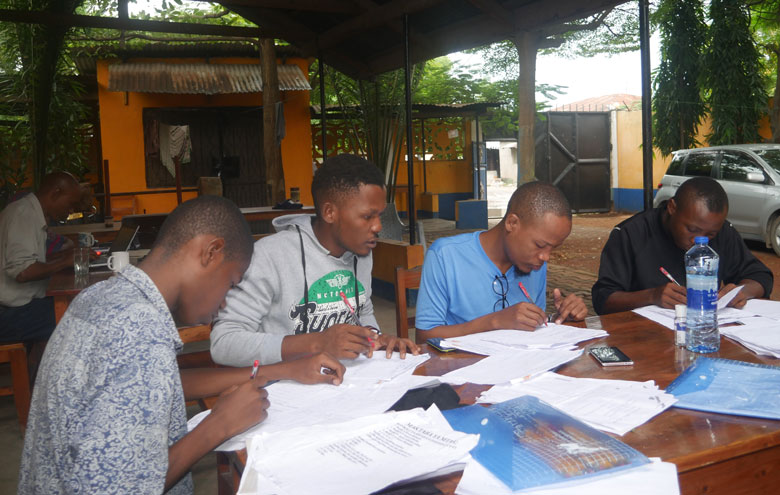 Image above: Facilitators grading homework.
Covid-19 closes schools
As in most countries around the world, the government in Tanzania tried to control Covid through lockdowns and social distancing. In April 2020, they closed schools, colleges, and universities, advising students to use other forms of learning. For example, the government offered e-learning and provided educational programs on television and the radio, even in newspapers. Not all schools, however, put in place plans to teach children through home learning. As a result, some students did not have the support they needed to continue their education.
Reaching families where they are
When the schools closed, ATD's Tanzania Street Library facilitators and parents knew that e-learning would be impossible for many children in poverty. These students had neither laptops nor computers. So, five Street Library facilitators teamed up with residents of Tandale1. to provide learning materials to these students. Four of the facilitators came from Tandale. At the time, many children were preparing for national examinations required to advance from primary to secondary school.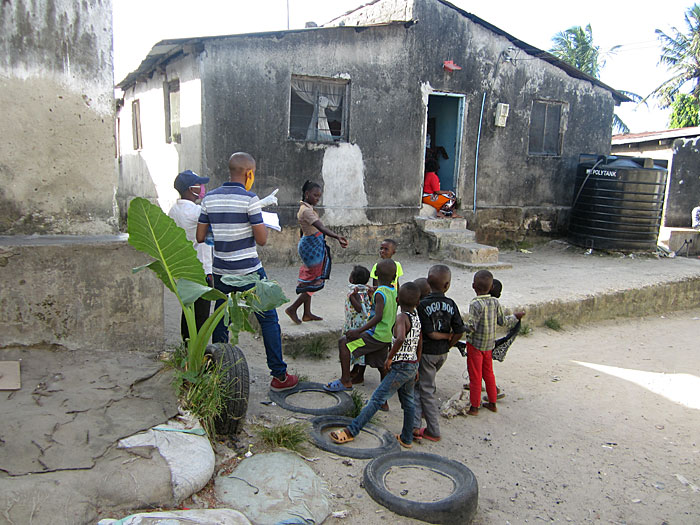 Led by a professional teacher, this project distributed practice exams and exercises to children based on what they had been doing in school. A week later, facilitators and ATD Volunteer Corps members collected them for grading by the teacher. They then returned the corrected work, with teacher feedback, to the students.
Focus on the most vulnerable
In addition to Tandale, the project reached Boko, Chasimba, Tegeta and Machinjioni, communities where residents already know ATD Volunteer Corps members and Street Library facilitators. In each community, however, Volunteer Corps members and facilitators worked hard to reach the most vulnerable children and their families, even if they did now know them already.
Approximately 550 children participated in the project. Many of them had dropped out of school, but started back up as a result of this effort. In addition, children not yet registered for school signed up through the program.
When schools reopened, students who had been part of this program performed better than they had before the schools shut down. Many parents said that their children felt more motivated. In addition, parents noticed that their children were now more willing to find learning material on their own.
While running the project, organisers discovered that many of the students' parents could not read or write and therefore couldn't help their children with schoolwork. However, the desire to assist their children motivated many parents to take literacy classes.
Single parent families and access to education
Facilitators observed that in households with one parent there was a negative impact on both boys' and girls' education. However, in single parent households, girls experienced more negative impacts because they had to take care of younger siblings while their mothers went out to work. Some, for example, were unable to finish practice examinations and exercises in the time frame allowed.
In spite of these limitations, facilitators were happy with the outcome of the project, as the students were very willing to take part and continue learning. Parents were also very supportive and saw the project as beneficial to their children. In fact, many parents and children helped promote the project by talking to other families about it. This led to children outside the Street Library network joining as well.
No child left behind
Having more children than planned meant that facilitators ended up working longer hours than anticipated. At times, the project slowed down due to a lack of printers and paper. As a result, not all children received learning materials in a timely manner. However, when a crisis such as Covid strikes, it's important to find ways to protect everyone, including those in poverty. When schools closed in Tanzania, the government's alternative forms of learning did not reach children who lacked the resources to access them.
The ATD Fourth World project highlighted how difficult life is for many families, but also an effective way to work together with them to overcome the lack of resources. Distributing practice examinations and exercises to children in poverty was one way to make sure that, even in the midst of a pandemic, no child was left behind.
Read more about ATD's work in Tanzania
ATD Tanzania facebook page