Esther Rodriquez: A Story of Unfaltering Determination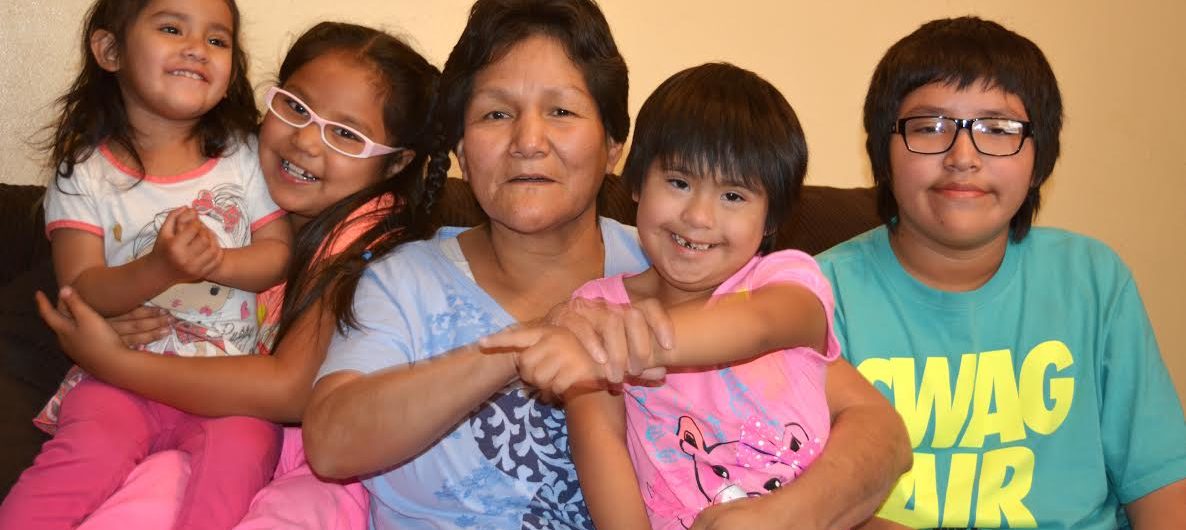 A story of unfaltering determination
Esther Rodriquez lives in New Mexico in the United States. Recently she took part in a project called The Roles We Play  with ATD Fourth World. The project explores the roles played by people living in poverty within their families, communities, and society at large, which often times are not recognized. The aim is to highlight their efforts and challenge the negative attitudes often held towards vulnerable and excluded families. Below is Esther's story.
My name is Esther Rodriquez, but I was born Esther Henry. My dad is Apache and my mom is Navajo. Because of my dad, I'm with the San Carlos Apache Tribe. I did not know my dad, just a little bit. You know how you have flashbacks? My memories of my father are happy ones.
I was placed in foster care at a young age along with two of my siblings. We went through lots of abuse, mental and physical. My mom took us back at one point, but I got in trouble when I was a teenager. I got pregnant at a very young age.
At one point I needed help from my mom to babysit my two kids. I got a job and I was living in the hotel. I took my babies up to my mom and asked, "Can you watch them?" When I went back, there were no kids. She turned them in. I ran as fast as I could down to child welfare and they were gone. I went to the Navajo Nation, and I said, "My kids are not Navajo." But because of my mom being Navajo, the Navajo tribe took them.
It took me 18 month to get my kids back with me. My landlord helped me out. Her name was Nora Ortiz. She moved out of the apartment she was living in so that I could move in. She and Ambrose, her companion, helped me. They fell in love with my kids. Eighteen months of hell. I mean it hurt. No mother should do that to her own child. I don't know if that happened to my mom. Who knows? My mom ran away when she was young because of abuse. In my life, I have tried to stop this chain of abuse. So that's why I tell my kids "Break the chain. Don't let this abuse go on". I caught myself spanking my kids, and abusing them like I was abused. Finally, I'm just like, "I can't do this anymore. I need to break the chain." And I tell my kids not to hit their kids but rather to talk to them. Maybe something is bothering them, you don't know.
I was married three times and I never wanted to depend on my husbands. I went back to work and I opened up my own bank account to be able to pay the bills and buy food for the children. I also tell my kids and grandkids not to depend on anyone. I tell them how to be dependent on themselves. Because you will never get anywhere in life if you have to depend on somebody.
Lots of people supported me in my life. I grew up with three different landlords, and they would give us stuff and they never asked for money. My kids were also raised by Cornelius Heinz. They all called him grandpa too. I had a lot of great teachers. My landlord was my teacher. She taught me how to cook Mexican food. My great grandmother, Mary Tsipa taught me a lot.
When I was living in Flagstaff with my kids I would take them to the park, and we filled up the wagon with food to feed the homeless. In Gallup, I made goulash for the homeless. I had a big old pot with bowls and everything. I would see someone and ask: "Are you hungry?" "Yeah." "Here! I gotta get rid of it if I got it." But at the time I was living in Flagstaff, I also met with a lady whose baby they were taking away and she was trying to find someone to raise it. So I said, "I'll do it. I'll raise the baby myself." I'd do it, as long as she didn't take it away from me. I took the baby and I raised it. But when the baby was three, ready to be four, she came and took the baby.
Today two of my grandchildren are living with me. Their parents asked me to take care of them when they were little. Raising Brianna and Justin is a second chance for me to look at life in a different way. I explain a lot to them so they don't have to look ignorant and they will know ahead of time. I also teach them to not complain about themselves. I drive them around to see the homeless, to see the realities of people who are less fortunate than them. They know not to make fun of people. They also know to speak up for themselves. I also teach them how to make smart decisions by not spending money on unnecessary things. I teach them how to budget and save money.
I love to tell them about the golden ring all the time. Grab that ring, because that ring is only going to come one time. Grab it and run with it. That ring is finishing high school and going to college. And that's what my three kids did. One of my daughters has now been a sergeant for 11 years, my other daughter got her associate degree in computer science a couple years ago and my son was enrolled in a culinary arts degree. I am really proud of them. Education is very important for me. I'm trying to shove all of my knowledge into their heads while I can.
I did not graduate. All I want today is my high school diploma. You can do whatever you want to do after you get your high school diploma. It would be nice if you get a college diploma too. If you don't have education someone is always telling you what to do, how to do it. I have a secret that no one knows. I can't read. I can't spell, but I can do math. I'm learning as my grandchildren go. They don't know that they are my teachers. And I tell Briana that. I told Briana, "I don't know how to read." She goes, "Grandma, what?" I said, "You're my teacher, so you need to learn so you can teach me."
For more information on ATD Fourth World in the USA click here.