Extreme poverty is a violation of human rights | Isabelle Pypaert Perrin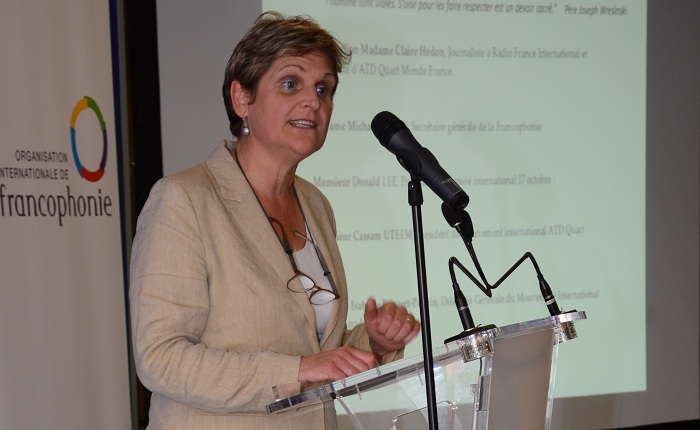 by Isabelle Pypaert Perrin, Director General of ATD Fourth World
Speech at the Organisation Internationale de la Francophonie – OIF – Paris, France, 10 June 2016, on the occasion of the sixth official meeting of the International Committee for October 17.
In 1957, Joseph Wresinski went to live alongside families whose homes were in the mud of a former rubbish dump in Noisy-le-Grand, France. In these families he saw the courage of his own family and especially of his mother, who faced humiliating situations yet fought for her children to grow up in freedom and dignity.
With these families, he developed projects that promoted family, social, and cultural values. Together they researched their history, and they found purpose and gained the strength to stand proudly as men and women who have something unique to offer the world.
They were joined by people of different backgrounds who were seeking to create new relationships based on equality, dignity, and a refusal to leave anyone aside, and they founded ATD Fourth World.
Gathering on the Plaza of Liberties and Human Rights
On 17 October 1987, over 100,000 defenders of human rights from all over the world gathered on the human rights plaza of the Trocadero in Paris.
They stood there with Joseph Wresinski as he declared that extreme poverty is a violation of human rights, and they unveiled a commemorative stone calling for poverty to be abolished.
Today their voices continue to rise from areas of extreme poverty. They tell the world of the strength of people who resist poverty, who gather together and invite everyone to join and strengthen this movement that carries the hope of a world without poverty.
In 1992, the United Nations declared 17 October the International Day for the Eradication of Poverty; and in 2006 the Secretary-General of the United Nations acknowledged the powerful spirit of this day and asserted that people who struggle against poverty day after day are the primary builders of a fairer and more fraternal society.
The meaning of peace
People who live in poverty, and who thus endure all kinds of violence, teach us the true meaning of peace. Every day they pay the price, most often in silence.
For example, Yvanite, from Haiti, declined to press charges against a neighbour who had wronged her because she saw that this woman, like herself, was forced to struggle alone, without any resources, to bring up her children.
Every day people in poverty try to live in solidarity and friendship, but their efforts are mostly unseen or misunderstood.
Michel in Belgium is another example. He spends his days and nights meeting people who are forced to live in the streets. He grew up in institutions and spent time on the streets himself; and now, because he welcomes people without homes into his own home, he gets complaints from neighbors and municipal authorities.
People in poverty need so much courage and intelligence each day to create peaceful solutions in the most difficult situations.
Another example: In a country devastated by civil war, young people confront bullets to bring books to children so that their intelligence will not be wasted. It makes us ask: when will these amazing gestures of peace be recognized by a Nobel Peace Prize?
From 1957 to 1987 and 2017
The year 2017 is right around the corner, and it's up to us all to make it a new step on the path of liberation and peace.
News from around the world is troubling. It can drive us to look for more security for ourselves — at the price of more insecurity for others — or it can lead us to find new resources, new strength, new ideas, and new ways to live together.
We can find this with Mr. Parfait, who lives outside Bangui in the Central African Republic. Mr. Parfait works for hours on end under the sun, trying in vain to make ends meet. But even so, along with others, he always looks for ways to open a future for people even less fortunate than himself. Recently he told us, "What worries me is extreme poverty. We have no shortage of worries, but worries don't lead to progress. For those of us who are working towards peace, we can't stop there."
Mr. Parfait, and those like him who resist poverty, invite us to join them in their action.
This is why ATD Fourth World and the International Committee for October 17 are preparing to launch a worldwide campaign to combat extreme poverty and create peace.
This campaign follows our policy initiative that contributed to the international community's commitment to leave no one aside. It calls for us to get together and, by 2030, to eradicate poverty of all kinds everywhere.
For us it makes a lot of sense to speak about this campaign publicly for the first time here at this centre of La Francophonie [French-speaking communities], where member nations meet in a spirit of peace and human rights.
For 2017, we invite everyone to join this meeting between people who fight poverty every day and people who carry an ideal of justice and fellowship.
For 2017, through thousands of stories of courage and resistance, through concerts, songs, artistic creations, and films, through seminars and conferences, events and informal encounters between people who would never otherwise meet, we hope to show that when we come together, we can defeat poverty.
We are convinced that, through this campaign, young people around the world will find the inspiration, the strength, and the confidence to confront the challenges of today and to build the future of tomorrow.