Facing a Crisis Together: Do Not Abandon People Already Struggling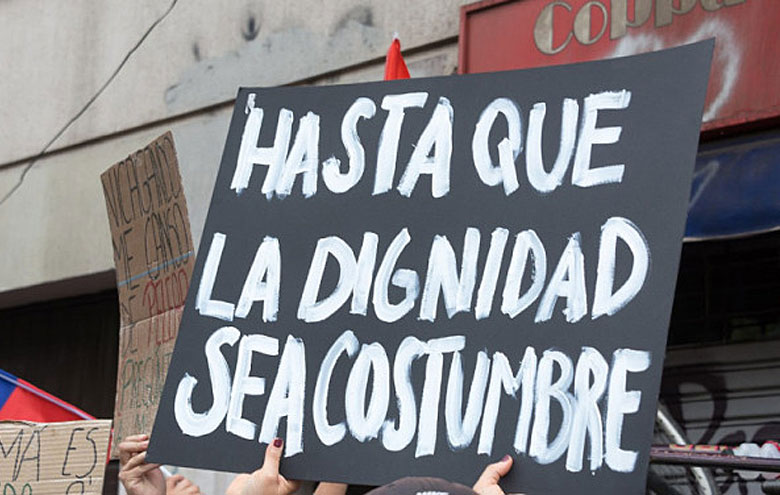 Photo English translation:  Until there is dignity for everyone.
Statement from Carmen Nieves Colomo, President of ATD Spain. An appeal on behalf of all ATD Fourth World members in that country.
The members of ATD Fourth World Spain call for this coronavirus health crisis to usher in a time of national solidarity. This must be a time when, as a nation and as individuals, we focus as much as possible on those in our country who already experience exclusion from mainstream society.
In his report a few weeks ago, the United Nations Special Rapporteur on poverty and human rights said after his visit to Spain, "The word I have heard most often (…) is 'abandoned'".
What will happen now to the people and groups that do not, even in normal times, have access to health care, basic income, or a decently paying job? What can people do when they do not have enough income to simply stay home as they are told to do? Many do not have enough food at home or even the recommended hygienic conditions. What about the people who depend regularly on food banks or soup kitchens? We are particularly concerned about children who are having difficulty in school. How can we make sure that they don't fall even further behind? Or will we simply choose to blame the social environment for their failure?
For ATD Fourth World members, our nation's solidarity should include, at least, the following three principles: 1. A direct presence with people in poverty and mutual support; 2. Accurate information and reliable access to basic rights; and 3. Policies that respect all groups and families.
Direct presence and mutual support
This means mobilizing all possible resources to maintain communication with people that society has abandoned, people with limited ability to participate in the life of their communities, and people who lack fundamental freedoms and rights.  We cannot continue to ignore these people even further in the current crisis. In addition, those already experiencing poverty should participate in developing solutions and strategies for addressing the effects of the pandemic in our communities.  These people already have a lot of experience dealing with emergencies. Their knowledge can advise us about what situations could arise and how to approach these problems effectively.
Accurate information and reliable access to basic rights
Vulnerable groups and individuals should receive clear and accurate information about emergency "social care" assistance efforts. These should include initiatives for workers in poverty who have been laid off, funds to support education, and other available benefits. Such initiatives require the collaboration of social workers, government professionals, unions, rights advocacy groups, and other related associations.
Policies that respect all groups and families
Medium and long-term policies and programs should be adopted right away so that our government takes into account the fragile state of people living in poverty and social exclusion. We must monitor these efforts and publicize any lack of compliance.  Such initiatives should be developed in cooperation with the recipients to ensure that these efforts respect the dignity of everyone affected. In addition, programs and policies should have an eye not just to emergency assistance but also to supporting the long-term interests and independence of the beneficiaries.
UN Special Rapporteur's view on extreme poverty and human rights in Spain
Our approach to supportive measures should be realistic, based on objective data and analyses of poverty in Spain. We might pay special attention to the recent report of UN Special Rapporteur Philip Alston on extreme poverty and human rights, which paints an accurate picture of the current situation in Spain.
Alston's report states,
"Spain is completely failing people living in poverty. […] [D]espite the fact that it is prospering economically, too many people continue to struggle."
"The recession", he continued, "has left many people behind, with economic policies that benefit businesses and the wealthy while less privileged groups have to contend with fragmented public services."
Alston went on to say that almost one in three people (including minors) in Spain are at risk of poverty or social exclusion. In addition, more than half have trouble making it to the end of the month on their income. Almost one person in twenty has suffered severe material deprivation and significant unemployment.
"I have visited places that I suspect many Spaniards would not recognize as part of their country," said Alston.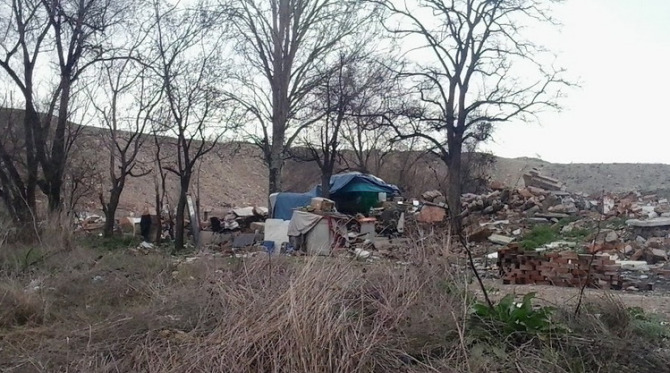 "A poor neighborhood with much worse conditions than a refugee camp, without running water, electricity or sanitation, where migrant workers have lived for years without any improvement in their situation. Concentrated, impoverished neighborhoods where families raise children with severe shortages of state services, health clinics, employment centers, security, paved roads, or sometimes even electricity."
In addition, Alston's report notes that there are "…certain groups that are particularly neglected by policies, that suffer the impact of structural discrimination and that experience very high poverty rates: women, migrants, inhabitants of rural areas, half of the people in the 'gypsy' community, and domestic workers".
"Poverty is ultimately a political decision, and governments can, if they wish, choose to overcome it."
For all these reasons, we invite you to support an approach based on solidarity that will guarantee, in the long term, a more democratic society free of extreme poverty.
More on ATD Fourth World in Spain
Statement on COVID-19 from ATD's International Leadership Team