Festival of Learning: The Art of Creating Community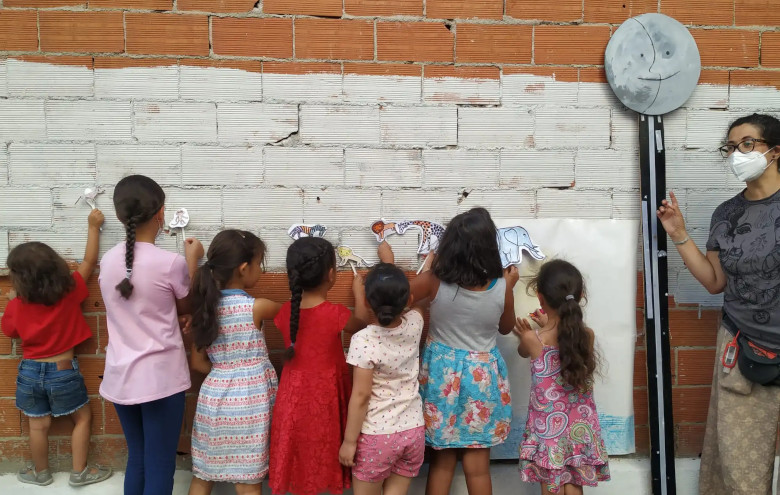 Photo: Festival of Learning in Parla, Spain © ATD Fourth World
By ATD Fourth World Spain
"This is what we need"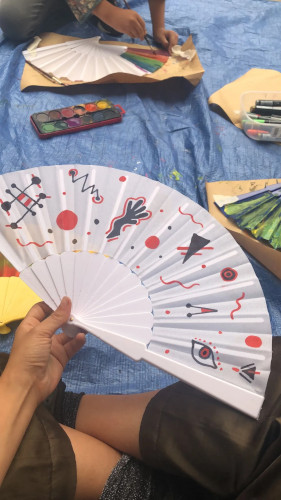 Last summer, several troubled neighbourhoods in Parla, Spain were transformed. A city of 150,000 residents, Parla is located just south of Madrid. Most people think of these particular neighbourhoods as "severely deprived". The press describes them with words like "urban horror" or "hell on earth".
Yet for two weeks, hundreds of girls and boys, teenagers, and parents filled the squares and public spaces, enjoying a Festival of Learning. Workshops run by ATD Fourth World and eager volunteers brought an upbeat atmosphere of light, colour, and art to the streets. Inexperienced and anxious hands wielded paint brushes, some for the first time ever. Faces young and old filled with laughter and curiosity as children and grown ups enjoyed music together or learned new crafts. Giant soap bubbles made the warm summer afternoons festive.
"This is what we need", said one neighbourhood resident about the festival's friendly environment. "It's so important for kids to get to try new things". Others were pleased to see activities adapted to all kinds of learning styles.
"There's never been anything like this before"
On most days, people here feel abandoned. "Nobody ever comes to our neighbourhood", someone enjoying the festival said. "There's never been anything like this before. Thank you."
"What we really feel like is that everyone has forgotten about us", said one resident. Nearby, twenty families have had no electricity for three weeks, a mother added. No one has told them anything about what is wrong or when the problem will be fixed.
Two weeks of peace on troubled streets
At other times of the year, these same streets are scenes of conflict. Sometimes families don't let their children go outside, just in case there is trouble.
Yet in the weeks during the Festival of Learning, there was not a single conflict on the streets. No fights, no acts of violence, not even an exchange of insults.
Instead, children actually played outside. Grown ups watched, delighted to see kids just having fun outdoors. Where buildings cast cool shadows, there was music. Ceramics and embroidery workshops mingled with story telling and painting. Above all, however, the two peaceful weeks gave neighbourhood residents the opportunity to build community together.
Even the 15 volunteers who ran the workshops were surprised at how many people came out for the festival. They hadn't anticipated the level of neighbourhood support, the enthusiasm, or the children's good manners. Clearly, people here wanted a better life.
Over and over neighbourhood residents asked, "When are you coming back?" With regret, the volunteers replied, "We wish we could be here all year."
Despite years of effort, no easy answers
Of course, the poverty and isolation that is normal life for most residents hasn't gone anywhere. It's not easy for a struggling and forgotten community to become stable and harmonious over night. What most people don't see, however, is that the majority of people in these neighbourhoods have been working hard for years to make life better here.
ATD in Spain is determined to support what people in Parla are trying so hard to build. In September, a Street Library started up, a community building effort to counter the isolation and extreme poverty here. Just like other ATD Street Libraries around the world, the initiative will develop in close cooperation with residents where it takes place. As the Festival of Learning demonstrated this past summer, people here are eager for a better life. They just need the opportunity.