Stop This Vicious Circle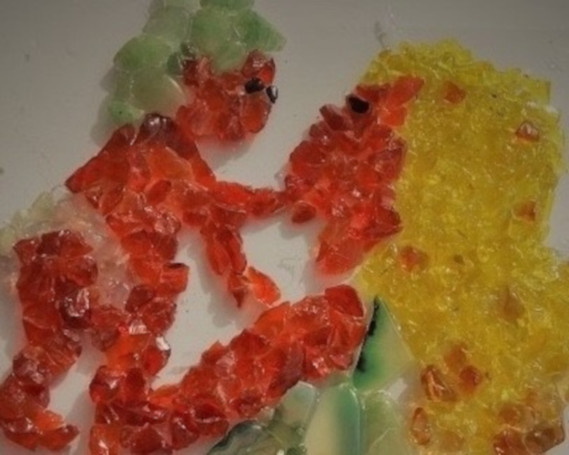 Photo above: Art work by Sandra, ATD Activist, Luxembourg © ATD Quart Monde
On International Women's Day 2022, ATD Fourth World celebrates women around the world who struggle to escape the trap of persistent poverty.
Andréa Saffore is one of many parents in Switzerland who have had their children placed in foster care. These measures take away a family's right to decide where their children live. Ms Saffore describes the pain of separation from her children and her struggle to stay connected to them during the pandemic.
Early in the Covid-19 pandemic, the Swiss Federal Council declared a lockdown in the country. The government confined most of the foster children to homes, denying them visiting rights.
Some other parents and I decided to write to Mrs Sommaruga, President of the country. We wanted the Federal Council to make a decision about the situations we were in. If the lockdown lasted six months, I couldn't imagine not seeing my children for so long!
Not seen as responsible
During the coronavirus pandemic, I felt that other people did not see us as responsible parents. The government made decisions without asking us how we were dealing with the crisis. For example, they didn't ask if we had sanitizer at home. They didn't ask if we knew to wash our hands or understood other safety measures.
We always had the feeling they weren't telling us everything. We felt they were hiding things from us.
My father was taken away from his parents. So was I, and so were my children. I'm scared for my children. It is terrifying to think that when they are parents their children will be taken away from them too!
This vicious circle must stop.
Children kept away their parents
Getting to see our children through videoconference was a big struggle. But this was so important for parents. During the whole lockdown time we had to keep trying and trying. We went eight weeks without seeing them, only hearing their voices. There was no visual contact at all except one time on Skype.
At the beginning, I did everything to install Skype. I had to find a computer and learn how to do it. We could use WhatsApp but it wasn't enough because I couldn't see my daughters together. Why didn't the homes make videoconferencing easier and more regular right from the start?
Some educators tried to be helpful. For example, they filmed the reunion with our children. That was on the Friday before Mother's Day. We were all in tears!
"See us as people who can help change things"
How can we work together to change things so they get better? If leaders really listened to parents, they would have done something. They would have helped connect parents with different services and professionals to improve the situation.
For this reason, I am so happy to be part of the Fourth World People's University. It lets us connect with other parents who are going through the same thing. It helps us not to feel alone and to learn about our rights. There we talk with academics and other professionals. We have the chance to express ourselves and to understand what's going on with various institutions we deal with.
Through the People's University, others start to see us as people who can also change things so everyone benefits.
Unfortunately, what happened during the crisis has made people distrust institutions a bit more. It's going to take time to get that trust back.
"Before I kept everything to myself"
Being on the radio gave me confidence. I know I have value as a human being and that I am a mother like any other parent. I can express what I think. Before, I kept everything to myself. But then I dared to speak out and say that there are things I disagree with. I could really be who I am and talk about my ideas and opinions.
At the same time, I was afraid people would criticise me. But I got good feedback and support from my friends. Some professionals also gave me feedback. For now, I haven't figured out how to respond and talk with them. But I do hope we can have a dialogue together in the future.
Acknowledgement doesn't erase the pain of separation
It was important for the President of the Confederation to hear our voices. Even more important, she answered us quickly and acknowledged our suffering.
"We cannot measure all the pain experienced during this pandemic", Mrs Sommaruga said. "But the suffering endured by parents separated from their children for an indeterminate period of time is certainly one of the greatest."
I never again want to feel completely separated from my children. Deep down I knew I hadn't done anything wrong. But I still felt like I had abandoned my children. I never ever want to feel like I have abandoned them again!
More on ATD in Switzerland
More on ATD's work to protect families
ATD Switzerland on facebook