International Day of Families 2021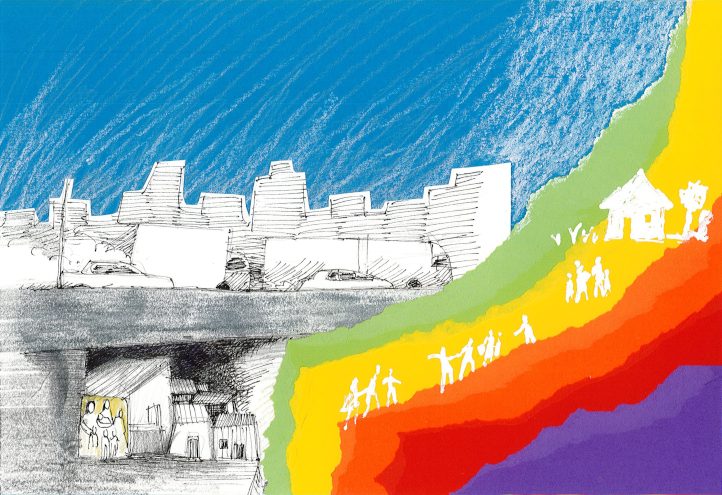 Above: ATD members during a worldwide gathering in 2018.
Letter from ATD Fourth World's International Leadership Team for International Day of Families 2021.
Dear friends,
For the past 15 months, Covid-19 has imposed its will on us. Wherever in force, measures taken to contain the pandemic are undermining people's social and economic life. These measures include closing borders, lockdowns or limitations on travel, and curfews. Businesses deemed non-essential have closed. Religious and cultural activities are limited or suspended.
Where ATD is present, we know that families who live from day to day see a gap growing between them and the normal life they dream of, the life they would like to give their children. Each crisis like this one shatters their fragile gains. In many countries, this is not the only disaster they have had to face. Each time, life has to start up all over again.
In the Democratic Republic of Congo, the Central African Republic, and Haiti, the violence of political tensions hinders families' daily efforts. In Burkina Faso, indiscriminate attacks force families out of their homes. And in Lebanon, the port of Beirut explosion has shaken people already living in precarious situations. "The families," says Maya, an ATD Volunteer Corps member from Lebanon, "are barely able to survive on the basic necessities the state still subsidises. But for how long?"
Holding on together
From many places we have heard of sharing and solidarity by people who already have so little. In Guatemala, a mother and daughter could not sleep, thinking of neighbouring families who have absolutely nothing left. Gathering their energy, they put their heads together with others, imagining how to help all their neighbours get through these difficult times. In Asia, the Indian Ocean, and the Middle East, families rallied together in acts of solidarity. They got others to join them in making sure no one was left alone and everyone could stand together.
In the midst of such crises that make families in poverty falter, their commitment to solidarity is a vital link. It keeps the most vulnerable from going under when government aid is absent or delayed, and when it does not reach undocumented people or those living in remote areas. And yet, anti-poverty programmes too often fail to recognise this solidarity. Often policies ignore it or, even worse, undermine it.
A big family
We often hear that ATD Fourth World is a big family, that when misfortune strikes we stand together. In the face of crises, ATD members open up to new situations. And they go beyond what they thought possible in order to reach out to others. The family widens. Our ATD spaces become a place where people find new strength. In the Central African Republic, families driven out by floods and living in makeshift shacks have come to the ATD courtyard for support.
Even in the depths of misery, families want to be part of the world. They are part of the world. This unprecedented crisis pushes us to be creative in order to stay connected and to communicate. This is how we manage to understand together what's happening. Through these connections, members of ATD have felt the universal nature of both injustice and humanity. Meetings have occurred that might not have happened in other circumstances. For example, two mothers with the same first name, one from New York the other from Dublin, encouraged each other from afar through their love of poetry.
Along with the anguish of hunger, families deeply fear that their children will miss out on education
In Latin America, the ATD teams tell us that 170 million children have been out of school since the pandemic began in March 2020. In so many places, classrooms are closed and lessons are taught remotely. As a result, children in extreme poverty are not able to progress. Often their parents don't have the space, resources, or equipment to recreate school at home. So they live with the fear that their children will drop out. Yet their hopes are huge; and how they fight for their children to succeed! The Latin American teams have mobilised around this concern. They want to do everything possible to help children in the region return to school and their future.
In the Central African Republic, a school teacher had to flee with his family from violence in their village more than 100 km from Bangui. With members at the ATD courtyard in Bangui, he found the courage to go back to his community. There, they fixed up the school with support from parents, teachers, and young people involved in ATD. And it reopened. Yet it was clear they had to find ways to motivate children who were deeply upset by the recent events and who had had no schooling for months. So the ATD team and young people launched a Festival of Learning to rekindle the children's confidence and interest in education.
"Knowledge campaign"
In Haiti, families in neighbourhoods where the ATD team works rallied with young people. Together, they developed a "knowledge campaign" at Easter so their children could experience the joys and wonders of learning.
Despite all these emergencies, parents constantly remind us that education is their priority. They want their children's eagerness to learn and discover the world to be met. And they will do everything possible to make sure their children do not experience the same poverty that they and their parents have always known.
Stand alongside people facing the violence of extreme poverty so they can live as a family
In this crisis situation, the approach of some agencies results in added abuse of families living in extreme poverty.
For example, this winter in France, a family shelter welcomed a young homeless couple just after the birth of their twins. This young couple had a long history of resisting hardship. During the pandemic, they went outside more than the rules allowed. The shelter held this against them. Confined in a bedroom 24 hours a day, tensions arose, and they argued. The couple was constantly under scrutiny. Soon, social services judged them incapable of raising their children. Just three months old, the twins were taken away from their parents. And the young couple found themselves on the street in the middle of the health crisis. With no options for re-housing or future security, they also had no way to keep in touch with their children.
Without contact
All too often this year, we have seen that the pandemic has meant an end to parents' visits with their children in care. Without contact, the bonds between parents and children have become weaker. This plunges children into unimaginable anguish just when they so desperately need the strength and security of their parents.
In France, we recently learned of the tragedy of a teenager in an institution who ended her life. "I have no place in this world", she wrote.
Such a tragedy strengthens our refusal to accept everything that undermines the right to live in a family. This includes threats to make adoption easier and to take away parental rights. Such threats are a form of violence towards parents that denies their capacity to love. They are also a form of violence that deprives children of their parents' love, their family history, and a profound sense of identity.
We must, together, be daring as we continue to resist erosion of the right to live as a family. Condemning such practices publicly is critical.
Parents continue to find strength and confidence
We have followed closely the Burkina Faso team's contrasting efforts. They reach out to children and young people who live and work on the streets, helping them gradually regain the strength to renew ties with their families. In Noisy-le-Grand, in Frimhurst, and elsewhere, parents continue to find strength and confidence they did not know they had.
Parents and children ask us to help them stay strong together as a family. It is in the family that adults can pass on their courage to their children. In the family, parents can teach their children how to get through very difficult situations and a more human way of seeing others. Parents want their refusal of extreme poverty to be a heritage that their children can build from and develop.
Families in poverty push us forward
Ever since our beginnings in an emergency housing camp outside Paris, the suffering and courage of families in poverty have pushed us forward. They have led us towards others we do not know yet. The world needs their tenacity, knowledge, and humanity in order to invent new ways of living together.
The pandemic seems to be easing in Europe and other wealthy areas. Yet it is increasing dramatically in India and Brazil. There is a terrible contrast between people celebrating an upturn and others who are succumbing to the virus. While some are regaining their former lives, others are struggling to regain the little they had to live on. In the face of this inequality that divides the world, we recall Joseph Wresinski's determination to communicate the words of families in poverty. His appeal has the power to unite the world around them.
No one can accept
"Who can meet a family in extreme poverty without seeking to liberate them? Who can accept that a father is unable to read and write; that people in extreme poverty, especially if they are young, are condemned to unemployment because of their lack of education? No one can accept that a mother with a large family has no means of really looking after herself; that she has no money to feed her children herself. No kind-hearted person can allow children to be humiliated at school because of the misery of their home, that whole families are forced to live as if happiness were forever denied them."
For a year now, we have been engaged in a process of greater understanding, action, and advocacy to highlight the importance of family and social ties in ending the persistence of extreme poverty. This initiative connects teams and other ATD groups from different countries. No effort that families, communities, and societies make to give children a future free from poverty should go to waste. Other crises will arise.
The world needs more than ever to understand that we cannot do without those living in poverty. Their experience, resistance, inventiveness, and bonds of friendship are too valuable.
On this International Day of Families, we make a commitment with them: to communicate this message to the world even more urgently.
With our deepest friendship,