Hidden Dimensions of Poverty Workshop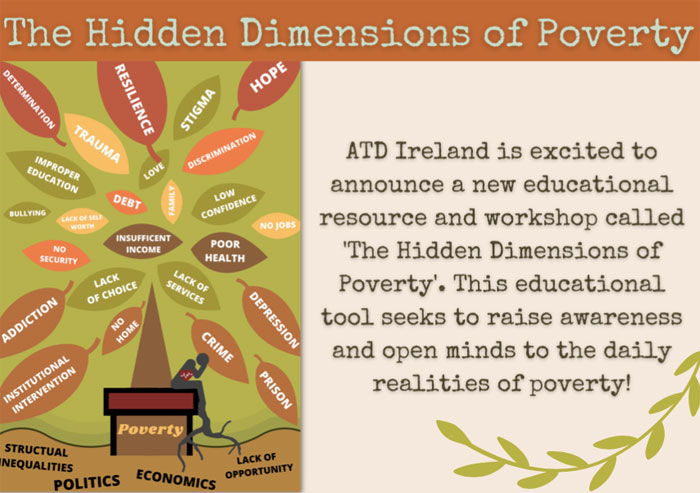 Event Launch: Educational resource and workshop on Hidden Dimensions of Poverty
ATD Ireland is excited to announce a new educational resource and workshop guide called "The Hidden Dimensions of Poverty". Based on  groundbreaking research recently conducted by ATD and Oxford University, this educational tool will raise awareness about the daily realities of poverty.
There will be a public launch of the Hidden Dimensions of Poverty Educational Resource on September 17 2021 at 2pm (Irish time) over Zoom.  Register here: https://us06web.zoom.us/meeting/register/tZ0rf-CtrjIpG9DJoWXL9YkO93JKztSY-ouy
Unseen aspects of poverty
The workshop resource is intended to expand understanding of poverty by bringing attention to aspects that often remain unseen. These include feelings of shame and powerlessness, damaged health and well-being, and a lack of control over choices. In addition, the ATD/Oxford research illustrated how others often fail to recognize the skills and contributions of those living in poverty.
Designed to be engaging and accessible to all ages and educational levels, the resource includes an Educator's Toolkit and Guide .
In order to raise awareness about the daily realities of poverty, the resource includes video conversations with people who have experienced hardship for years. Intended to encourage a positive exchange of views among participants, the resource guides them through new insights about this important contemporary issue in Irish society.