Letter to Friends Around the World – October 17, 2021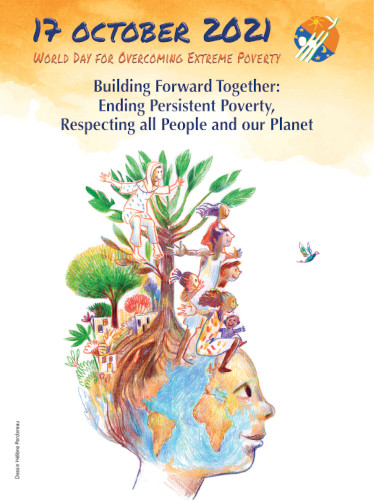 Theme for October 17, 2021
"Building Forward Together: Ending Persistent Poverty, Respecting all People and our Planet"
In 2020 and 2021, the COVID-19 global health crisis shook the world. Unfortunately, the pandemic has also amplified inequalities and increased hardships for people living in poverty. In addition, these same people are being hit hard by environmental destruction. Yet they remain forgotten by governments, left behind from one generation to the next.
Although sustainable development often excludes people in poverty, others criticize them for doing things that are "unsustainable", yet necessary for their survival. However, people in poverty have an undeniable place in building the future. Every day, they work to put an end to persistent poverty.
In fact, people experiencing poverty are essential agents of change. For example, they constantly create new ways of living that respect people and nature, sharing these with family and community. Often unseen, these innovations make it possible to cope better with poverty and its consequences in every day life.
At this crucial moment, we can choose to think and act differently–if we have the courage to do so. Empowering people who experience poverty would prevent crises from adding to their suffering, doubling the punishment they already experience every day.  As Chrismaine from Haiti tells us:
"By ending persistent poverty, the earth will turn more fairly."