Hurricane Katrina 10 Years On: Still Weathering the Storm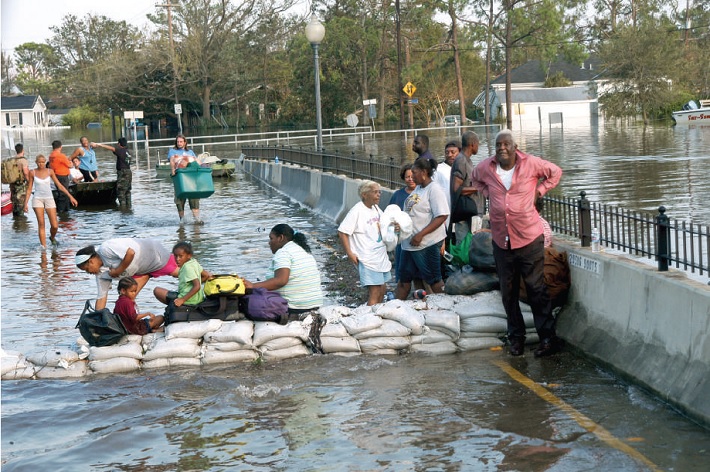 Natural and man-made disasters like Hurricane Katrina buffet everyone in their wake as people forever lose loved ones, homes, and cherished possessions. But when the waters recede and rebuilding begins, some of those affected remain invisible and without a voice. Many families who had been living in deep poverty in New Orleans before Katrina have never had a chance to join their former neighbors in picking up the pieces of their lives together…we need to draw on the memories and perspectives of so many women, men, children and young people who have lived through this kind of catastrophe and who know that, even when it seems that everything from the past has been wiped away, social exclusion persists in the aftermath, increasing inequality.
Eugen Brand, ATD Fourth World
From the forward of "Not Meant to Live Like This"
In 2005, the Gulf Coast of the United States was devastated by Hurricane Katrina, one of the worst natural disasters in the nation's history. New Orleans received the storm full force, and the city is still grappling with its aftermath today. Thousands of families living in poverty suffered grave loss when Hurricane Katrina destroyed their homes and scattered them throughout the southern states when they were evacuated. They were the last to be evacuated from an inundated city, and they are the last to benefit from the city's recovery, if at all. Many of them have not been able to return to live in New Orleans in the intervening decade. Those who have returned are still struggling to rebuild the lives they once led.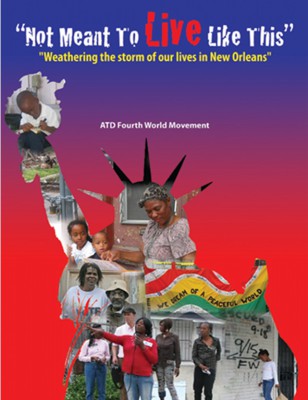 Now, ten years after Hurricane Katrina, thousands of families who were living in persistent poverty in New Orleans at the time of the hurricane still cannot find adequate housing, employment, or public services, leaving them feeling left out of the city's reconstruction and gradual recovery.
"Many families have been unable to return to their homes," explains Maria Victoire, ATD Fourth World Volunteer Corps member who was in New Orleans when the hurricane hit. "When reconstruction began, investors took the opportunity to buy the houses that had become uninhabitable because of storm damage. These houses were refurbished, then either rented or sold. Other housing was simply demolished. In one case, more than 5,000 apartments and public housing units were torn down in order to rebuild almost 3,000 units that were no longer affordable to families living in poverty."
A reconstruction that left the most vulnerable aside
The affluent and tourist areas of the city have been rebuilt, but not the less well-off neighborhoods. In these neighborhoods rents are unaffordable to many and public housing continues to be slated for demolition — even public housing that was not damaged by the flooding. This has left many unable to return home to New Orleans. The sense of loss has been compounded when city authorities have chosen not to rebuild public housing in the express hope that such residents not come back.
In the traditionally under-resourced neighborhoods of the Lower Ninth Ward and New Orleans East, shops and services have virtually disappeared, making life in these areas more challenging. Even public services were affected. Already struggling parents search to find schools for their children. Maria Victoire continues: "After the hurricane, the state took guardianship of schools previously managed locally and then created Charter Schools that raised selection criteria for their students. Children from families living in poverty are often not eligible to attend based on the new criteria, and the fault gets places on parents." There are not adequate employment opportunities for those who return, making it difficult to earn a living. Additionally, the safety net of public assistance is sometimes denied to those who want to return.
Much of the city of New Orleans has been rebuilt, but many of the most-vulnerable families have not shared in the benefits of the recovery. Their lives are suspended in a state that resembles the time immediately following the evacuation. One family member put it directly: "We lived in the storm before Katrina, and we're still in the storm."
Eula Collins, ATD Fourth World activist, returned to the city in 2013 with her sons. She looks in vain for work. She said: "Nothing has changed for me…, except that it was good to evacuate to Austin, Texas. My two youngest boys got a good education and succeeded in graduating from high school. …Since I arrived back in New Orleans I have been staying with people from one house to another, like I'm homeless. …I am not free. I wish the mayor could give us more houses so that people would be free to live in peace."
A multi-voiced, collaborative project developed
What happened after one of the most destructive and expensive natural disasters in US history? What changed for families experiencing persistent poverty? How have families and communities been able to overcome the difficulties that followed Hurricane Katrina? In the months following the hurricane, Maria Victoire and other ATD Fourth World Volunteers traveled to seven southern United States to reach displaced families they knew well, in order to re-establish a support network among them. When they asked members what actions they could take up together now that people were dispersed, Eula Collins responded, "I think you should write a book!"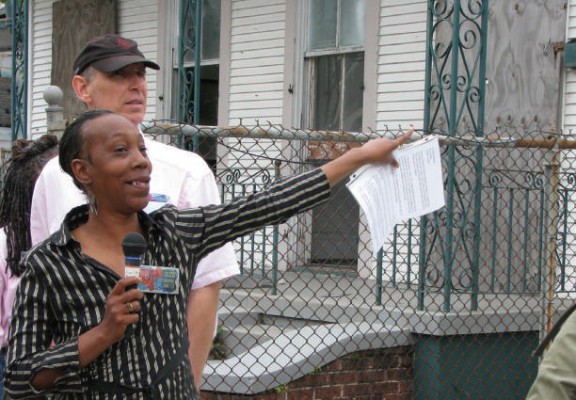 The idea became a multi-year project which involved tracing displaced families, recording their testimonies and oral histories, collecting photos, organizing neighborhood visits in New Orleans, and coordinating a Loyola University-hosted seminar in 2009. What emerged is the publication Not Meant to Live Like This: Weathering the storm of our lives in New Orleans: a truly collaborative and original collection of first-hand accounts, involving some 50 co-authors. The book features contributions from families with lived experiences of poverty, from other ATD Fourth World members with links to New Orleans, and from academics and social scientists connected to Harvard and the University of Massachusettes – Boston. ATD Fourth World activist and contributor to the book, the late Emelda Johnson, came up with the title. She made clear the project's goal: "We need to make the world aware of our struggles."
ATD Fourth World in the United States published this collection of personal accounts and reflections in 2012. To mark the 10th anniversary of Hurricane Katrina, they are making the book available online as a free PDF. This amazing work gives perspective into the lives and efforts of the families living in poverty who have never given up the struggle and hope of rebuilding their lives, their homes, and their community in the city they call home.
To support ATD Fourth World, get news of current projects in New Orleans, and download your free copy of Not Meant to Live Like This, visit: http://bit.ly/atd-katrina