Quebec's Street Library Festival: Full of Energy!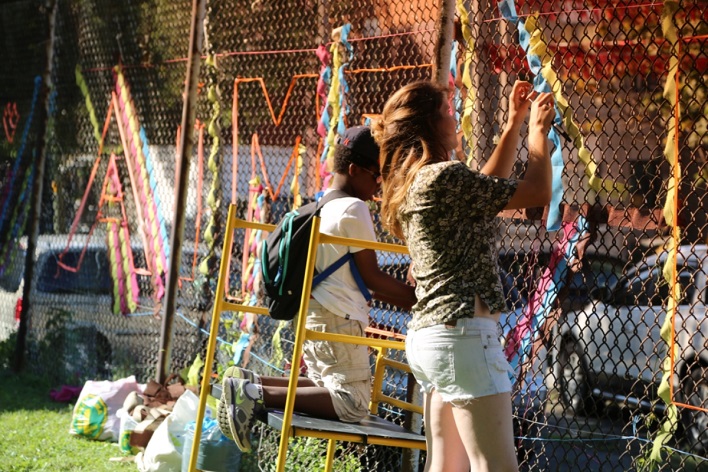 For the eighth year running, a Street Library Festival gathered people of all ages in Montreal's Hochelaga neighborhood. Workshop activities featured music, science, painting, martial arts, relaxation, reading, living models, mosaic-making and more.
This year the community came together to decorate common living areas. Four group projects were produced:
A huge fresco was woven into the fence bordering the park;
A journal chronicled the four days of the festival;
Five beautiful mandalas in mosaic were attached to one of the buildings facing the park;
And finally, seven huge panels were painted with trees denoting the four seasons of the year. The panels will be exhibited in a stairwell of the low-income public housing.
One of the highlights of the week was a workshop run by the Dansmazone Self-Defense Club. It was founded and is run by local residents. Teachers and students shared extraordinary energy and skills in martial arts.
The festival wound up with a potluck meal featuring local specialities, accompanied by brass band music. Of course, none of this would have been possible without the wonderful neighborhood residents all pitching in their free time to make it a success. The ATD Fourth World team hereby thanks them all for their committed and dynamic participation!