Teaching Partnership, Participation: New Training Programs in the US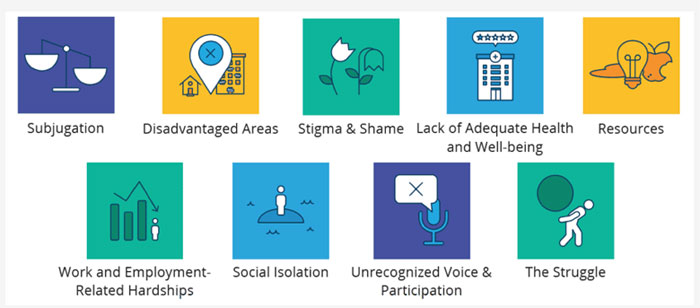 "People with a lived experience of poverty must be part of the decision-making process in creating solutions — as legitimate, equal partners…"
— Maryann Broxton, Coordinator, Multidimensional Aspects of Poverty Research
The challenge of "participation"
For decades, policy makers, researchers, planners, and development experts have talked about "participation" of people in poverty in the design, implementation, and evaluation of programs to address poverty. Even in the 1960's, the United States "War on Poverty" specifically called for "maximum feasible participation" of low-income communities in various programs. Since then, countless books and articles have examined "How the poor would fix poverty." Lawmakers even invite low-income people to tell them about poverty so they can figure out how to end it.
Yet, despite well-meaning listening and calls for community participation, many in poverty still feel oppressed by systems that aim to help them. At times, bureaucratic obstacles make it impossible to access help. Or what programs offer may not be what people need. And seeing neighbors actually harmed by social assistance has a chilling effect on people's willingness to seek help. On the other side, professionals often become frustrated when they reach out to people in poverty and feel rebuffed.
ATD Fourth World sees it this way: many want to listen to people in poverty and work with them on solutions. And certainly, people experiencing poverty also long to be heard. But there is a huge disconnect. Listening and partnership are difficult when the right conditions aren't in place. And without trust, "community participation" gets complicated. Sometimes, it can look like there is even a tension between developing partnerships and getting things done.
Expertise needed for effective partnerships
To help bridge these gaps, ATD in the United States put together training programs based on decades of work in historically disadvantaged communities. Getting people to come to the table, tell the truth of their lives, and enter into productive partnerships isn't that hard, they've found. But it does require some expertise that can be learned.
The Participatory Practices Training program demonstrates how to build equal partnerships in a variety of settings. ATD has conducted the training with national policy and research organizations such as the Center on Budget and Policy Priorities, The Center for Law and Social Policy, and the Aspen Institute. Trainings have also taken place with state government staff in the state of Vermont and at the local level in Medford, MA.
"ATD Fourth World's training hosted by Maryann Broxton was absolutely amazing! She truly opened the door for us to have conversations more broadly across the organization about engaging people with the lived experience of poverty as partners in our policy work."
— Parker L. Gilkesson, Policy Analyst, The Center for Law and Social Policy
Training for social professions
In addition to training on policy and program implementation, ATD has developed a training component for professions like social work. Starting from the idea that people with lived experience of poverty are poverty experts, the Participatory Education in Social Professions (PESP) component teaches social professionals to understand the real-life hardships endured by people in poverty. "There is enough data," says Kim Tyre, PESP Trainer and long-time ATD Activist who has experienced poverty herself. "What's missing is the human connection to the data. That's why I'm here."
ATD has conducted these trainings with social work students at The New School as well as Columbia, Fordham, Harvard, and other universities.
People who know poverty first hand are trainers
What makes the ATD trainings unique is that they were designed with the very participatory methods that they teach. People who have experienced, or currently live with, poverty helped design the program and are directly involved in giving the training sessions.
The training for both policy makers and social workers begins with identifying characteristics of poverty as well as the social and cultural factors that cause and perpetuate poverty. While people define poverty in many ways, this segment uses research on how to define poverty that ATD conducted in partnership with people in poverty. The research, built from many first hand accounts, paints a picture of poverty as multi-dimensional with new elements that researchers have rarely considered.
"The training from ATD Fourth World provided our team with a conceptual foundation underpinning the Merging of Knowledge approach, as well as accessible and practical tools for integrating it into our own work. It was energizing, and challenging, and transformational. I recommend this training for anyone seeking to think more deeply about new models of achieving change that build from—and are accountable to—the people this change is intended to serve."
— Rachel Black, Associate Director, Financial Security Program, The Aspen Institute
Specific guidelines and tips for equal dialogue
A key element of the trainings examines how to set the conditions for meaningful participation of people with a direct experience of poverty. Unfortunately, good intentions are not enough. There is guidance on designing productive dialogue and making sure that all groups have equal power when it comes to decision-making. The training is specific, covering facilitation guidelines and tips on language to use and avoid. All trainings are based on Merging of Knowledge, a process for engagement and facilitation that ATD has developed over decades of work building partnerships with marginalized communities.
People living in poverty are often isolated, ashamed, and not recognized as valuable contributors to society. Merging of Knowledge helps everyone overcome differences in speaking, thinking, life experience, and perspectives. The process includes people with experience of poverty as equals in framing questions, gathering ideas and data, and producing analyses and solutions. Using this purposeful method, people from different backgrounds learn to work together in an environment of respect, trust, and patience.
The result is a training program for anyone who knows they must engage people with direct experience of poverty–but doesn't quite know where to start.
If you know of an organization, agency, or school that might be interested in the training, please contact Maryann Broxton,  or
The US Multidimensional Aspects of Poverty (MAP) research project
ATD Fourth World's international research work on Dimensions of Poverty
ATD Fourth World in the United States
Article image: The nine aspects of poverty appears in ATD Fourth World's report Pushed to the Bottom: The Experience of Poverty in the United States.