Join ATD-Ireland's #Addthe10th Social Media Campaign!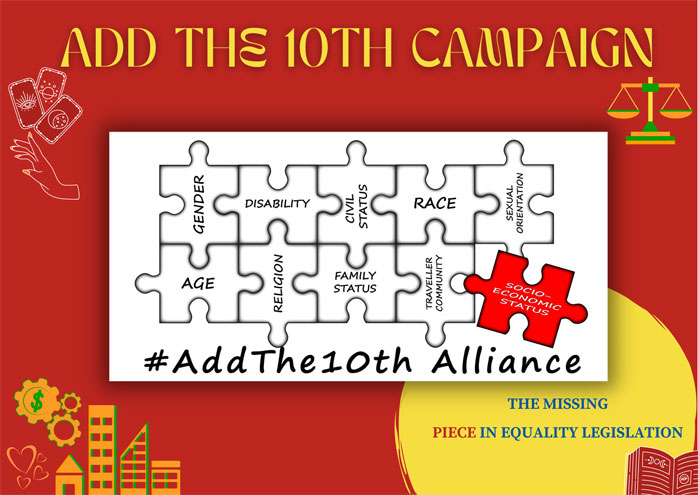 Join the #Addthe10th social media campaign and help Ireland become the next European country to ban socio-economic discrimination! Post your photo with a print out of the "missing piece" or just show it on your phone or computer. Don't forget to write a comment and share your post with us! Please use the hashtag #Addthe10th.  See latest photos and comments on twitter.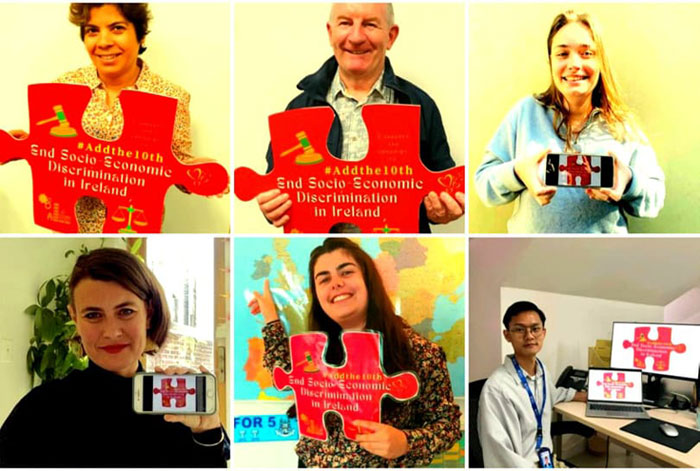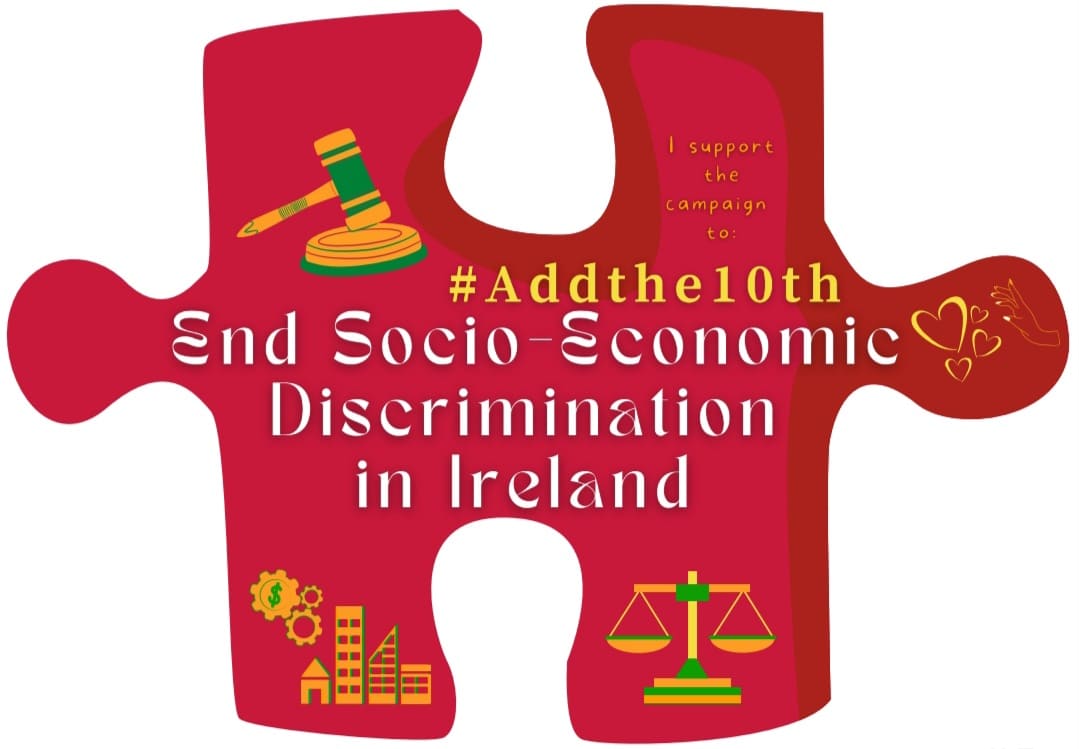 No Irish discrimination law for those who live in poverty
In Ireland, it's illegal to discriminate because of a person's race, religion, or sexual orientation. You can't discriminate because someone is elderly or has a disability. Even Traveller communities have legal protection. But there is no law that says you can't discriminate against those who live in poverty.
Yet people experience poverty-based discrimination because of their accent, address, or appearance. Reports of everyday forms of discrimination based on someone's clothing, haircut, employment status, etc. are common.
Some can't get a taxi to their home. Others are followed around in stores or refused service in a restaurant.
People feel discrimination when they look for housing or a job. It's there when they need health care, when they interact with social services and the police. Parents see their children treated unequally in school from day one. Watch this powerful video on some first-hand experiences.
#Addthe10th YouTube video:
Poverty-based discrimination
ATD Ireland's report, "Does It Only Happen to Me? Living in the Shadows of Socio- Economic Discrimination", documents countless examples of poverty-based discrimination. For years this has been a consistent area of concern for activists in Ireland because it deeply impacts their lives and opportunities. Those experiencing this form of discrimination currently have no way of seeking any form of legal redress and have no protection in the law.
As Ireland reviews its equality legislation this year, #Addthe10th Alliance (ATD is a member) is campaigning for socio-economic status to be recognised as the 10th "ground" or category protected against discrimination.
"Discrimination is in everything – not just schools or taxis or buses. It's everywhere – it's out on the streets and it's not nice you know. The way I see it is that it's a disregard for people, that people can be overlooked because there's a stereotype that's being reinforced".
ATD Ireland activist
Throughout Europe, many countries have recognized the existence of socio-economic discrimination and put in place legislation trying to end the unfair treatment of people just because they are poor. Twenty-five of 30 European Union member states have already included socio-economic status in their equality legislation. Ireland wants to be next!
"The reality that people in poverty need to campaign to have the legal right not to be discriminated against is a sad reflection on our society".
From "Does It Only Happen to Me?"
Please support our campaign
Please support our campaign publicly by taking a picture with the attached "missing piece". Print it out or display it on your phone/computer screen. Then share the image on social media with #Addthe10th or send it to us at with a short quote saying why the campaign is important to you. Thank you!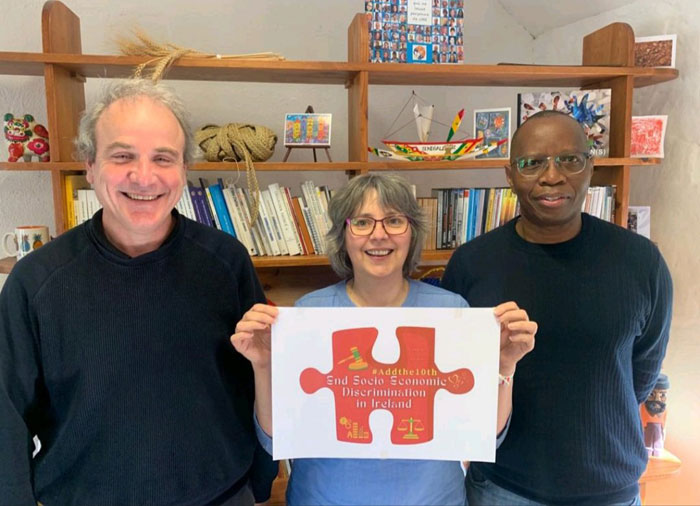 More on ATD Ireland's work on socio-economic discrimination
Related articles:

Dignity for All in Practice: Overcoming Poverty-Based Discrimination on ATD Fourth World's advocacy at the United Nations
ATD's paper, "Discrimination on the basis of socio-economic status"
Gaetane and Her Struggle for Dignity: How one woman's struggle for housing led to a victory against poverty-based discrimination in France.
Social mistreatment based on poverty is a world wide phenomenon. Read more in ATD Fourth World's international report on The Hidden Dimensions of Poverty.