Wresinski and the ATD Archives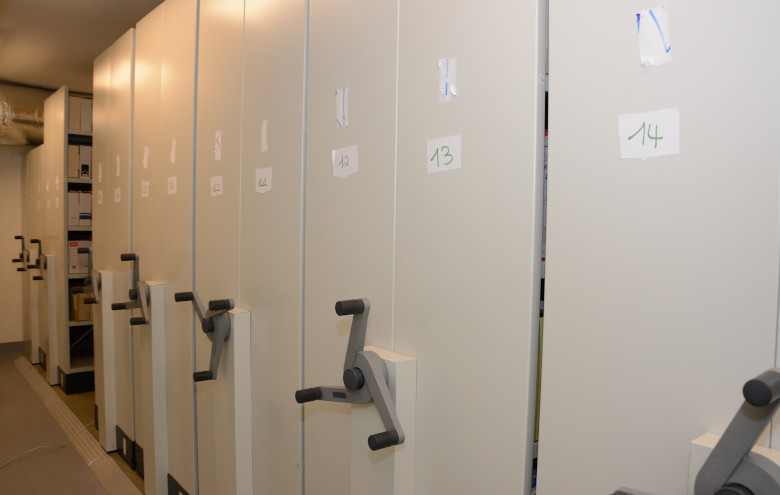 Anaclara Acuna Punales spent this past summer interning at the Joseph Wresinski Archives and Research Centre (JWC) near Paris, France. Anaclara grew up in Uruguay and has been studying in Switzerland. Her internship involved helping out with an ongoing ATD project on philosophy and poverty. Anaclara searched through the Centre's archives looking for documents that might shed light on issues that philosophers, Fourth World activists, allies, and Volunteer Corps members were discussing.
Ideas that have stood the test of time
My mother was a librarian and I grew up surrounded by books. So I was both excited and curious about doing an internship at the JWC. My project was to look for documents to illustrate and help us understand the main topics of the philosophy and poverty project. In the archives, I found some very interesting texts and documents. I didn't realize you could get such a clear understanding of ideas by reading speeches, notes, and transcriptions of events and meetings.
But if I had to say what struck me the most in Joseph Wresinski's thinking, it is how strong and relevant it still is. Everything I've read about him happened before I was born. Yet I was impressed to see that his thoughts and writings are still relevant today. His vision is still valid, whether we're talking about defending the rights of the those in extreme poverty or recognizing them as people with dignity and knowledge we can all learn from. He even says things about migrants and women that speak to today's issues.
The importance of representation
For example, ATD Fourth World is currently fighting to keep its seat on the French Economic, Social and Environmental Council (ESEC). When Wresinski addressed the UNESCO Club of Le Creusot (France) on April 8, 1981, he mentioned this council, saying:


Translation:
An absolute precondition to be someone in society is to have a role to play and to be able to play that role. And so you said that the representation of the Fourth World is a fight, a struggle that we must wage for it is absolutely essential. I thank you for this. This is why I have confidence in you. At the Economic and Social Council, [now called ESEC] all the bodies of the nation are represented. The Fourth World must also be represented there. Without representation, a person is nothing in the world; neither today, nor yesterday, nor tomorrow. You have understood this. But this will not happen without considerable effort on your part.
If I still wondered why ATD's seat on the ESEC is so important, Wresinski would say that I have to understand that: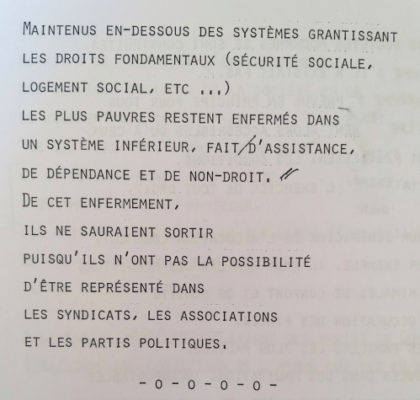 Translation:
Kept below the systems guaranteeing fundamental rights (social security, social housing, etc.), the poorest remain entrapped in an inferior system of state benefits, dependency, and an absence of rights. They cannot escape from these constraints since they have no possibility of being represented by trades union, associations and political parties.
Rights that exist only in theory
Another topic where Wresinski's thinking has lost none of its power or clarity is the need to defend the rights of those in poverty, and the obstacles they face when trying to access their rights:

Translation:
These steps are increasingly difficult when you are cut off from the world in communities ill-served by public transport, and also because of the way you look, itself a source of shame. Moreover, you have to know your rights if you are to claim them. To fill in a form, you have to know how to write, you have to know how to read, and you also have to know how to speak. You have to know how to stand up for yourself. Very few sub-proletarians* can do all this.
For Wresinski, human rights and freedom stem from the search for dignity.

Translation:
Dignity -> rights
rights -> free
We cannot restore someone
treated like an object
We are not animals
Leaving someone without support.
I'm fascinated by how innovative and clear Wresinski's thinking still is. There's no doubt that he saw and understood the price many people were paying. Some still don't understand how much it's a question of simply listening to and trying to understand others. We're still looking for a magic wand we can wave to make poverty disappear. But we don't want to admit that, without really listening and working with those in poverty, we won't get anywhere.
Miles of archives
In Wresinski's files from 1975, I found this:
People in poverty are creators, the very source of all of humanity's ideals, because it's through misconduct that humans discovered justice, through hate, that humans discovered love, and through tyranny, that humans discovered equality.
When I first visited the JWC, I was astonished at how many kilometres of audiovisual, written, and artistic archives there are! The history of those in poverty, which is otherwise largely ignored, has definitely been preserved at the JWC.
*In Wresinski's era, people often used this word to refer to people worse off than the working class.
More information on the Joseph Wresinski Center
The Center often welcomes student interns. Contact them here.
Read more about how people experiencing poverty can discover their own history in the Wresinski Centre archives: "These Archives Prove That We've Always Had Strength and Pride."