"These Archives Prove That We've Always Had Strength and Pride"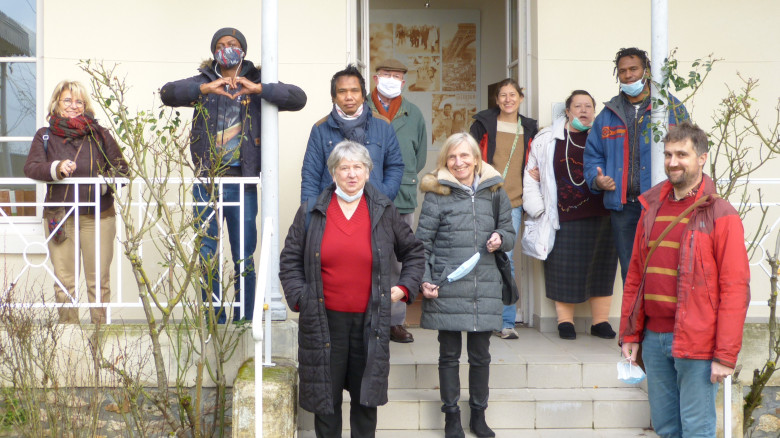 Picture Above: ATD members from Lyon at the Joseph Wresinski Archives and Research Centre. © ATD Fourth World
For June 9th, International Archives Day, ATD Fourth World International, in conjunction with the Joseph Wresinski Archives and Research Centre, is highlighting ATD's work related to archiving and documenting the history of those in deep poverty.
In early 2021, a group of ATD Fourth World members from Lyon, France visited ATD's International Centre near Paris. Yves Petit, a Volunteer Corps member who had just finished four years working in a Lyon day shelter, went with them. Visiting the International Center helped each person see their own struggles in the context of a larger effort to overcome poverty. Here the Lyon group talks about how visiting the Centre changed their perspective on some past experiences.
Life on the street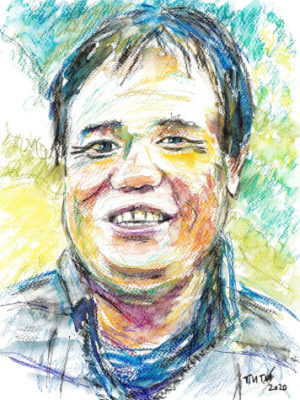 Gindo has spent time living on the street. "Living on the street is too much for your mind to handle", he said. "It's hard on your health and your relationships with other people. When you're outside, you can't sleep because you're constantly afraid someone will steal your bag or your phone. It's violent – like war. At the day shelter, everyone always wants to talk. But there has to be someone who listens too.
"When you're on the street you're always trying to figure something out. Where can I sleep? Where can I get something to eat? So to keep your spirits up, it's important to have workshops and other activities. I always want to be involved in something. Not necessarily for myself, but for other people. For many years, I've been part of the "Clients Council1."
Writing poetry in a shelter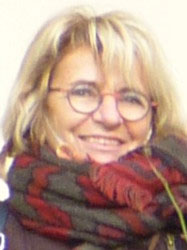 Monique helps out at the day shelter in Lyon. "In the day shelter", she explained, "I run a writing workshop. It's fun. I enjoy the workshop but I also want to awaken people's desire to write. Together we can escape into a universe that creates poetry in our own individual reality. For each person, the workshop gives them a way to 'take back their words'.
"When social bonds break down, people's bond with language also becomes damaged. One day, someone in the workshop said, 'I am alone all day. So I've lost the ability to express myself'. But people always have the capacity to observe the world and to take pleasure in writing poetry or prose. It's a way of resisting that provides people a form of comfort. Also, it gives people more strength to face their lonely days on the street."
Connecting is crucial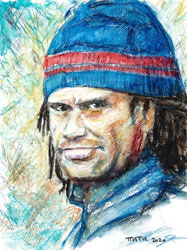 "Some people are good at connecting with people in a shelter", Cédric added. "Personally, I'd rather meet people on the outside. When I do that, we talk about a lot of things. Not just the problems of poverty, but also solutions.
"Talking with people, you connect with them. That's an important life skill, to be able to make a connection. Besides, it reminds me that when I was on the street, I had dreams. They weren't great big dreams. But they were things that were possible to achieve. Where I am now is not where I'm always going to be. It's just a step towards where I'm going in the future.
"Since I joined ATD Fourth World, whenever I meet people there's always this spirit of sharing. In the same way, I try to gather information and pass it on to people. Now I realise that what kept me on the street is the same thing that keeps other people there too."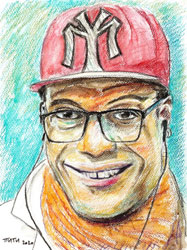 On the importance of personal relationships, Nasser also had something to say. "The things I've been through in my life were pretty rough. But the day shelter has really helped me recover. For me, every individual has potential and anyone can help boost their self-confidence.
"When you've been through a lot, you become more cautious. You're always apprehensive. But there's always something that makes you keep turning towards other people. It's hard to say why. Maybe it's because when you get to know other people you also get to know yourself better."
A question of rights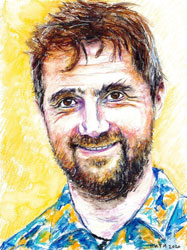 Yves, the ATD Volunteer Corps member, commented on outreach efforts. "I used to tell people that ATD Fourth World is a movement that works for human rights", he said. "But then I could see them pulling back. When you first talk to someone, you can't bring up the issue of rights or working on that together.
"Some people don't even think they have rights anymore. Sometimes it's because they've been through so many experiences where they didn't have any rights at all. People say that housing is a fundamental right. But in France the laws on this are not effective. Or they're not enforced."
Rare archives give inspiration
The group also visited the nearby Joseph Wresinski Archives and Research Centre (JWC). Learning about their people's history and struggles gave the visitors inspiration for their own activism on poverty.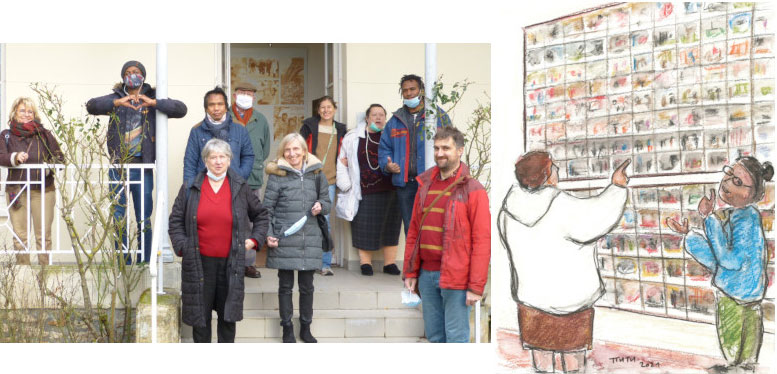 "It's interesting to see that there are other people who have stood up and moved society forward", commented Cédric. "When you see where ATD started from and what people were standing up to, it's impressive.
"If you shout your own anger in the street, even if you are right, people don't care. No one will listen to you. But when you are part of ATD Fourth World, you can transform your anger. You can be organised so other people listen.
"We all want to have an impact on other people. So they can't sleep or pretend they didn't hear. Whether it's politicians or anyone else.
"Seeing all this inspires me to play my part too, even if it isn't a big deal to decision-makers.
"I just want to be able to carry one stone to help build something bigger. Even if my stone is just putting a little pebble in some decision-maker's shoe. I want to contribute to the future too."
"It's the story of who we are"
"It's about getting together and working with other people", Nasser added. "But it's important to know who you're getting involved with. At first, I asked myself if ATD Fourth World was for me. And then I found it really resonated with me. Being [at the International Centre] has helped me think about all this and see it more clearly.
"It has also really brought out our diversity and who we are as individuals. And it's important to respect that since not everyone necessarily agrees on everything. As a group, we need a variety of unique perspectives.
"The archives [at the JWC] are like the history of humanity. If you don't know what happened in the past, you don't know where you are today. At the JWC, it's about telling the story of everything we've been through. It's the story of who we are.
"For everyone who has had to fight for something, these archives prove that we've always had strength and pride. And that's always going to be there.
"It makes me think of a flame that is kept alive at the JWC. It gets passed from one generation to the next, like the Olympic flame. When people come here, they are touched by this flame. It's like a light of hope that then becomes part of you too."
New perspective, new confidence
"For me, it's very important to keep an archive of what we've done", Gindo concluded. "Usually when an organization finishes an activity, they throw away the records. Here, we keep the records so we can go back to them if we need to do something similar. For example, you could be facing a difficult situation. Then you can look at what people did before and see if you want to do that again. It's like Google.
"I have been in ATD Fourth World for five years. Here I met a lot of new people. Visiting the International Centre has given me more courage and confidence to keep doing things with ATD."